For the second time in the 2017 Formula One season, Ferrari topped both of Friday's Free Practice sessions, with Sebastian Vettel leading the way in the afternoon session around the Sochi Autodrom, ahead of teammate Kimi Raikkonen. The two Mercedes cars of Valtteri Bottas and Lewis Hamilton trailed in third and fourth respectively.
Continuing his early season woes, Stoffel Vandoorne's session was seriously disrupted by yet another power unit change, enforced by his McLaren suffering with technical gremlins in FP1. It means that he will receive a 15-place grid penalty as punishment. Thankfully for the Belgian, he left the garage with just over an hour remaining. However, a 16th place finish was little to cheer about, over three seconds off of the ultimate pace.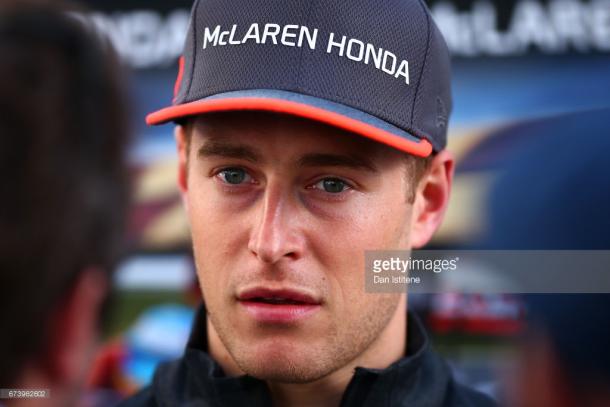 Two garages further down the pit lane, Haas' chronic brake issues followed them after their switch from Brembo to Carbon Industries discs. Both Kevin Magnussen and Romain Grosjean complained of long pedals in the opening minutes. Grosjean expressed his displeasure over the radio moments later.
Hamilton struggled
Hamilton set the early pace in his Mercedes, profiting from Raikkonen's traffic-tarnished first run to go two-tenths faster than the Finn, as most drivers opted to run the super-soft tyres to start with, before switching to Pirelli's most extreme compound; the ultra-soft.
Morning pace-setter Raikkonen showed immediate speed on the purple-walled tyre, trumping Hamilton's super-soft time by just shy of a second, before improving another four-tenths, slashing the benchmark down to a 1:34.383. His Ferrari teammate Vettel affirmed the Scuderia's competitiveness, bettering the Finn's lap by two-tenths.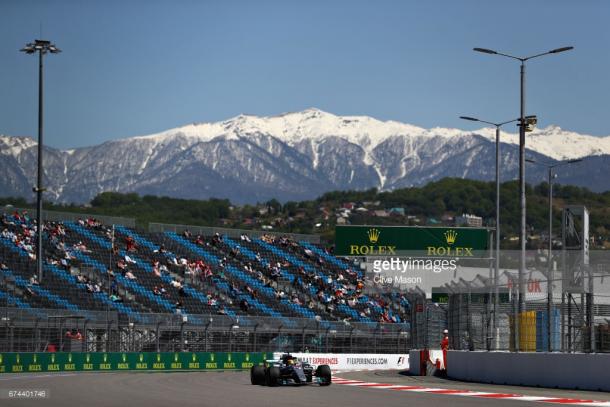 In comparison, the Mercedes duo were left behind. Bottas' first full-blooded run on the ultra-softs was over a second slower than the German. And when Hamilton bailed on two of his flying laps when trying to usurp the scarlet cars, it was looking like a rare wayward Friday for the Silver Arrows in 2017. When the Brit finally managed to hook up a lap in anger, he stayed in a distant fourth.
Hamilton had a ragged session, wrestling his Mercedes from corner-to-corner, oft running wide at Turn 5 and seen going deep into the tricky, curved braking zone of Turn 13. Towards the end of the session, he had to hop over the newly-installed sausage kerbs at Turn 2.
As Qualifying runs turned into race simulations, Ferrari remained unchallenged at the top. The biggest drama in the final 20 minutes came from Max Verstappen grinding to a halt by the pit entry - citing a loss of power from the TAG-branded Renault power unit powering his Red Bull.
PROVISIONAL CLASSIFICATION - FREE PRACTICE 2

| | | | | | |
| --- | --- | --- | --- | --- | --- |
| Pos | Driver | Team | Time | Gap | Laps |
| 1 | Sebastian VETTEL | Ferrari | 1:34.120 | - | 36 |
| 2 | Kimi RAIKKONEN | Ferrari | 1:34.383 | +0.263 | 36 |
| 3 | Valtteri BOTTAS | Mercedes | 1:34.790 | +0.670 | 36 |
| 4 | Lewis HAMILTON | Mercedes | 1:34.829 | +0.709 | 34 |
| 5 | Max VERSTAPPEN | Red Bull | 1:35.540 | +1.420 | 15 |
| 6 | Daniel RICCIARDO | Red Bull | 1:35.910 | +1.790 | 26 |
| 7 | Felipe MASSA | Williams | 1:36.261 | +2.141 | 39 |
| 8 | Nico HULKENBERG | Renault | 1:36.329 | +2.209 | 38 |
| 9 | Kevin MAGNUSSEN | Haas | 1:36.506 | +2.386 | 31 |
| 10 | Sergio PEREZ | Force India | 1:36.600 | +2.480 | 38 |
| 11 | Esteban OCON | Force India | 1:36.654 | +2.534 | 39 |
| 12 | Fernando ALONSO | McLaren | 1:36.765 | +2.645 | 27 |
| 13 | Jolyon PALMER | Renault | 1:36.771 | +2.651 | 22 |
| 14 | Romain GROSJEAN | Haas | 1:37.039 | +2.919 | 31 |
| 15 | Carlos SAINZ | Toro Rosso | 1:37.083 | +2.963 | 36 |
| 16 | Stoffel VANDOORNE | McLaren | 1:37.125 | +3.005 | 25 |
| 17 | Daniil KVYAT | Toro Rosso | 1:37.300 | +3.180 | 35 |
| 18 | Pascal WEHRLEIN | Sauber | 1:37.441 | +3.321 | 30 |
| 19 | Lance STROLL | Williams | 1:37.747 | +3.627 | 36 |
| 20 | Marcus ERICSSON | Sauber | 1:37.819 | +3.699 | 29 |