 Having had to watch Lewis Hamilton and Mercedes claim the morning session, Kimi Raikkonen and Ferrari fought back to top the timing sheets , showing the three-times World Champion the way.
The first lap in the 1 minute 12 range was more than enough for Raikkonen to end the day fastest with Hamilton and Sebastian Vettel rounding out the top three.
Following on from the chaos this morning, more drivers fell foul of mechanical issues and waning grip levels.
Whilst one Spaniard in Carlos Sainz recovered from his morning engine troubles, Fernando Alonso spent most of the time in the McLaren garage and surrounding areas, as his mechanics worked away on his car after a hydraulic pressure issue saw his limited FP1 end. But, he eventually did creep out and managed to put in the seventh fastest time on fresh ultrasofts.
His former employers Ferrari proved to be the early pace setters, Vettel just edging Raikkonen off of top spot with the Ferrari powered Toro Rosso Daniil Kvyat settling into third; both the Mercedes cars yet to emerge.
Spins
On another Ferrari related note, Romain Grosjean endured familiar brake issues, spinning at Turn 6 on consecutive laps early on - but he's not the only man that's found himself pointing at the entry of the corner throughout the course of today. A fuming Grosjean went on to spin once more at Turn 2, albeit through suspected driver error on that occasion.
Hamilton and Bottas resumed their place at the front on their first runs of the afternoon, Bottas finding good pace on the soft compound tyres to split the Ferrari cars, whilst Hamilton move swiftly from fourth to first, less than one-hundredth of a second ahead of pacesetter Raikkonen.
Their supposed nearest rivals Red Bull had many problems; Max Verstappen moaned that "nothing is working" and was told to calm down by Gianpeiro Lambiase on his way to fifth, whilst Daniel Ricciardo's smile faded as he reported "a loss of power".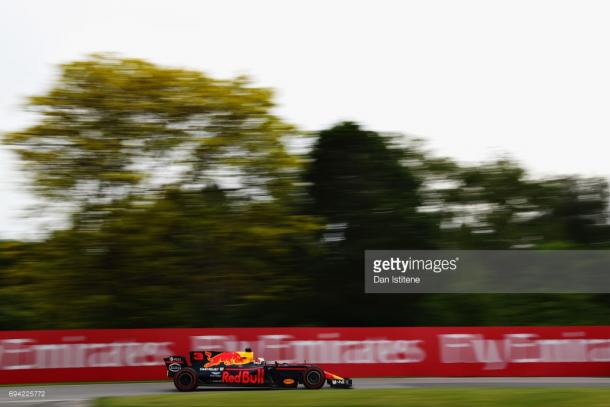 The Australian's power problems ended his session just as Qualifying simulations ruled. Raikkonen and Vettel had the measure of Bottas with Hamilton the last to run on the ultrasofts, only able to trail Raikkonen by two-tenths.
As we approached the last twenty minutes, Verstappen brought out the red flags as he ground to a halt at Turn 6 with smoke pouring from his TAG branded Renault power unit, to complete a miserable day for Red Bull.
Race runs encourage mischief
That marked the end of any fast running, with attentions turning to race programmes, with Vettel and Hamilton getting under each other's feet - the German complained about the Brit deliberately holding him up.
They weren't the only pair to engage in an unwanted battle, Sainz and Kevin Magnussen reignited their Spanish Grand Prix fight, leaving the former under investigation.
PROVISIONAL CLASSIFICATION - FREE PRACTICE 2

| | | | | | |
| --- | --- | --- | --- | --- | --- |
| Pos | Driver | Team | Time | Gap | Laps |
| 1 | Kimi RAIKKONEN | Ferrari | 1:12.935 | - | 41 |
| 2 | Lewis HAMILTON | Mercedes | 1:13.150 | +0.215 | 41 |
| 3 | Sebastian VETTEL | Ferrari | 1:13.200 | +0.265 | 41 |
| 4 | Valtteri BOTTAS | Mercedes | 1:13.310 | +0.375 | 42 |
| 5 | Max VERSTAPPEN | Red Bull | 1:13.388 | +0.453 | 25 |
| 6 | Felipe MASSA | Williams | 1:14.063 | +1.128 | 38 |
| 7 | Fernando ALONSO | McLaren | 1:14.245 | +1.310 | 19 |
| 8 | Esteban OCON | Force India | 1:14.299 | +1.364 | 46 |
| 9 | Daniil KVYAT | Toro Rosso | 1:14.461 | +1.526 | 38 |
| 10 | Sergio PEREZ | Force India | 1:14.501 | +1.566 | 41 |
| 11 | Romain GROSJEAN | Haas | 1:14.566 | +1.631 | 33 |
| 12 | Nico HULKENBERG | Renault | 1:14.604 | +1.669 | 38 |
| 13 | Carlos SAINZ | Toro Rosso | 1:14.621 | +1.686 | 43 |
| 14 | Kevin MAGNUSSEN | Haas | 1:14.676 | +1.741 | 35 |
| 15 | Daniel RICCIARDO | Red Bull | 1:15.072 | +2.137 | 8 |
| 16 | Jolyon PALMER | Renault | 1:15.127 | +2.192 | 40 |
| 17 | Lance STROLL | Williams | 1:15.240 | +2.305 | 40 |
| 18 | Marcus ERICSSON | Sauber | 1:15.611 | +2.676 | 31 |
| 19 | Stoffel VANDOORNE | McLaren | 1:15.624 | +2.689 | 20 |
| 20 | Pascal WEHRLEIN | Sauber | 1:16.308 | +3.373 | 31 |