 Well, how on earth can you sum that up succinctly? Yesterday's Azerbaijan Grand Prix surpassed - nay, thrashed - early expectations.
Courtesy of last year's sleep-inducing European Grand Prix, Formula One's audience had developed an early dislike of the Baku City Circuit, however we were all swiftly made to redact our words and humbly apologise come the time Daniel Ricciardo had taken his and Red Bull's first win of the 2017 season.
We all know the biggest talking point from the race. The paddock and social media patter ensured that Sebastian Vettel and Lewis Hamilton's collision under the Safety Car on lap 19 will live long in the memory, with debates still raging on with no apparent end in sight, nearly 24 hours after it happened (at the time of writing...).
However, the action and controversy was far from limited to the two men at the top. Everywhere you turned, there was something to digest. Inter-team battles, organisational blunders, fierce squabbles - which led to some thoroughly brilliant racing.
In this analysis, I fear I'm not even going to be able to scratch the surface without writing a small novel. But, alas, I'll do my very best
Vettel punishment - right or wrong?
Whoever your bias happens to lie with - Vettel or Hamilton, there can be no excuses made for Vettel's behaviour, turning into Hamilton and giving him a fair clout under the Safety Car, simply because he couldn't keep his cool. It's not the first time we've seen his petulance return, remember his less than complimentary rant in Mexico last year? Vettel's general character has changed since his move to Ferrari. We now see a more relaxed, happy Vettel around the paddock and in interviews, but the main character flaw still rears its ugly head.
His avoidance to answer straight questions yesterday reminds me of the way he acted after the 'Multi-21' debacle in Malaysia four years ago, where he failed to stick to team orders and stay behind Mark Webber. It took him until the next race in China to offer any sort of apology. Whether we see Vettel backtracking in the next two weeks until Austria remains to be seen; I doubt it, he questioned the penalty twice over the radio. Seb, before you accuse Hamilton of throwing his toys out of the pram; you're turning 30 soon, maybe it's time to grow up yourself.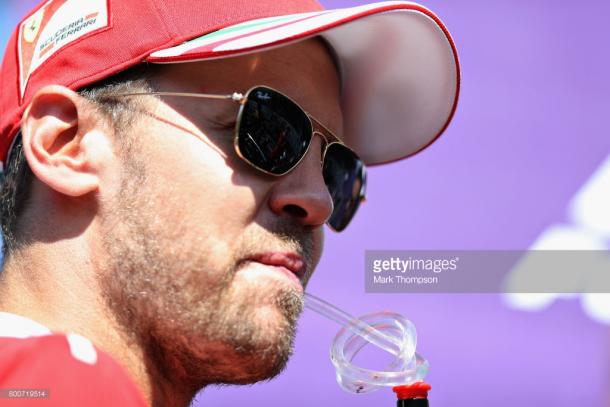 Now onto his penalty - a 10 second stop-go penalty. It must have been an odd one for the stewards, because we're used to seeing penalties for causing a collision delivered under racing conditions.
What were the potential options? A drive-through or a five/10 second stop-go penalty. Arguably, none of the aforementioned are harsh enough for the ridiculous nature of the clash, the leniency was exacerbated by Hamilton having to pit with a loose headrest and therefore losing more time than the German had. But then again, it would be overly harsh to disqualify him and would have only made the matter worse. There could be an appeal, a court case and so on, and where would that lead to? F1 can't be without Ferrari and vice versa - it doesn't seem right. Maybe a little extreme, but given the widespread denial shown yesterday, I can't count anything out....
Hamilton isn't whiter than white. There was an excessive decrease in speed, to around 40kph. FOM TV graphics show the use of the brake pedal, but due to the fact that the brake graphic doesn't show gradual pressure, just a simple on/off - unlike the throttle reading, we can't take anything from it. It could've been just 1-5% of pressure. I don't have access to the telemetry, but have to take the FIA's word that he didn't brake.
Why did he slow down? My guess is that he took note of how close he was to overtaking Bernd Maylander on the first restart and wanted to give himself ample time to avoid another close call; he wouldn't want to back off the throttle on a 1.4 mile straight whilst everyone else would have it planted to the floor. Plus, the stewards noted that Hamilton did not act any differently compared to the other restarts; whether that was a totally conscious decision, I'll let you be the judge of that.
It's not the first time he's backed the pack up by virtually stopping. It's a very Michael Schumacher-esque move, one that caught a fresh-faced Jenson Button out in Italy 17 years ago, leading to a big shunt. It's naughty, but should be expected between rivals. Vettel would be been better to treat the back of Hamilton's car like an angry donkey from now on.
Pink turns red faced
It appears we have quite the fight on our hands at Force India. They came to blows in Canada when Sergio Perez wouldn't let Esteban Ocon through to try and attack Ricciardo for the last spot on the podium, despite being asked to (maybe he'll end up with a Ferrari drive, who knows...). This time, was it a case of Ocon getting revenge? He squeezed the Mexican into the wall on the exit of Turn 2, resulting in Perez suffering a cracked wishbone and Ocon, a puncture. Most likely not, as the Frenchman doesn't seem to be a very spiteful character.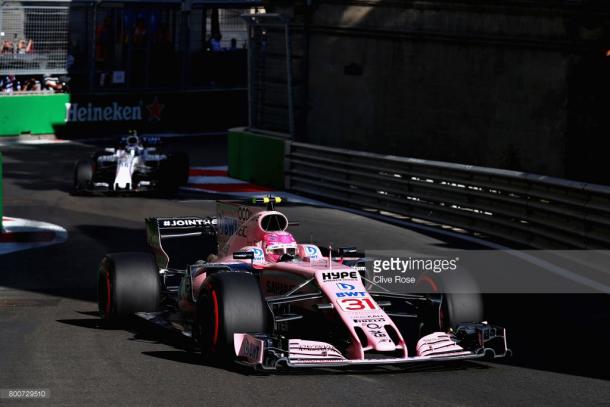 It is believed that both will be told that the clash was unacceptable, which is true. Force India seem to be the best bet for fourth in the Constructors' standings come Abu Dhabi, but incidents like this and the one in Canada will not help their charge to break into the top three for the first time ever.
Afterwards, Perez said: "In all my career, I've had teammates that I've fought really hard, but always with room," clearly forgetting his antics when racing Button in his one year with McLaren in 2013.
Dan the man strikes lucky...again
So far in his F1 career, he's gathered five victories - all of them coming from grid slots outside the top 3 with positions falling to him due to technical difficulties or penalties. Thanks to a meeting with the wall in Qualifying, the Australian started 10th, with little hope of meaningful championship points. Furthermore, an unscheduled pit stop on lap 6 due to debris in a brake duct dropped him further down the order. Yet all of a sudden, the race started to edge his way.
It's not plain fortune, you have to make your own luck to an extent and Ricciardo did just that. During the red flag period, he told Helmut Marko that he'd find a way past Felipe Massa and sure enough at the restart, he did. It allowed him to find a rhythm and profit from all those losing their heads.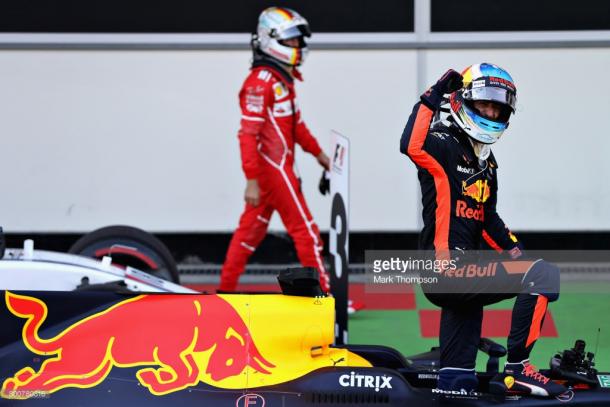 "I was pretty sure Seb was going to get a penalty, but I wasn't sure to what extent," he told Sky Sports.
"Then they said 10 second stop-go and I was like - all right. And then Lewis' headrest is loose, he's pitting! This is unreal, I'm now leading the race!"
The win was deserved for yet another gutsy, determined performance from the smiley Perth driver.
After retiring from four out of the last six races, his Red Bull teammate Max Verstappen could do with a bit of luck himself!
Bottas slides under the radar
Another man who encountered early problems was Valtteri Bottas - a clash with Kimi Raikkonen left the pair with damage, Bottas' a little more extreme - a puncture forced him to crawl round to the pit lane, one lap down by the time he rejoined the race.
But, he wasn't to be beaten. Diligently, he worked his way forward - helped by the Safety Car period allowing him to rejoin the lead lap. Like Ricciardo, he pounced at the right time, scything down the gap to Fernando Alonso, Massa, Kevin Magnussen, Ocon to move onto the podium, before snatching second away from Lance Stroll on the line.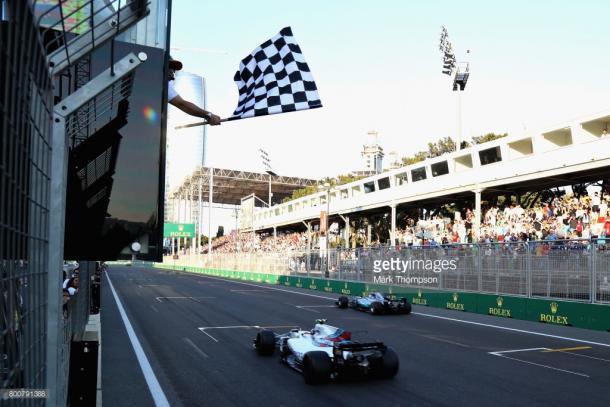 The unassuming Finn has had a relatively hard time this year - bar his maiden win in Russia, playing second fiddle to Hamilton at Mercedes. This was just what he needed to boost his confidence again.
A good way to quieten the masses
He's had criticism - some very personal and unnecessary - since the announcement that he was to join Williams was made last November, but Stroll has proved everyone wrong with a superb month. First, points in his home race in Canada from 17th on the grid and now his first F1 podium after keeping his nose clean all weekend, despite a small trip into the escape road in Free Practice.
It could have been second, but who cares? Certainly not Stroll, who looked delighted to become the first Canadian to reach the podium since Jacques Villeneuve at the 2001 German Grand Prix for BAR-Honda and the youngest rookie to ever make the rostrum, the second youngest driver of all time behind a certain Verstappen. It came after some very hard work behind the scenes.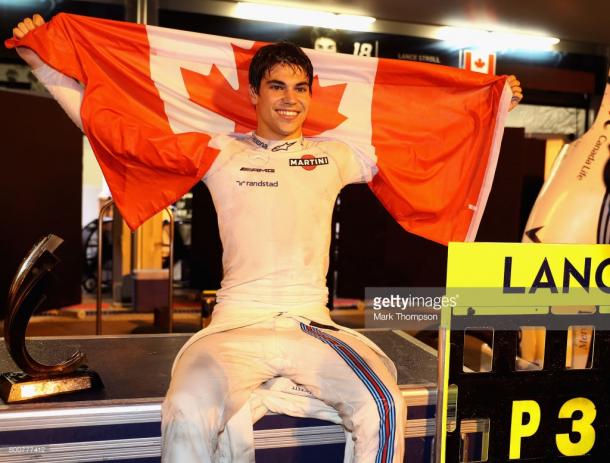 First, Williams organised a test session at the Circuit of the Americas in their 2014 spec car to work on setup understanding, and then he spent time with renowned driver coach Rob Wilson. The extra homework has paid off, the 18-year-old look noticeably calmer at the wheel and was unlucky to have been pipped at the post by a fired up Bottas.
His critics seem to think that F4 and F3 titles mean absolutely nothing and that he's only at the top courtesy of his father's money. Maybe they'll have a much needed reflective period now.