Jamie Murray with Bruno Soares have booked a final spot in Monte Carlo. The British number one and co-incidentally the world number one had progressed nicely to the semi final. Murray & Soares are seeded fourth, this is due to their combined ranking, with Muray being number one in the world and Soares 12th. In the semi final they were against Ivan Dodig & Marcelo Melo the second seeds.
Melo is the world number two, but was only five points behind the Brit before the event commenced. Dodig is world number nine which made the Brazilian/Croatian team the second seeds.
The ranking differential did not phase Murray, especially as with Soares, they won the Australian Open in January, to finally earn the older Murray brother his first men's doubles grand slam title (Murray does have the Wimbledon Mixed Doubles title to his name from 2007).
This match was going to once again determine who was to hold the top spot in the rankings, a win for the second seeds would see Melo take back the top spot. Whilst a win for Murray would seal him in the spot for longer and open up a larger gap. A win for the Brit would also signal his first appearance in a masters final on any surface.
Out of the blocks
The fourth seeds began in impressive form, with the Australian Open champions racing out to a 4-0 lead. the second seeds were struggling to get anything on the serve of Murray & Soares. The second seeds did carve out two break point chances but both were stubbed out by the Brit/Brazilian pairing. Murray & Soares broke twice in the first set to take the lead 6-2.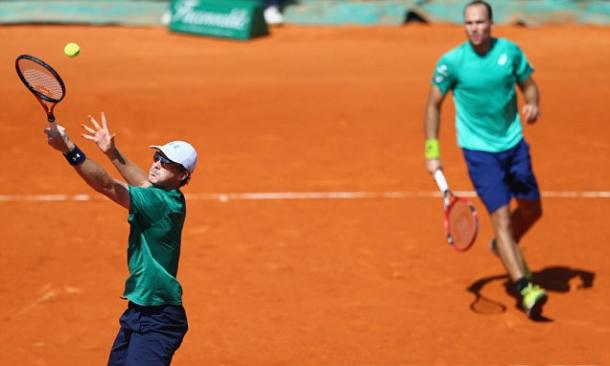 Melo & Dodig fight back
The second set saw Melo & Dodig start playing better, saving more of the break points that the fourth seeds were creating. Again, the Brazilian/Croatian team managed to carve out a couple of break points, and just like in the first set Murray & Soares saved them.
The Brit/Brazilian team broke once in the set, this was all they needed. Taking the match in straight sets with a score of 6-2, 6-4. Murray secured a spot in his first ever masters final. Soares has played six, and won two, including a final against Andy Murray & Colin Fleming in 2013. The Brazilian should be able to guide Murray through this new experience, and hopefully onto the title.
The win also secures the top spot in the rankings as Murray will gain either 500 or 1000 points tomorrow depending on if they win the title or not, moving the Brit at least 145 points clear.