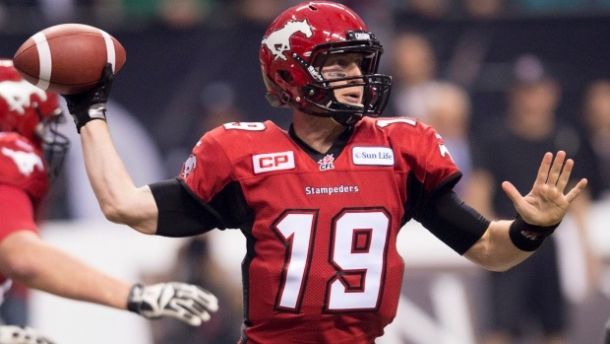 June 25 is fast approaching, which means that the Canadian Football League season will soon be upon us. In the passing game-dominated CFL, a good quarterback can be the difference between a championship and long-term team embarrassment. Of the nine projected starting quarterbacks this season, who is the cream of the crop, and who is running the risk of getting benched? We'll break down the CFL pivots from best to worst.
1) Bo Levi Mitchell, Calgary Stampeders
From starting his career as the third down rushing quarterback, to backup to Grey Cup-winning champion, Bo Levi Mitchell has quickly become the best quarterback in the CFL. His combination of accuracy, arm strength and rushing ability makes him an incredibly difficult QB to defend against. It's hard to argue against a player in his physical prime, with his physical traits who also is a proven winner, along with the stats to back it all up. He is an accurate passer (completing 64.6% of his passes in his career) and he doesn't give the ball away (he had an interception percentage of 1.9 this past season). Both of these are crucial traits for being a successful quarterback. Add in the fact that he's an effective rusher (he rushed for 6.6 yards per carry in 2014) in an already stacked backfield and Mitchell is a nightmare for all defenses. The man is the total package and will likely lead the Stamps to further success this season.
2) Darian Durant, Saskatchewan Roughriders
Again, you can't argue with winning and when healthy, Durant has done plenty of it. After leading the Roughriders to a Grey Cup victory in 2013, Durant played in just 10 games in 2014. He's older than Mitchell but has just as much, if not more, pure passing talent. He's accurate enough and he has proven throughout his career that he can lead a high-powered offense, as evidenced by his 4,154 yard, 31 touchdown season in 2013. The biggest question for Durant is his durability going forward. If he can stay on the field, with the great receiving talent that the Riders have, he can dominate this season and could lay claim to being the best quarterback in the CFL.
3) Ricky Ray, Toronto Argonauts
Chalk this one up to historical bias if you wish, but it's undeniable that Ricky Ray is one of the best quarterbacks in the history of the Canadian Football League. In fact, if he's able to stay on the field, he has a good chance to become the best pivot in league history, at least in a statistical sense. While surpassing Anthony Calvillo's stats would be great for Ray on a personal level, his health is currently what is most important to the Argos. A three-time Grey Cup champion, Ray has proven himself to be one of the top leaders in North American sports, and his pristine numbers back that up (including his tremendous career completion percentage of 67.6). He's older than most quarterbacks in the league and is no longer in his physical prime, but that doesn't mean he's incapable of leading the Argonauts to success this season. Ray makes the players around him better, which has been a key to Toronto's success and Edmonton's before that, but he can't make anyone better if he's off the field. The skill has always been there, as has the leadership, but he must stay healthy to remain at the top of this list.
4) Mike Reilly, Edmonton Eskimos
The top dual-threat quarterback in Canada, Reilly is an electric player. He has the ability to tear apart defenses through the air and run past them on the ground. His career 7.3 YPC average has been devastating to opposing defenses, especially over the last two seasons behind center for the Esks. He's not quite as accurate as some other quarterbacks on the list, and he also does not protect the ball as well as some others (he had a 2.47 interception percentage this past season and a 3 INT% for his career), but he can light up the field better than anyone else. He needs to protect the ball better, but Reilly is certainly capable of leading Edmonton to success while the starter.
5) Travis Lulay, BC Lions
It really speaks to the talent of the current crop of CFL QBs when Lulay is right in the middle of the pack. He has proven that he can be absolutely dominant, as evidenced by his stellar 2011 season (4,815 yards, 32 TDs), which earned him Most Outstanding Player honors for that campaign. The problem for Lulay, as it is for several other quarterbacks, is his durability, only the issue is more pronounced for BC's pivot. He has missed large portions of the last two seasons, including amassing just one start in four games this past year. The greatest ability in football is availability, and unfortunately for the Lions they have not had their starting quarterback available much at all recently. Travis Lulay can be great, but we'll never know if he can repeat his tremendous success if he never sees the field.
6) Drew Willy, Winnipeg Blue Bombers
After coming to Winnipeg from Saskatchewan via trade prior to the 2014 season, Willy played decently for his first starting campaign. The best news for Willy is that he has plenty of room to grow and has shown flashes of tremendous potential, both with the Roughriders as Darian Durant's backup and now as the starter for the Bombers. The bad news is that his statistics do not paint a pretty picture of him. With more interceptions than touchdowns last year (14 TDs compared to 16 interceptions thrown) and 5 fumbles as well, Willy did not look great at all on paper. As previously stated, however, Willy has shown in the past that he has the ability to be stellar quarterback; now he just needs to put it all together.
7) Zach Collaros, Hamilton Tiger-Cats
Unlike Drew Willy, Collaros' basic statistics make him look better than some of his performances would lead you to believe. He led the Ti-Cats to their second straight Grey Cup this past season, starting all 13 games for which he was healthy, but Collaros' performances throughout the season, while not lackluster, were not indicative of potential greatness like those that we have seen from Willy. That being said, Collaros is still a young quarterback with a solid team around him, and he also has room to grow. This year should indicate whether or not the former Cincinnati Bearcat is the future for Hamilton.
8) Jonathan Crompton, Montreal Alouettes
Another one of the league's young quarterbacks, Crompton did fine when given the chance to play last season with the Als. He did not look great very often, and sometimes not even good, but we won't know the true extent of his skills until we see him starting for a full season with Montreal. It will be telling how well he performs with talent behind him on the depth chart; former Ti-Cat Dan LeFevour and Marshall University standout Rakeem Cato will both be gunning for playing time throughout training camp and the regular season.
9) Henry Burris, Ottawa REDBLACKS
As stated with Lulay's placement at number five on this list, Burris being placed at the bottom of this list is indicative of how much talent their currently is at the quarterback position in the CFL (at least when you consider the success that Burris had earlier in his career).. As for Burris' current credentials , it's not that he is necessarily a bad quarterback, but he is certainly over the hill, and frankly is the prime fit as Ottawa's first quarterback post-expansion (and that's not really a flattering acknowledgment). His 2014 performance indicated a decrease in physical skill, with a completion percentage under 61 and more interceptions thrown than touchdowns for the first time since his rookie season in 1998 (when he threw 1 interception and no touchdowns). It's hard to put a lot of support and faith behind a quarterback with subpar numbers who only led a team to two wins last season. It's going to take a young stud to lead Ottawa to the next level in the CFL.