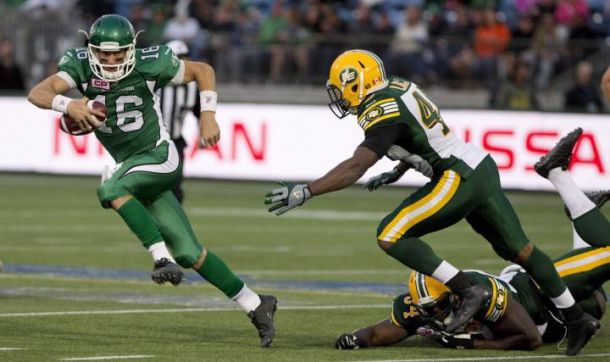 With Thursday Night Football fast approaching for Week Six in the Canadian Football League, Week Five is quickly being seen in the collective, figuartive rearview mirror. However, after all the drama and excitement from this past weekend north of the border, new developments from several teams have made CFL Week Five seem even more impactful than previously thought.
Top Storyline
In Week One of this season, a plethora of quarterbacks succumbed to injuries. Darian Durant was lost for the season, Mike Reilly was dinged up and Montreal lost two pivots in Jonathan Crompton and Dan LeFevour. Week Five was something of a Week One redux, as two more key quarterbacks succumbed to injuries. Winnipeg's Drew Willy had to leave the Bombers' game against the Eskimos, while Kevin Glenn was knocked out in the final moments of the third quarter against Hamilton.
Drew Willy will be starting Week Six for Winnipeg, but the already reeling Roughriders will not be so lucky. Kevin Glenn has been placed on the six-game injured list, opening the door for rookie Brett Smith to get his first career start against Edmonton. Each team could have used more production from their top (active) quarterback in Week Five, as Winnipeg was annihilated by Edmonton and Saskatchewan lost once again, this time to Hamilton. The Blue Bombers will still have their starter and shouldn't experience too much of a setback, while in Regina, things frankly can't get much worse, and the rookie out of the University of Wyoming may give a spark to the winless Riders.
Top Performance
In a week in which the top story is the injuries of multiple quarterbacks, several had shining performances, none more so than that of Henry Burris. Ottawa's starting pivot led the REDBLACKS to a stunning upset of the Calgary Stampeders. Burris completed 65.1% of his passes for 389 yards with 3 touchdowns and no interceptions, good for a passer rating of 117.3. It's widely agreed upon by fans and media members alike that Ottawa is one of, if not the, weakest team(s) in the CFL today, yet they currently stand with a winning record. If Burris is able to continue performing at such a high level, the Rouge et Noir may be able to turn plenty of heads as the season rolls on.
| | | | | | |
| --- | --- | --- | --- | --- | --- |
| Attempts | Completions | Passing Yards | Touchdowns | Interceptions | Rating |
| 43 | 28 | 389 | 3 | 0 | 117.1 |
Top Canadian
It came in a losing effort, but BC's Andrew Harris came away with the highest receiving yardage total of any National player in Week Five, as well as the highest rushing total. Harris led the team in receiving coming out of the backfield, pulling in over one third of Travis Lulay's passing yards against Toronto, as well as his lone touchdown pass. In total, he had 57 yards on 6 receptions to go along with the major score. He also was the game's leading rusher against the Argos, picking up 72 yards and 2 scores on the ground. Despite the loss, it does signal good things for the Lions if Lulay is finding more weapons to trust. There have been moments throughout the season when he looks reliant almost on Austin Collie, so it can only be positive if the veteran running back Harris can continue to run effectively, catch passes and produce for BC.
| | | | |
| --- | --- | --- | --- |
| Touches | Total Yards | YPT | Touchdowns |
| 18 | 129 | 7.17 | 3 |
Game Recaps
Calgary Stampeders 26, Ottawa REDBLACKS 29
This game was filled with intrigue and its conclusion just made this season even more odd for both franchises. On Calgary's side, they looked less than impressive once more as their record fell to 3-2 on the season, although the biggest blow may have come in the form of losing their biggest star, Jon Cornish. Cornish will be out for six to eight week, approximately, with a thumb injury. On the other side, Ottawa now has a winning record while their quarterback well outplayed his age (and recent performances), earning the honor of VAVEL's Top Performance for Week Five. The Stamps' Bo Levi Mitchell didn't have a poor game himself, completing 23 of 41 passes for 318 yards (although he did lose 2 fumbles), while Eric Rogers was the team's leading receiver, netting 124 yards and a score through the air for Calgary. Chris Williams was the game's leading receiver, pulling in 7 balls for 162 yards.
| | | | | | |
| --- | --- | --- | --- | --- | --- |
| | Total Yards | Passing Yards | Rushing Yards | Touchdowns | Turnovers |
| Calgary - 26 | 350 | 318 | 32 | 2 | 3 |
| Ottawa - 29 | 422 | 389 | 33 | 3 | 0 |
Toronto Argonauts 30, BC Lions 27
After trailing 14-0 to the Lions after the first period of play, the Argos were able to storm back and take the game by a 3 point edge. Trevor Harris was a force for Toronto, putting together another strong QB performance in the first half of the weekend's games. He completed 30 of 40 passes for 340 yards with 2 touchdowns, however he did also throw 2 picks. Harris did a great job of distributing the ball against BC, completing passes to 8 different receivers, 6 of whom had at least 4 catches and at least 30 yards. Travis Lulay did not have quite as spectacular of a performance as he did in Week Four; he passed for just 165 yards with 1 touchdown and 1 interception in the loss. This week's Top Canadian, Andrew Harris, led all players in yards from scrimmage with 129.
| | | | | | |
| --- | --- | --- | --- | --- | --- |
| | Total Yards | Passing Yards | Rushing Yards | Touchdowns | Turnovers |
| Toronto - 30 | 393 | 340 | 53 | 3 | 2 |
| BC - 27 | 240 | 165 | 75 | 3 | 1 |
Winnipeg Blue Bombers 3, Edmonton Eskimos 32
After taking a 3-1 lead with 1:23 to go in the first, Winnipeg was outscored 31-0 for the rest of the game. It was ugly for the Bombers, while for Edmonton it was a beautiful game which gave them the best record in the West Division. This doesn't exempt the Esks from drama though, as backup quarterback James Franklin was the game's true star. After a relatively pedestrian performance from pivot Matt Nichols (68% completions, 196 yards, 0 touchdowns, 0 interceptions), Franklin entered the game and completed 5 of 8 passes, 3 of which went for touchdowns. Shakir Bell performed well for Edmonton once again, compiling 95 yards on the ground on 12 carries. The quarterback play was poor all around for the Bombers, as Drew Willy threw for just 81 yards on 7/17 passing, and following his injury Brian Brohm entered the game and completed just 9 of 19 passes for 71 yards. He also threw two interceptions in the losing effort.
| | | | | | |
| --- | --- | --- | --- | --- | --- |
| | Total Yards | Passing Yards | Rushing Yards | Touchdowns | Turnovers |
| Winnipeg - 3 | 252 | 152 | 100 | 0 | 2 |
| Edmonton - 32 | 378 | 277 | 101 | 4 | 1 |
Hamilton Tiger-Cats 31, Saskatchewan Roughriders 21
It can't be said enough that this season has been a trainwreck so far for the Roughriders. In a rematch the 101st Grey Cup, the result was the inverse of the 2013 final, as Hamilton pulled out the win. Saskatchewan took the first lead of the game, leading 3-0 in the first, but the TiCats responded with a 31-18 run for the rest of the game. Adding injury to insult, as mentioned earlier, Kevin Glenn has been placed on the six game injured list after being knocked out in the third quarter of the game. Rookie Brett Smith entered the game but threw just four passes and will start Week Six against Edmonton. For the TiCats, Zach Collaros put together another solid performance, throwing for 284 yards and a touchdown. The biggest surprise of the game was the dominant rushing performance by Hamilton, who broke out of their early season rushing doldrums to put up 168 yards on the ground, led by 135 from CJ Gable. Both teams remain in last place in their respective divisions; Hamilton at 2-2 with the second highest scoring offense in the CFL and third-stingiest defense, Saskatchewan at 0-5 with the highest scoring offense and the defense allowing the most points league-wide.
| | | | | | |
| --- | --- | --- | --- | --- | --- |
| | Total Yards | Passing Yards | Rushing Yards | Touchdowns | Turnovers |
| Hamilton - 31 | 452 | 284 | 168 | 2 | 0 |
| Saskatchewan - 21 | 351 | 267 | 84 | 2 | 1 |