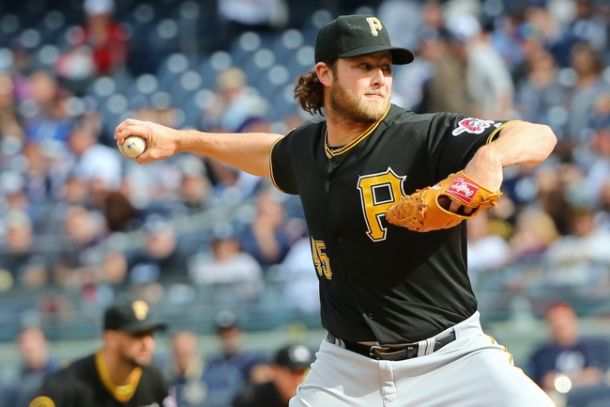 The Pittsburgh Pirates starting pitcher Gerit Cole has been pitching through a blister. Despite the blister being on his pitching hand, he has pitched well and it hasn't bothered him. Having a blister especially to the pitcher's pitching hand can be bothersome. It makes it difficult to pitch and hold the ball correctly. It hurts when you try to pitch with it on your hand. Typically, it lands pitchers on the disabled list. Geritt Cole pitched last night's game as if nothing was wrong. In fact, nobody knew about the blister until it was discovered until after he already pitched except for Cole. Cole had blood on his hand afterwards, Fortunately, this particular blister isn't where his fingertip is so it doesn't effect his pitching.
"It's (from) when he digs in and how he throws his changeup. It's on the outside, not even near a fingertip," Pirates manager Clint Hurdle said. "He's had it every year that I've been with him. … It can look like there's some sort of issue going on (with the blood), but it's not really pitching-related."
Gerritt Cole this year has been a big help to his team. He has a 3.78 ERA with 126 strike outs in 131 innings this year. This is his sophomore season and he's avoided the sophomore slump too. His wins last year snapped a 20 year losing streak for the Pittsburgh Pirates, and helped them to the playoffs. The win that he picked up last night against the Atlanta Braves clinched a spot in the 2014 postseason, a wildcard spot. Hopefully, that blister will heal and won't bother him. The Pirates are going to need him possibly in that wildcard game.