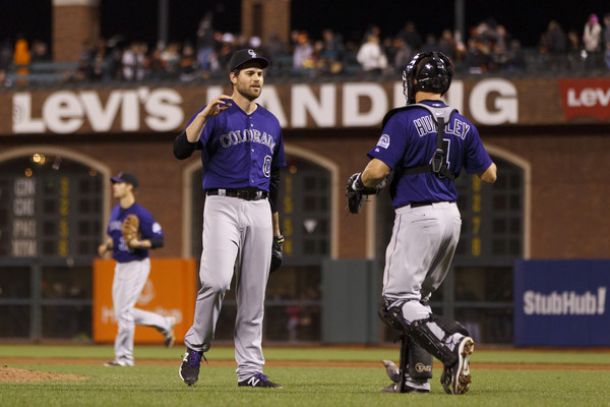 Shortly before taking the mound in the ninth inning on Tuesday night, Colorado Rockies right-hander Adam Ottavino was informed by manager Walt Weiss that he would be the team's closer going forward. Ottavino then proceeded to go out and justify Weiss' trust in him as he struck out the side in securing the Rockies 4-1 win over the San Francisco Giants at AT&T Park.
"Otto was dominant tonight," Weiss said.
The save was Ottavino's first of the season and only the second in his five year career. He replaces LaTroy Hawkins who has struggled this season with consecutive blown saves.
Ottavino, armed with a fastball that has hit the upper 90's on the speed gun and a slider that freezes hitters at the plate, will take over as the closer for the first time in his career.
Weiss shows no concerns about Ottavino's inexperience closing out games.
"He's got closer's stuff," Weiss said.
Ottavino isn't worried about having only two saves in the majors. He said he was confident that he was ready to meet the challenge of facing down the opposition in the ninth with the game on the line.
"Of course I feel ready," Ottavino said. "Before last year, I hadn't really pitched that much with the game on the line, but I'm more used to it now. I also think I've made some adjustments vs. lefties, and I did pretty good against them in the spring. I feel more confident right now than I ever have on the mound."
Ottavino made his major league debut with the St. Louis Cardinals in 2010 before being placed on waivers and acquired by the Rockies on April 3, 2012. In his career Ottavino has a record of 7-10 with an ERA of 3.96 in 250 innings. So far in five games this season he has shut out the opposition on just one hit while striking out 10 and walking one batter.