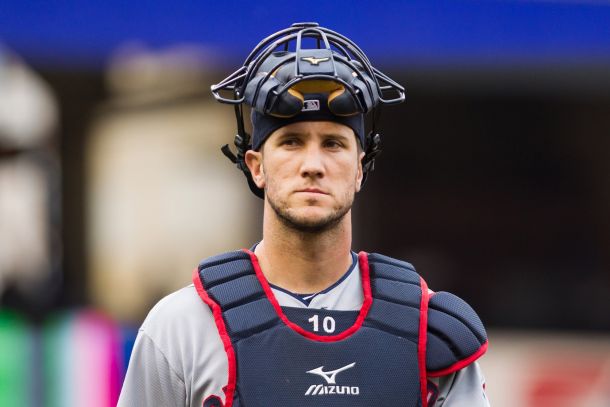 Fantasy does have a great equalizer and it always causes owners a headache. Today, we look at two different cases of injuries since both players have different degrees of difficulty replacing them. San Diego Padres starting pitcher Ian Kennedy and Cleveland Indians catcher Yan Gomes were placed on the 15-day DL and today we shall look at both cases and find ways to plug the gap.
Starting with the easier hole to fill, Ian Kennedy, who was diagnosed with a hamstring injury, was placed on the 15-day DL and was replaced in the rotation by Odrisamer Dispaigne. Fantasy-wise, Kennedy was a solid number three to number four starter and losing him does cause fantasy owners some issues but not as much compared to other positions since starting pitching is indeed still very deep. When it comes to the question of putting him in the DL slot, benching him, or dropping him for another pitching the answer is easy. Kennedy is coming back and he will likely be just fine, so unless the situation is extremely dire, and at this point it should not be, owners will do wise to hold on to him.
As previously stated, Odrisamer Dispaigne is going to be replacing Kennedy in the rotation and owners should at least keep at eye on him. Deeper leagues, anything more than twelve teams, should keeper a closer eye on him now or lose out on picking him up. In 2014 Dispaigne was actually fairly solid ending the season with a mediocre 6.07 K/9 and a solid 2.99 BB/9 both solid numbers but not a must add kind of guy. His FIP of 3.74 is also solid and in ninety-six innings pitched he only gave up six home runs, which is a HR/9 of 0.56 and considering his home field that does feel like a repeatable stat. At the moment, Dispaigne does fit more as a home spot starter as his numbers are far better at home, .171/.247/.235, versus away, .284/.356/.413.
Other potential options that owners can pick up for some spot starts include Trevor Bauer of the Cleveland Indians, a strong strikeout pitcher who does has a tendency to walk a few to many batters so throw against weaker offenses. "Big Fat" Bartolo Colon on the New York Mets is a good option for a back end fantasy starter when strikeouts are not the key thing. Last but not least, after all there are a lot of pitchers, Chris Tillman on the Baltimore Orioles is a solid pitcher that could stay on the roster even after Kennedy comes back.
Unlike Ian Kennedy Yan Gomes is a harder fix for owners to replace as the leagues get bigger. Even worse is the fact that Gomes was, debatably, a top five catcher in fantasy, so losing his production is not likely replaceable and worse is losing him for six to eight weeks. The replacement that Cleveland is using is not an option either since Roberto Perez is not even a replacement-level ball player. For catching options it is best to look at another team or just anyone other Perez.
As for some suitable replacements owners can look into the options are actually more plentiful than some owners would think. In a basic league some common options owners can find are Jason Castro of the Houston Astros, who seems to have found his swing from last season hitting .294 with an OBP of .429 in seventeen at-bats. Wilson Ramos of the Washington Nationals has fallen in many owners' rankings after failing to reach his potential but with a strong lineup ahead of him, he could be a valid option for 2015 in general. If power is all an owner is looking for, Mike Zunino of the Seattle Mariners is a very good option, but he does come at the cost of, well, every other stat so owners should have a good team to fill in for what he lacks. Kurt Suzuki and Francisco Cervelli are very similar players and could end up with similar numbers in the end of the season and are safe bets to end the season with some solid numbers.