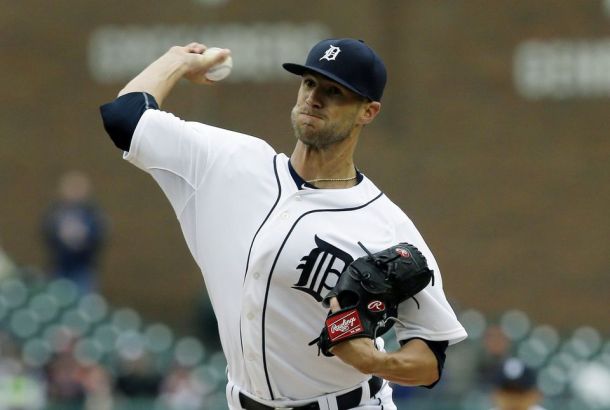 Projected Rotation
AL West
Los Angeles Angels
Matt Shoemaker: 4/20: Oakland A's and 4/25: Texas Rangers
Hector Santiago: 4/21: Oakland A's and 4/26: Texas Rangers
Jeff Weaver: 4/22: Oakland A's
C.J. Wilson: 4/23 Oakland A's
Garrett Richards: 4/24 Texas Rangers
Seattle Mariners
Hisashi Iwakuma: 4/20: @ Houston Astros and 4/26: Minnesota Twins
Taijuan Walker: 4/21: @ Houston Astros
J.A. Happ: 4/22: @ Houston Astros
Felix Hernandez: 4/24: Minnesota Twins
James Paxton: 4/25: Minnesota Twins
Oakland Athletics
Kendall Graveman: 4/20: @ LA Angels and 4/25: Houston Astros
Drew Pomeranz: 4/21: @ LA Angels and 4/26: Houston Astros
Sonny Gray: 4/22: @ LA Angels
Jesse Hahn: 4/23: @ LA Angels
Scott Kazmir: 4/24: Houston Astros
Houston Astros
Asher Wojciechowski: 4/20: Seattle Mariners and 4/26: @ Oakland A's
Colin McHugh: 4/21: Seattle Mariners
Roberto Hernandez: 4/22: Seattle Mariners
Dallas Keuchel: 4/24: @ Oakland A's
Scott Feldman: 4/25: @ Oakland A's
Texas Rangers
Nick Martinez: 4/21: Arizona Diamondbacks and 4/26: @ LA Angels
Yovani Gallardo: 4/22: Arizona Diamondbacks
Colby Lewis: 4/24: @ LA Angels
Ross Detwiler: 4/25: @ LA Angels
AL Central
Detroit Tigers
Shane Greene: 4/20: NY Yankees and 4/24: Cleveland Indians
Kyle Lobstein: 4/21: NY Yankees and 4/26: Cleveland Indians
David Price: 4/22: NY Yankees
Anibal Sanchez: 4/23: NY Yankees
Alfredo Simon: 4/25: Cleveland Indains
Cleveland Indains
Carlos Carrasco: 4/20: @ Chicago White Sox and 4/26: @ Detroit Tigers
Trevor Bauer: 4/21: @ Chicago White Sox
Corey Kluber: 4/22: @ Chicago White Sox
Danny Salazar: 4/23: @ Detroit Tigers
T.J. House: 4/24: @ Detroit Tigers
Kansas City Royals
Edison Volquez: 4/20: Minnesota Twins and 4/25: @ Chicago White Sox
Jason Vargas: 4/21: Minnesota Twins and 4/26: @ Chicago White Sox
Jeremy Guthrie: 4/22: Minnesota Twins
Yordano Ventura: 4/23: Minnesota Twins
Danny Duffy: 4/24: @ Chicago White Sox
Chicago White Sox
John Danks: 4/20: Cleveland Indians and 4/24: Kansas City Royals
Jeff Samardzija: 4/21: Cleveland Indians and 4/25: Kansas City Royals
Chris Sale: 4/22: Cleveland Indians and 4/26: Kansas City Royals
Jose Quintara: 4/23: Kansas City Royals
Minnesota Twins
Kyle Gibson: 4/24: Kansas City Royals and 4/26: @ Seattle Mariners
Tommy Millone: 4/21: Kansas City Royals
Mike Pelfrey: 4/22: Kansas City Royals
Phil Hughes: 4/24: @ Seattle Mariners
Rickey Nolasco: 4/25: @ Seattle Mariners
AL East
Baltimore Orioles
Wei-Yin Chen: 4/20: @ Boston Red Sox and 4/25: Boston Red Sox
Bud Norris: 4/21: @ Toronto Blue Jays and 4/26: Boston Red Sox
Ubaldo Jimenez: 4/22: @ Toronto Blue Jays
Chris Tillman: 4/23: @ Toronto Blue Jays
Miguel Gonzalez: 4/24: Boston Red Sox
Boston Red Sox
Justin Masterson: 4/20: Baltimore Orioles and 4/25: @ Baltimore Orioles
Wade Miley: 4/21: @ Tampa Bay Rays and 4/26: @ Baltimore Orioles
Joe Kelly: 4/22: @ Tampa Bay Rays
Clay Buchholz: 4/23: @ Tampa Bay Rays
Rick Porcello: 4/24: @ Baltimore Orioles
New York Yankees
CC Sabathia: 4/20: @ Detroit Tigers and 4/25: NY Mets
Nate Eovaldi: 4/21: @ Detroit Tigers and 4/26: NY Mets
Adam Warren: 4/22: @ Detroit Tigers
Masahiro Tanaka: 4/23: @ Detroit Tigers
Michael Pineda: 4/24: NY Mets
Tampa Bay Rays
Chris Archer: 4/21: Boston Red Sox and 4/26: Toronto Blue Jays
Nathan Karns: 4/22: Boston Red Sox
Jake Odorizzi: 4/23: Boston Red Sox
Matt Andriese: 4/24: Toronto Blue Jays
Erasmo Ramirez: 4/25: Toronto Blue Jays
Toronto Blue Jays
Mark Buerhle: 4/21: Baltimore Orioles and 4/26: @ Tampa Bay Rays
Aaron Sanchez: 4/22: Baltimore Orioles
Drew Hutchinson: 4/23: Baltimore Orioles
R.A. Dickey: 4/24: @ Tampa Bay Rays
Daniel Norris: @ Tampa Bay Rays
NL West
Arizona Diamondbacks
Chase Anderson: 4/21: Texas Rangers
Archie Bradley: 4/22: Texas Rangers
Josh Collmenter: 4/24: Pittsburgh Pirates
Rubby De La Rosa: 4/25: Pittsburgh Pirates
Jeremy Hellickson: 4/26: Pittsburgh Pirates
Colorado Rockies
Tyler Matzek: 4/21: San Diego Padres and 4/25: San Francisco Giants
Kyle Kendricks: 4/22: San Diego Padres
Jordan Lyles: 4/23: San Diego Padres
Eddie Butler: 4/24: San Francisco Giants
Jorge De La Rosa: 4/26: San Francisco Giants
Los Angeles Dodgers
Brett Anderson: 4/21: @ San Francisco Giants and 4/26: @ San Diego Padres
Clayton Kershaw: 4/22: @ San Francisco Giants
Zack Greinke: 4/23: @ San Francisco Giants
Brandon McCarthy: 4/24: @ San Diego Padres
Jon Wieland: 4/25: @ San Diego Padres
San Diego Padres
Odrisamer Despaigne: 4/20: @ Colorado Rockies and 4/25: LA Dodgers
Brandon Marrow: 4/21: @ Colorado Rockies and 4/26: LA Dodgers
James Shields: 4/22: @ Colorado Rockies
Tyson Ross: 4/23: @ Colorado Rockies
Andrew Cashner: 4/24: LA Dodgers
San Francisco Giants
Tim Lincecum: 4/21: LA Dodgers and 4/26: @ Colorado Rockies
Madison Bumgarner: 4/22: LA Dodgers
Ryan Volgelsong: 4/23: LA Dodgers
Chris Heston: 4/24: @ Colorado Rockies
Tim Hudson: 4/25: @ Colorado Rockies
NL Central
Chicago Cubs
Jake Arrieta: 4/20: @ Pittsburgh Pirates and 4/25: @ Cincinnati Reds
Travis Wood: 4/21: @ Pittsburgh Pirates and 4/26: @ Cincinnati Reds
Jason Hammel: 4/22: @ Pittsburgh Pirates
Kyle Hendricks: 4/23: @ Cincinnati Reds
Jon Lester: 4/24: @ Cincinnati Reds
Cincinnati Reds
Andrew DeSclafani: 4/20: @ Milwaukee Brewers and 4/25: Chicago Cubs
Jason Marquis: 4/21: @ Milwaukee Brewers and 4/26: Chicago Cubs
Johnny Cueto: 4/22: @ Milwaukee Brewers
Homer Bailey: 4/23: @ Milwaukee Brewers
Mike Leake: 4/24: Chicago Cubs
Milwaukee Brewers
Willy Peralta: 4/20: Cincinnati Reds and 4/25: St. Louis Cardinals
Mike Fiers: 4/21: Cincinnati Reds and 4/26: St. Louis Cardinals
Jimmy Nelson: 4/22: Cincinnati Reds
Kyle Lohse: 4/23: Cincinnati Reds
Matt Garza: 4/24: St. Louis Cardinals
Pittsburgh Pirates
A.J. Burnett: 4/20: Chicago Cubs and 4/25: Arizona Diamondbacks
Francisco Liriano: 4/21: Chicago Cubs and 4/26: Arizona Diamondbacks
Jeff Locke: 4/22: Chicago Cubs
Vance Worley: 4/23: Chicago Cubs
Gerrit Cole: 4/24 @ Arizona Diamondbacks
St. Louis Cardinals
Lance Lynn: 4/21: @ Washington Nationals and 4/26: @ Milwaukee Brewers
John Lackey: 4/22: @ Washington Nationals
Michael Wacha: 4/23: @ Washington Nationals
Carlso Martinez: 4/24: @ Milwaukee Brewers
Adam Wainwright: 4/25: @ Milwaukee Brewers
NL East
Atlanta Braves
Trevor Cahill: 4/21: @ NY Mets and 4/26: @ Philadelphia Phillies
Eric Stults: 4/22: @ NY Mets
Julio Teheran: 4/23: @ NY Mets
Alex Wood: 4/24: @ Philadelphia Phillies
Shelby Miller: 4/25: @ Philadelphia Phillies
Miami Marlins
Dan Haren: 4/21: @ Philadelphia Phillies and 4/26: Washington Nationals
Jarred Cosart: 4/22: @ Philadelphia Phillies
David Phelps: 4/23: @ Philadelphia Phillies
Matt Latos: 4/24: Washington Nationals
Tom Koehler: 4/25: Washington Nationals
New York Mets
Jonathan Niese: 4/21: Atlanta Braves and 4/26: @ NY Yankees
Dillon Gee: 4/22: Atlanta Braves
Bartolo Colon: 4/23: Atlanta Braves
Jacob DeGrom: 4/24: @ NY Yankees
Matt Harvey: 4/25: @ NY Yankees
Philadelphia Phillies
Jerome Williams: 4/21: Miami Marlins and 4/26: Atlanta Braves
Cole Hamels: 4/22: Miami Marlins
Sean O'Sullivan: 4/23: Miami Marlins
Aaron Harang: 4/24: Atlanta Braves
David Buchanan: 4/25: Atlanta Braves
Washington Nationals
Gio Gonzalez: 2/21: St. Louis Cardinals and 2/26: @ Miami Marlins
Doug Fister: 2/22: St. Louis Cardinals
Max Scherzer: 2/23: St. Louis Cardinals
Jordan Zimmermann: 2/24: @ Miami Marlins
Steven Strausburg: 2/25: @ Miami Marlins
Notes:
Matt Shoemaker has two home games against teams that have found minimal success. However, there is one player whose owners will not like seeing matched up against Shoemaker and that's Adrian Beltre, who is 4-for-11 with one double and one walk. While no power to speak of he is the only batter on both teams with eleven at-bats that has found success so it should be noted.
Unlike Shoemaker, owners should consider benching Garrett Richards against the Rangers. In 139 at-bats the team has a .293/.358/.346 slash line with only three extra base hits. Most notable is again Adrian Beltre who has a career .320/.370/.440 slash line with one home run with a BB/K of 0.40. Owners of Beltre rejoice while Richards's owners really need to think hard.
Hisashi Iwakuma has been pretty successful against the slow starting Houston Astros in his career. In 183 at-bats he has a .240/.268/.372 slash line with four home runs, a triple and eight doubles. Most important is his forty-eight strikeouts to eight walks so owners could enjoy quite a nice outing from Iwakuma.
The one player that could cause problems for Iwakuma is little Jose Altuve who has limited power against Iwakuma but his .400/.357/.520 slash line in twenty-five at-bats. Altuve has been off to a pretty solid start and showing that his new plate discipline from 2014 could be legit with four walks and only four strikeouts.
Kendall Graveman came into 2015 with a lot of hype but owners may want to pass on his two-start week. His 7.27 ERA and worst a 7.84 FIP so far is a good reason to want to pass on potentially damaging teams like the Angels and Astros. Even though the Astros did not do too much against him the last time around he did issue more walks than strikeouts and that could lead to issues.
Sonny Gray has been fantastic so far, but when he faces the Angels' Mike Trout, Trout has been able to hit him very hard. In fourteen at-bats, he has four hits and a .286/.286/.714 slash line. That very strong SLG comes from his two home runs he has had against Gray.
Many people were skeptical about Collin McHugh's numbers in 2014 and so far no one has questions about his talent. So far McHugh has an 11.57 K/9 and a 1.54 BB/9 and still has not given up a home run. The one oddity that owners should keep an eye on is the massively high BABIP of .367 compared to the career average .244 though considering the BABIP is seventy-five points higher than his career BABIP so owners should not be too worried.
Yovani Gallardo has not been terrible so far, but the Diamondbacks have found success in the past and his .333/.359/.361 slash line says it all. Even worse is he will have to go up against Paul Goldschmidt, who owns an amazing .714/.778/.857 slash line against him.
Shane Greene has been proving to be worth the trade to get him so far and owners are enjoying the run so far. Though that does not mean he is the new fantasy ace and a must trade for player in fact this could be a great time to sale high on him. Greene has a very below average 4.50 K/9 and his BABIP is at .156, which is just less than 150 points lower than his career BABIP though that is only through seventeen starts. He also has a 2.18 FIP and 3.64 xFIP which means he could get hit hard soon.
Jose Abreu is going to be an interesting watch when he meets up against Yordano Ventura. In the five at-bats he faced Ventura last year Abreu had one home run but that is his only hit. More good news is he was able to keep an even BB/K ratio having one walk and one strikeout.
Jose Quintana has not been having a great season so far but it could be worse than it looks. His 3.72 FIP does seem to indicate he is getting a little unlucky and his BABIP is twenty-four points higher than his career average with also backs up this assessment. While his next start in Detroit might be one to pass on considering his last start ended with him giving up nine runs and ten hits in two innings of work.
While the Toronto Blue Jays have found great success against Baltimore Orioles pitcher Bud Norris, that does not apply to Jose Bautista. In fifteen at-bats, he has a .200/.294/.267 slash line with no home runs and five strikeouts. Nothing owners can do here but hope that Bautista can figure him out along with the rest of his team.
Joe Kelly has started hot so far in 2015, but his start against Tampa Bay will be interesting, since he has never faced them before. At this point, owners have no reason to worry about him, but the lack of experience pitching to the Rays could be good or bad. The numbers do say he is getting a little lucky but well within acceptable ranges.
The New York Yankees are going to a tough stretch come up facing some big teams in the Tigers and Mets. CC Sabathia has the worst of it, going against both but more importantly, he faces Miguel Cabrera, who historically crushes Sabathia. In twenty-nine at-bats, he has a .345/.417/.621 with two home runs and twelve RBI's. Cabrera has even drawn more walks than strikeouts so far in his career. If owners are in a deeper league where Sabathia is owned it might be smart to bench him.
Andrew McCutchen does not seem like a hitter that would struggle against any pitcher but apparently Josh Collmenter has his number. With only one hit in seven at-bats he has limited the MVP to a .111 batting average but on the plus side he has walked twice.
Chris Heston will have to face a team that has beat up on him last time around but did limit the damage to personal stats damage. Heston gave up seven hits in twenty-three at-bats and the Rockies ended the game with a .306/.360/.348 but only were able to plate one run. The game is in Colorado so this could be a toss up for owners since Heston has looked sharp but it is always a gamble pitching in Colorado.
Mat Latos has looked terrible and it goes without saying he is not this bad but owners may consider benching him for a while till the old Latos shows back up. Right now his BABIP is 205 points higher than his career BABIP and his FIP is at 4.13 compared to his 10.24 ERA. The walks keep coming as his BB/9 is at 5.59 but he still is getting the strikeouts since he does have a K/9 of 9.31. In shallow leagues it is probably a good time to drop Latos and see what else is out there since he is not likely to get better numbers against Washington. Deeper leagues bench him and hope for the best.
Starlin Castro is going to have a field day against A.J. Burnett. In twenty-nine at-bats he has a .448/.448/.552 slash line with four RBI's and three doubles. Even though he has no walks against Burnett and has struck out three times, Castro just seems to be locked in against Burnett.
Shelby Miller is almost an identical case to Shane Greene. His 0.90 ERA is hiding a lot of warning signs including his 3.19 FIP and a 3.60 BB/9. If owners can find someone that will take Miller because of his ERA its a good time to try it now since a 4.50 K/9 and that 3.60 BB/9 spells bad trouble later on.