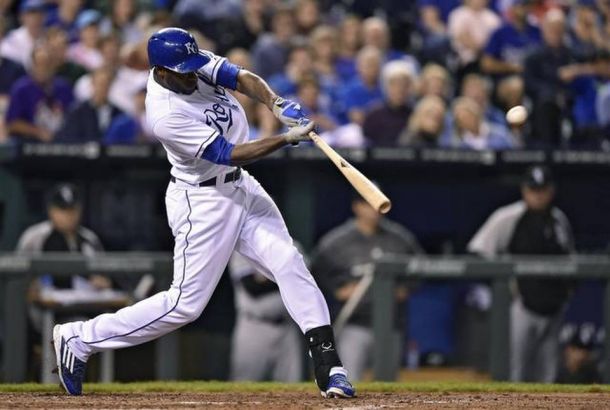 After two weeks, there are some players making names for themselves and catching the eyes of owners. Gauging a player and how much belief an fantasy owner puts into him is the major question all owners have to ask, and today we take a look at a few players who have made owners think. Taking a look at the ESPN player rater shows there are a few players that have made the top fifty whom no one would have suspected or are playing at a level that is above the prediction.
Lorenzo Cain
ESPN Player Rater Ranking- 3
Cain has been one of those players whom owners have been just waiting to come around, and much like with his fellow Royal Salvador Perez, most of us had given up hope. Cain has built upon a very strong ending to 2014 and his playoff games to start hot in early 2015. He is currently batting .413/.491/.652 with two home runs, 12 RBI, and four stolen bases -- and that is admittedly very impressive. The good sign for Cain is his walk rate showing improvement; it is down but not by a large margin that should worry owners. So far, there are many good signs that Cain might finally become that player we hoped for, but owners shall have to wait and see. Cain is showing tremendous progress, and although the odds that he stays at this level are nearly impossible, a .300/.360/.480 season with twenty home runs does not seem so unlikely as it did pre season.
Dee Gordon
ESPN Player Rater Ranking- 6
Sell. His numbers look good for now, but under the .389/.404/.500 slash line so far lies some bad signs moving forward. So far, Gordon has actually walked less than normal and is striking out 8.6% of the time. That sounds good, but it is 8% lower than his career total, and considering he started 2014 doing very similarly, it is likely this will go up very soon. Currently, Gordon has a BABIP of .420, which is ninety points above his career level and still eighty points over his 2014 total BABIP. That likely means his numbers will go down quite a bit. Lastly, Gordon has six stolen bases and has been caught four times already. While this is not a major thing at the moment, if stolen bases are the main goal, this is a bad sign.
Steven Souza
ESPN Player Rater Ranking- 9
Souza falls into the category of slight sell since the talent is there but so is the likelihood he ends up far lower than where he is now. The main issue is he is a strikeout machine, having a 37.3% strikeout rate and as a player with only average speed. His .435 BABIP does not seem maintainable. According to Baseball America, his average across the board and the .280 average could be obtainable, but it is the .373 OBP that is likely to drop a lot. Souza pans out more of a fifteen-home-run hitter, and at current pace ,he will end the season with thirty, so expect the power to fall of a little.
Salvador Perez
ESPN Player Rater Ranking- 10
Perez has been a sleeper pick for years now, and, finally, owners are seeing what we have wanted. Perez is not only hitting for power, he has an ISO of .255 and has lowered his K% to 8.3% so far. There is regression coming since his 2.1% BB% and .350 BABIP are not a good mix. The OBP is going to drop and likely be closer to .320, but that .300 average and the high ISO is sustainable.
Shane Greene
ESPN Player Rater Ranking- 12
Greene is a classic sell-high candidate, and it could be best to do it now. There are good things here for Green such as the very low BB/9 of 1.96 and the strong GB/FB rate of 1.50, but the bad part is that the 4.3 K/9 is just too low for a fantasy pitcher. The main thing that worries owners is the FIP and xFIP, which are 2.70 and 4.01 respectively, and that is a far cry from his 0.39 ERA. The numbers say he is getting really lucky and he is not striking out enough hitters to make the lower ERA sustainable, but there could be someone who is more of a believer and willing to pay.
J.D. Martinez
ESPN Player Rater Ranking: 17
For what Martinez is doing, he is doing it well. Martinez was never a great walker or batting average guy, but he can hit thirty home runs with no issues. He can also steal a base or two but not get more than ten. That still makes him a 30/10 hitter. He could be a good buy-low candidate since outside of home runs he is slightly below average, and his owner could be slightly panicking if they were expecting his 2014 numbers.
Chris Heston
ESPN Player Rater Ranking: 35
Heston may be pitching over his head a little, but he is making the most of his talent. According to Baseball America, he is the 25th best prospect and is likely only really going to pan out to a #4 starter when all things are said and done. Unlike Shane Greene, however, the numbers make a little more sense and could be more sustainable. Regression seems very likely, but there is a lot to look forward to when looking at Heston's FIP of 2.96 and xFIP of 3.25, both of which are more than sustainable. With his 6.97 K/9 combined with his 61% groundball rate, he could end up be a very solid spot starter or even a back end of the fantasy rotation guy. He could be good, but this is not a player that owners should go after and trade for.
Ender Inciarte
ESPN Player Rater Ranking: 44
There is not a lot of info on Inciarte and even less when considering he was never really ranked as a top prospect. Looking at the numbers Inciarte has put up makes it seem like a likely sell-high candidate, but finding an owner to take him will likely be a problem. The best thing owners can do is to hold on to him and ride the wave until Inciarte comes back down to earth or maybe stays consistent throughout 2015. The bottom line is owners will get below market value, so trading him or for him is not likely to get owners much in return.