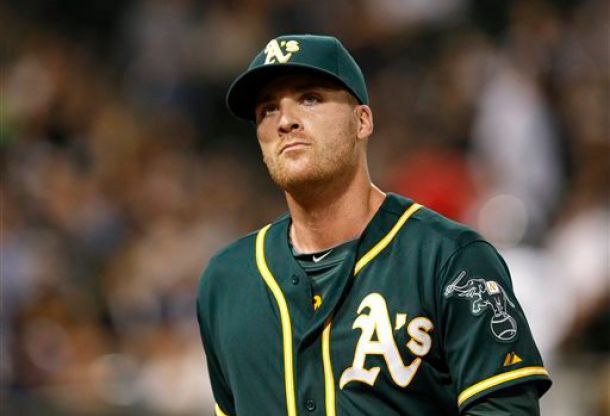 The 8-12 Oakland Athletics continue to find ways to lose winnable games, most specifically when manager Bob Melvin makes a call to the bullpen. With multiple relief pitchers struggling, the A's find themselves unable to stay at the top of a mediocre-thus-far A.L. West division.
Oakland will have a day off on Monday ahead of their three-game home series against the L.A. Angels. The A's lost two of three this past week down in Anaheim to the Angels and will look to exact a little revenge. With Josh Hamilton likely on his way back to the Texas Rangers, we'll see how the Angels react and whether or not they can come together as a club and move past Hamilton's well-below expectations.
Here are the expected pitching match-ups for the series - all times in PST:
Tuesday, 4/28, 7:05pm, Jered Weaver (0-2) vs. Sonny Gray (2-0)
Wednesday, 4/29, 7:05pm, Matt Shoemaker (2-1) vs. Jesse Hahn (1-1)
Thursday, 4/30, 12:35pm, Garrett Richards (1-1) vs. Scott Kazmir (2-0)
Predictions: With Gray and Kazmir having sensational starts to their seasons, look for the A's to win two of three here and look for Melvin to leave Gray in there as long as he can possibly go to get this series off on the right foot.
The A's will take off from the Bay Area and head to Texas to take on the Rangers. The two teams split a four game series to start the 2015 season in Oakland, with only one of the games being remotely close and "interesting" to the casual fan. The expected pitching match-ups for the weekend series are as follows:
Friday, 5/1, 5:05pm, Jesse Chavez (0-1) vs. Colby Lewis (1-2)
Saturday, 5/2, 5:05pm, Drew Pomeranz (1-2) vs. Nick Martinez (2-0)
Sunday, 5/3, 12:05pm, Sonny Gray (2-0) vs. Yovani Gallardo (2-2)
Predictions: Gray may have to save the A's from a Rangers' sweep here with Graveman and Pomeranz both showing signs of weakness in the past two weeks. As an aside, will anyone be watching baseball on Saturday with the NHL and NBA playoffs, the Kentucky Derby, and the Pacquiao vs. Mayweather boxing fight?
Who's Hot?
Stephen Vogt remains hot to start of the 2015 season, leading the A's in BA, HR's, RBI's, and OBP. The "I believe in Stephen Vogt" movement was very real last year, and he's giving people no reason to jump off the train in 2015. Not far behind Vogt, OF Josh Reddick has turned his offensive production around pretty quickly this past week.
Starting pitchers Sonny Gray and Scott Kazmir have been phenomenal to start the season. Utility pitcher Jesse Chavez has been nearly impressive, stepping in to make a replacement start this past week only to see the A's offense go quietly in the night.
Who's Not?
RP Eric O'Flaherty has been "Jim Johnson in 2014 Bad" to start the season. There is no reason for Melvin to continue to waive for him out of the bullpen unless there is a 5+ run advantage or disadvantage in a particular game. The vast majority of the bullpen has been the main weakness for the A's, which is why we will find several, additional names below.
A's Roster Movement
RP's R.J. Alvarez and Arnold Leon were both optioned to the Minor Leagues. RP Chris Bassitt from the Minors was called up to take the roster spot as Leon had actually been Alvarez's replacement and almost immediately sent back down to Nashville.
Noteworthy for A's fans: the team sent SP Jarrod Parker to their Stockton affiliate to begin a rehab assignment coming off of his second Tommy John surgery. Good luck to Parker, who would look fantastic coming out of the A's bullpen right about now.
Over the weekend, the A's placed Ben Zobrist on the 15-day DL and called up INF Max Muncy, who debuted on Saturday at third base and had his first Major League hit. Billy Beane designated Eury De La Rosa for assignment and on Sunday demoted SP Kendall Graveman to the Minors and recalled RP Ryan Cook.
The team's struggles have clearly led to a bit of shuffling on the deck.