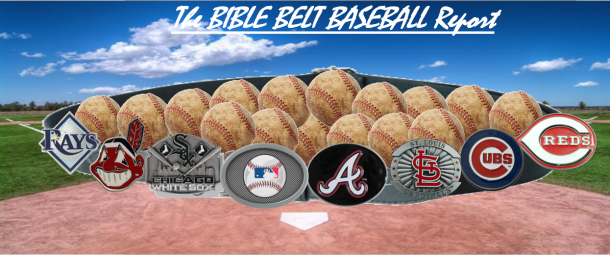 This week's Bible Belt Baseball Report starts us off right in the heart of Dixie. The Atlanta Braves are reeling fast, and they are in need of an answer quick-fast. Getting swept by the Mets in New York was followed by being shut out in the opener in Philly.
They were shutout by last year's rotation anchor, Aaron Harang.
It is absolutely dumbfounding that the Braves' front office would let him go for just over the league minimum just to bring in big gambles like Eric Stultz and Trevor Cahill -- gambles that have hit snake-eyes early on in 2015. With a weak front end to the bullpen, as well, the Braves have been hard-pressed to hit the ninth inning with a lead in the past week. Unless that offense catches fire, there's more where that came from, unfortunately.
To St. Louis we go, and the Cardinals have been hot out of the gate. The Cardinals have some concerns though. One is Jordan Walden's work load. Just 15 team games into the season, Walden has appeared 11 times, the most in Major League Baseball. The other is Yadier Molina's health. It is nothing serious, but he's already been banged up a few times this season, and the Cardinals need him healthy and on all cylinders.
The reason for the St. Louis' fast start has been the starting pitching. 2013's young phenom, Michael Wacha, is 3-0 and he went toe-to-toe bearing Max Scherzer of Wasington this week. Carlos Martinez, slotted as the number five starter, has been incredible as well. Great news from extended spring training too: Jaime Garcia went 3 1/3 and 80 pitches in a simulated game and looked good. If everything goes well, Garcia should be back next month and ready to contribute to an already stout rotation.
The Cardinals, though, got some terrible news Sunday morning when they discovered that Adam Wainwright could possibly miss the rest of season according to FOX Sports' Ken Rosenthal. That would be horrible for both the pitcher and the team.
Sources: Expectation is that #STLCards' Wainwright is done for season with Achilles injury. Has not yet undergone MRI.

— Ken Rosenthal (@Ken_Rosenthal) April 26, 2015
Now, we check in on the north side of Chicago. The Cubs are chasing St. Louis and putting plenty of pressure on them. Jon Lester struck out 10 versus the Reds, and he looks to be right on track. He got off to a slow start this year, but remember, he was a little behind this spring due to a couple of minor hiccups and injuries. This is normally where he wouldd be at coming out of Spring Training. With that said, he was firing on all cylinders against one of baseball's most explosive offenses.
The infusion of youth is running over in Wrigley, too. Jorge Soler and Kris Bryant had to step aside this week and share the spotlight with new call-up Addison Russell. Russell, a natural shortstop, has been placed at second base. A recent experiment with Bryant in center could slide Starlin Castro to third, all with the intentions of Russell moving to short and Minor Leaguer Javier Baez to go to his natural position of second base.
The south-side of Chicago has the song "Bad Bad Leroy Brown" ringing through the streets again. The White Sox got into some fist-to-cuffs with the Royals this week, and suspensions were handed out. The big blows went to starters Jeff Samardzija and Chris Sale, who will miss 5 games ( 1 start ) each after their appeals are eventually denied.
Though they might have asked for the suspensions by acting out, something has to be done about Kansas City. Three times in six games KC has had dust-ups. Not every single stand-off should result in benches clearing. Baseball is great because it polices itself, but enough is enough, Commissioner Manfred. Your honeymoon is over.