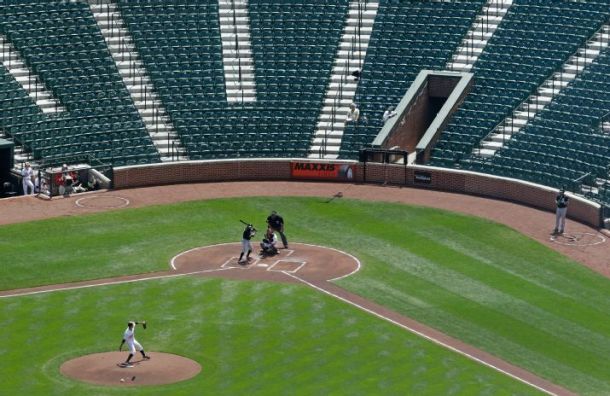 Due to the ongoing situation in Baltimore, the Chicago White Sox and Baltimore Orioles were required to play their Wednesday afternoon game in an empty stadium.
It was eery, for sure, but there wasn't a complete lack of noise. Some fans stood outside the gates of Baltimore's iconic home, cheering on their team to an 8-2 victory.
Before Wednesday's affair, the lowest attended MLB game occured on September 28, 1882 in game between Troy, NY and Worcester, MA. That's a long time ago. This was the first MLB game with no paying crowd, and had about 9,129 less fans than the lowest official Camden Yards attendance.
Anyway, the players managed to have fun with strange situation, as Caleb Joseph signed autographs for ghosts.
The game itself might have ended before it even started, as the O's put up six runs in the first inning, smoking Jeff Samardzija for eight runs on ten hits in his five, frustrating innings. After Baltimore's first three batters reached base, Adam Jones drove in a run with a sacrifice fly, and then Chris Davis smashed his fifth home run of the season to right, putting the home team up 4-0. In that first inning, the O's scored six runs on six hits and one Chicago error, and they never looked back.
The White Sox would get two runs back in the fifth, but they never managed to even threaten a comeback, as they only recorded four hits on the day. Maybe they were intimidated by the crowd.
Ubaldo Jimenez pitched well for Baltimore, finishing with a line of 7 innings pitched, 3 hits, and 2 unearned runs while striking out six and walking one. Kevin Gausman relived Jimenez in the eighth and put up a perfect inning with two strikeouts, and Zach Britton finished the game with a scoreless ninth.
Chicago is now 8-10, while the O's improved to 10-10, which puts them in a pretty good position in the densely packed A.L. East.
Both teams hit the road next, with the Sox entering a four-game weekend series in Minnesota against the Twins and the Orioles will head to Tampa Bay to face the Rays, but they will be playing as the home team.