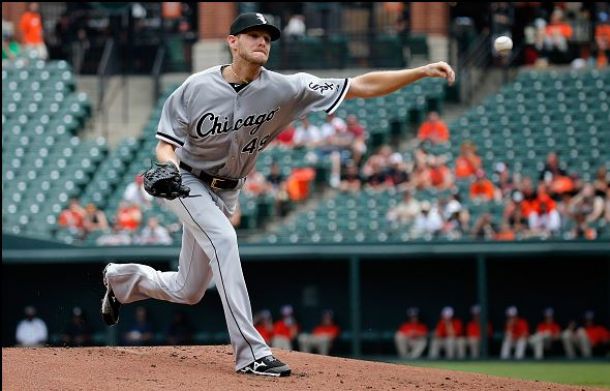 The Chicago White Sox (21-24) fended off a ninth-inning rally from the Baltimore Orioles (21-24) and held on to win 3-2 in Game 1 of Thursday's double-heander.
Chris Sale (W: 4-2, 3.66 ERA) pitched 7 2/3 innings of scoreless ball, and his team held a 3-0 lead heading into the bottom of the ninth.
Baltimore rallied for two runs with two outs in the ninth when Delmon Young singled off Zach Duke to keep the inning alive. Chris Davis followed with a two-run home run (11) to pull the Orioles to within a run. The home run also knocked Duke out of the game.
With David Robertson unavailable because he needed rest, White Sox manager Robin Ventura turned to Jake Petricka (S: 1), who struck out the only man he faced, Travis Snider, to end the game.
Sale pitched an incredible game, allowing only four hits while walking no one and striking out 12.
Chicago scored twice in the sixth on Melky Cabrera's RBI double to score Adam Eaton and Adam LaRoche's RBI single to drive in Cabrera. They tacked on another in the top of the ninth thanks to Tyler Flowers's RBI force out to bring home J.B. Schuck with a huge insurance run that the White Sox ended up needing.
Tyler Wilson (L: 1-1, 3.38) pitched effectively, allowing two earned runs on five hits in six innings. He walked one and struck out one, but he kept his team in the game, and if not for Chicago's extra run in the ninth, he could have gotten off the hook.
In Game 2, Chris Beck will make his Major League debut for the White Sox while Mike Wright pitches for Baltimore.