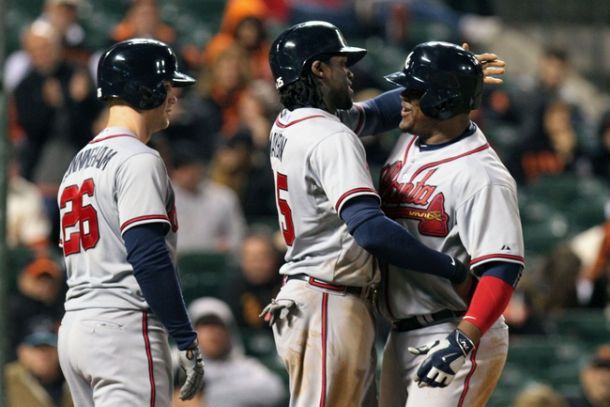 The Atlanta Braves came into tonight's game losing four out of their last five games, including two shutouts. They reversed their fortunes tonight as they were able to shutout the San Francisco Giants 8-0.
Aside from the offensive outburst, the star of the night for Atlanta was right-handed starting pitcher Williams Perez (1-0). Perez, 24, went seven shutout innings allowing four hits and four walks while striking out three batters. Not only did he end up winning his first career game he recorded his first career base hit. Perez has made three starts since joining the Braves rotation, and in those starts he has gone 18 innings allowing a total of two runs while striking out 17 batters.
Tim Lincecum (5-3) opposed Williams Perez on the mound for the Giants. Coming into tonight's game Lincecum had been dominating at home in AT&T Park going 4-1 with a 1.13 ERA. Those trends didn't hold up tonight as he was battered around giving up four runs on eight hits in 4.1 innings. Lincecum struggled to get ahead in the count as he only through first pitch strikes to eight of the 22 batters he faced.
Atlanta started the onslaught in the second inning as Andrelton Simmons extended his hit streak to eight games with an RBI infield single to drive in Nick Markakis. The Braves tacked on another run in the third inning as Cameron Maybin poked an RBI single through the drawn in infield to score Jace Peterson. Atlanta continued the picket fence as they added another run in the fourth inning on a two-out RBI single by Christian Bethancourt. Freddie Freeman gave the Braves a 4-0 lead with, you guessed it, and RBI single to left field in the fifth inning. Tim Lincecum would leave the game in the fifth inning after walking Nick Markakis.
The Braves offense didn't stop there as they extended their lead to 5-0 in the eighth inning on a single to center field by Andrelton Simmons, his second RBI base hit of the night. To add insult to injury the, Atlanta added three more runs in the ninth inning as Cameron Maybin drove in his second run of the night on a single to center after Jace Peterson led off the inning with a triple. Peterson ended the game with three hits and was a homerun shy of the cycle. It was also his first career three-hit game. Juan Uribe capped off a three-hit night with a two-run homerun to left field giving the Braves a comfortable 8-0 lead.
It was a tail of two offenses as Atlanta tallied 14 hits, 10 of which were singles, leading to eight runs; while San Francisco recorded only eight hits, all singles, and left 11 runners on base. The Braves thrived with runners in scoring position tonight as they went 6-of-17.
San Francisco had their five-game win streak snapped, as well as their six-game home winning streak. The Giants are one of the hottest teams in the game as they had won 13 of their last 15 games coming into tonight's game. San Francisco will try and win their 22 game of the month tomorrow, which is the most they've won in a singular month since June of 1954 (24-4), the same year they won the World Series.
World Series MVP Madison Bumgarner (6-3, 3.00 ERA) will pitch in the finale for the Giants, while Braves right-hander Julio Teheran (4-2, 4.91 ERA) will try and grab the series split while bouncing back from an atrocious outing in Los Angeles. Bumgarner owns the Braves as he's gone 4-0 with a 1.80 ERA in his last four starts against them, while Teheran went 0-2 with a 6.10 ERA against the Giants in his two starts last season. In those two outings Teheran gave up a total of four homeruns, something he's had problems with this season.