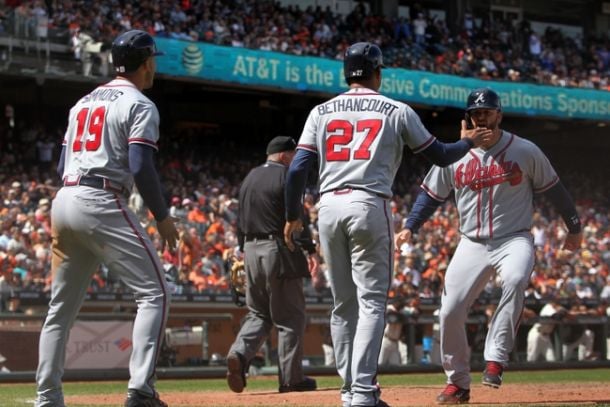 Going into the ninth inning the Atlanta Braves were down 5-3 and looked like they would lose their fifth game on their West Coast road trip. But that was until they would score four runs in the top of the ninth, highlighted by Jace Peterson's three-run triple, leading to Braves 7-5 victory over the San Francisco Giants.
Atlanta blew out San Francisco 8-0 last night but had to face left-hander Madison Bumgarner in the series finale to grab the series split. He was dominate early but would be pulled in the seventh inning after giving up the lead. Bumgarner's went 6.1 innings allowing three runs on five hits while striking out six batters.
His counterpart on the mound Julio Teheran was very pedestrian as he went 6.0 innings, before being pulled in the seventh, allowing three runs on four hits. Teheran walked four batters and struck out only one Giant batter. Both of the runs he allowed were via the homerun. Brandon Belt and Brandon Crawford went back-to-back in the second inning to give the Giants a 2-0 lead.
Bumgarner mowed down Atlanta's lineup as he retired the first 12 batters of the game without allowing any kind of base runner. Jonny Gomes broke up the no-hit bid with a single to leadoff the fifth inning. Gomes ended up at third base after a groundout and a passed ball, Chris Johnson would bring him home giving the Braves their first run.
Gomes would ignite another Braves rally in the seventh inning as he led off the inning with a walk. The very next batter, Juan Uribe, would give Atlanta 3-2 lead with a two-run blast off Bumgarner. Atlanta's shaky bullpen would quickly relinquish the lead as left-hander Donnie Veal would allow an RBI single to Gregor Blanco and then a two-run homer to Joe Panik giving the Giants a 5-3 lead, and subsequently deflating the Braves bench.
Atlanta would regroup and keep fighting in the ninth against Giants closer Santiago Casilla (4-1). With one out Freddie Freeman would get his first at-bat of the night as he was initially given the day off by manager Fredi Gonzalez. Freeman would take Casilla deep for the second time of the series making it a 5-4 deficit. The Braves would then load the bases with an Andrelton Simmons walk, Christian Bethancourt fielder's choice on a Crawford error, and a bloop single by pinch-hitter A.J. Pierzynski.
San Francisco manager Bruce Bochey had left-hander Javier Lopez in the bullpen ready to come in and face the left-handed hitters but would stick with Casilla. That ended up being a big mistake as left-handed hitter Jace Peterson would clear the bases with a three-run triple to give Atlanta a 7-5 lead.
Braves closer Jason Grilli would record his 15th save of the season and middle reliever Nick Masset (1-1) would pick up his first win as an Atlanta Brave.
The Braves will move on to Arizona to face the Diamondbacks. LHP Alex Wood (3-2, 3.50 ERA) will pitch Game 1 for Atlanta. In his past two starts Wood has gone 2-0 giving up only three runs (two earned) in 14 innings. The Giants will stay home and face the Pittsburgh Pirates. Ryan Vogelsong (4-2, 4.24 ERA) will pitch the first game of the series. In four games (three starts) at home Vogelsong as gone 1-0 with a 1.64 ERA.