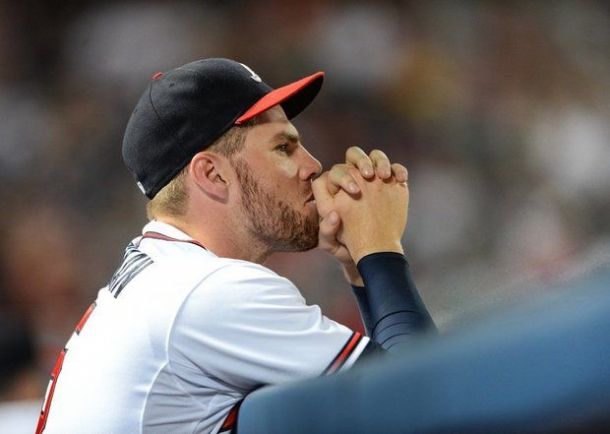 Atlanta Braves All-Star first baseman Freddie Freeman looks to be headed to the disabled list on Tuesday afternoon with a right wrist injury, reported by Mark Bowman of MLB.com. The news became official this afternoon, but it seemed inevitable as he didn't travel with the club to Washington D.C. for the series against the first place Nationals.
As Freeman heads to the DL, first baseman/outfielder Joey Terdoslavich will be promoted from Triple-A Gwinnett. Terdoslavich is already in D.C. for their three-game series against the Nationals.
Freeman, 25, has missed Atlanta's last four games dating back to last Thursday which ended his Major League leading 243 consecutive games played. His right wrist discomfort started back on June 13th against the New York Mets at Citi Field. Freeman said the injury came on a swing but didn't let team officials know the extent of the pain until a few days later.
He played through the discomfort for a couple days before getting a cortisone shot in his wrist in their series against the Boston Red Sox, where Freeman would leave the game in the sixth inning of Wednesday's game.
Freeman underwent an MRI on Monday; the results were released today showing no broken bones in his right wrist. Atlanta decided their franchise player should sit a couple weeks and let the soreness and inflammation calm down, preventing a worse injury as the season isn't even at the halfway mark yet.
Even though Freeman was officially placed on the 15-day disabled list today, it's retroactive to last Thursday making him eligible to come off July 3rd against the Philadelphia Phillies at home.
For the month of June, Freeman has a slash line of .328/.397/.625 with five home runs and 15 RBIs. On the season he's slashed .299/.367/.520 with 12 home runs and 41 RBIs.
In Freeman's absence, Kelly Johnson has been manning first base but expect Chris Johnson and Joey Terdoslavich to see some time over there. Manager Fredi Gonzalez would obviously rather have Freeman in the lineup but he's lucky to have several guys who can play the position.
It's never a good time to lose your best player, especially when your next nine games come against the Washington Nationals (6) and Pittsburgh Pirates (3). For his career Freeman has a batting average of .340 against their division rival. Since the start of the 2014 season he's red hot against Washington batting .455 with 16 extra-base hits, four which were home runs. Heading into tonight's game the Braves are only two games behind the first place Nationals.