The Atlanta Braves continue their overhaul of proven young players, as they traded right-handed starter Shelby Miller to the Arizona Diamondbacks, as Ken Rosenthal of Fox Sports first reported.
In return, the Braves will acquire a three-player package of outfielder Ender Inciarte, right-hander pitcher Aaron Blair, and the 2015 number one overall pick Dansby Swanson. Joel Sherman of the New York Post reported that Atlanta would receive Inciarte, and Nick Piecoro of the Arizona Republic reported that Blair and Swanson would be in the deal.
Arizona will also receive left-handed relief prospect Gabe Speier, as reported by Steve Gilbert of MLB.com.
These two teams have been discussing a trade that involved Miller for weeks. The initial asking price from Atlanta was All-Star outfielder A.J. Pollock. Well, after the Diamondbacks signed Zack Greinke to a six-year, $206 million contract, the thought they would give up a player of Pollock's caliber seemed very unlikely.
There were reports earlier today that Arizona and the Chicago Cubs were moving away from Miller, however, a report from Ken Rosenthal mentioned that Dbacks general manager Dave Stewart and Braves general manager John Coppolella had lunch this afternoon, likely sparking the trade talks again.
Miller, 25, had a great season in his only year in Atlanta, as he was the headliner for the Braves in the Jason Heyward trade a year ago. In his lone season in Atlanta, Miller recorded a 6-17 record with a 3.07 ERA, while making his first All-Star game appearance. The win-loss record is completely misleading, as the team wasn't very good and didn't give sufficient run support. Miller posted career-highs in innings (205.1) and strikeouts (171), and recorded a career-best 47.7 ground ball rate.
The Diamondbacks are looking to win now and adding Miller to a rotation that has Greinke and left-hander Patrick Corbin gives then a legit trio at the top of their staff. Even though the club is about winning now, Miller is under club control for three more years which makes it a win-win.
The major league ready player the Braves acquired was outfielder Ender Inciarte. The 25-year-old outfielder will probably be Atlanta's opening day center fielder until prospect Mallex Smith is ready to be promoted. Inciarte is an elite defender at all three outfield positions, amassing 52 defensive runs saved in just two major league seasons.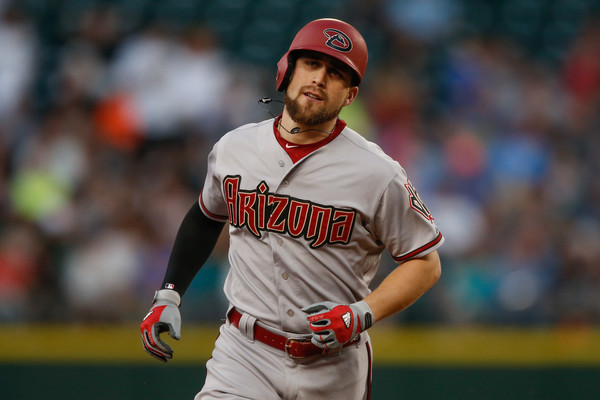 He isn't a middle of the order bat, but in 132 games he slashed .303/.338/.408 with six home runs and 45 RBIs. Inciarte also brings an element of speed as the stole 21 bases, and doesn't strike out as he whiffed only 58 times.
The blue chipper in this trade is this past year's number one overall pick, Dansby Swanson. The 22-year-old shortstop out of Vanderbilt looks to be Atlanta's shortstop of the future since they traded Gold Glover Andrelton Simmons to the Los Angeles Angels. In just 22 games with Arizona's Class-A affiliate, Swanson slashed .289/.394/.482 with 11 extra-base hits and 11 RBIs.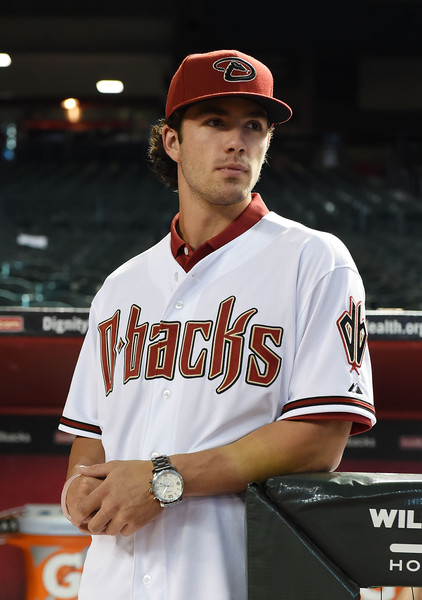 Braves fans won't see Swanson in 2016, most likely, but he should rise through the minors quickly and is the second elite shortstop prospect Atlanta has, the other being Ozhaino Albies.
Swanson is from Marietta, Georgia, which softens the blow that they gave up another talented player in Miller. Swanson was already rated by MLB.com as the 10th-best prospect in all of major league baseball.
Aaron Blair was the Diamondbacks' number two prospect in the their organization and is a former 2013 first round draft pick (36th overall). In 2015, between Double-A and Triple-A, Blair went 13-5 and pitched to a 2.92 ERA. Blair throws a heavy sinking fastball that gets up to 95 MPH, which forces plenty of ground balls. Blair should see the big leagues in 2016 and could be a potential middle-of-the-rotation starter.
The other player Arizona acquired alongside Miller was left-handed relief prospect Gabe Speier. The 20-year-old didn't stay in the Braves organization long as he was apart of the Cameron Maybin trade that sent to the outfielder to the Detroit Tigers. In 44 innings pitched last season in Class-A, Speier recorded a 2.86 ERA.
What this trade tells Braves fans is that they aren't ready to win soon and are still looking to acquire as much young talent as they move into the new stadium in 2017. Even though the initial plan was to be ready to compete in the first year of the new ballpark, the Braves organization must not see it and therefore traded the controllable Miller for more controllable assets.
Essentially, the Braves traded one year of Jason Heyward, who was going to leave via free agency, for pitching prospect Tyrell Jenkins (Atlanta's minor league pitcher of the year for 2015), Dansby Swanson (2015 No. 1 pick), Aaron Blair (potential mid-rotation starter) and Ender Inciarte (an outfielder who is a 5.3 win player according to WAR in 2015). That's a pretty nice haul with players who could anchor a future contending team in Atlanta.