 Every season there are a good amount of guys who break their way into the highest level baseball league in the world. Who are these players? Are they career minor leaguers, or do they have a legitimate chance to snag long term playing time for your favorite franchise?
This article attempts to use a players track record through their professional baseball career to understand the actual value of said player. The goal is to remove all emotional thought and to try and think of these guys as baseball production robots, so we're only searching for pure production here and nothing else. Consider it a less intense version of what "The Shredder" is on MLB Network.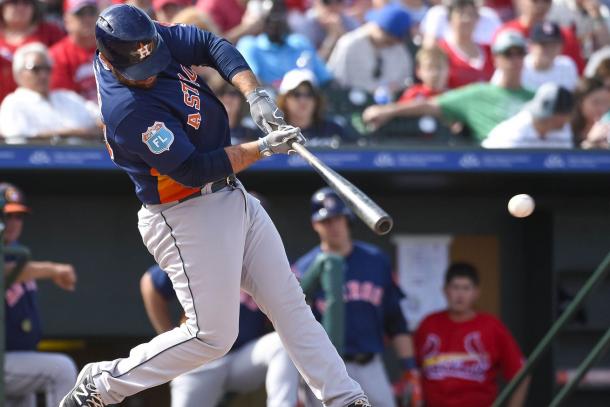 Since fantasy baseball is an attempted measure of offensive production, these guys are essentially listed by who is more fantasy relevant from top to bottom.
Tyler White - 1B/3B - Houston Astros
That whole thing about the Houston Astros striking out way too much is about to be long history and Tyler White is a big part of the reason why. He won the starting first base job after Houston wisely decided not to resign Chris Carter and White is making the most of it already.
The best part of it is that if you check his track record, this is how he has always produced. He is a professional hitter who values getting on base above all else, but has the power to hit 15-20 bombs each year. The plan that most see him going down inclueds AJ Reed taking his job, but since he's such a good hitter, that's probably not going to happen.
White played a lot of third base in the minors so he could move there, or Reed could primarily DH or stay in the minors to wait for a spot to open up. Tyler White might already be a top 50 hitter in the league or better seeing as how he maintained an OBP well over .400 for his entire minor league career including a half season where he almost hit the .500 mark last year in AAA. He also had 99 RBI last season in less than 500 plate appearances. The 25 year old will probably be a starter in the MLB for the next 10 years and could compete for batting titles each year along the way.
Potential player hitter comps - Joey Votto, Freddie Freeman, Andrew McCutchen, Miguel Cabrera, Michael Brantley, Buster Posey, David Peralta, Matt Carpenter, Eric Hosmer, Brandon Belt
Expectations for 2016 - 600 plate appearances - 19 home runs, .390 on base percentage
Byung-ho Park - 1B/DH - Minnesota Twins
Byung-ho Park, the 29 year old from Korea, could do great things in MLB. It's always hard to see how stats from an overseas league will translate into MLB production, but his stats are so eye popping that it feels like there has to be something there. Jung-ho Kang played in the same league with numbers that weren't quite as good as Park, so there's a pretty good start.
Park hit over 50 home runs each of the past two years and maintained an OPS over 1.000 the past three years which means he isn't a low on base guy either. Park should have no problem getting regular playing time as Mauer should be the one worried about that in the Minnesota Twins organization now.
He had almost 90 xtra base hits in his final Korean season and tallied 146 RBI's which is just unbelievable, especially considering he played 140 games that year. It's hard to tell if he will be able to mash homers while keeping up his OBP in the MLB, or if he will fall into a Ryan Howard type of player. The other thing that he might do is sacrifice power for more walks and hits, in which case he could end up more like Prince Fielder or Freddie Freeman. If he can do both he will be a super star.
Potential player hitter comps - Jose Bautista, Carlos Gonzalez, David Ortiz, Anthony Rizzo, Adrian Gonzalez, Kris Bryant, Justin Upton, Joc Pederson, Prince Fielder
Expectations for 2016 - 600 plate appearances - 30 home runs, 8 steals, .335 on base percentage
Trevor Story - SS - Colorado Rockies
After the Colordo Rockies dealt away Troy Tulowitzki, Trevor Story never seemed to be the plan going forward until Jose Reyes got in some off the field trouble and Story forced their hand with an awesome Spring Training. If you haven't heard of him by now, you're clearly not paying any attention to baseball in 2016 as he has set numerous home run related records to being the year.
Truth is, Story has hit for power throughout his minor league career so this isn't a fluke. With that said, he won't hit a ton of home runs this year and is almost definitely going to go through some cold spells. While Story is gifted with both power and speed and should be expected to achieve a 20/20 year right away, his downside is that he has historically struck out over 25% of the time.
Even with the strike outs, Story has maintained an average on base percentage throughout the various minor league levels. Story is one of a handful of players in baseball who has a chance at a 30/30 season over the next several years. He is 23 years old and should have a starting job in the MLB for the foreseeable future.
Potential player hitter comps - Manny Machado, Ryan Braun, Matt Kemp, Justin Upton, Starling Marte, Brian Dozier, Ian Desmond, Michael Taylor
Expectations for 2016 - 600 plate appearances - 26 home runs, 20 steals, .320 on base percentage
Travis Shaw - 3B/1B - Boston Red Sox
Pablo Sandoval played himself out of a starting job with the Boston Red Sox, but Travis Shaw played himself into a job as well and many people overlooked that fact. Shaw had a cup of coffee last season with Boston and had a great initial stint at the MLB level hitting 13 homers in the final two months.
Shaw is an average hitter when it comes to on base skills but is well above average in the power category and is pretty good on defense which gives him a good chance to hold on to a large chunk of playing time.
One would expect Sandoval to get his chance to play eventually as he is the one getting the big bucks, but Shaw can slide over to first if Hanley needs a day off or gets hurt. Shaw is an above average hitter who should hit near the middle of an MLB lineup, but probably isn't star bound like the top three players on this list.
Potential player hitter comps - Kyle Seager, Kole Calhoun, Mitch Moreland, Mike Moustakas, Trevor Plouffe
Expectations for 2016 - 550 plate appearances - 21 home runs, .320 on base percentage
Ketel Marte - SS - Seattle Mariners
The Seattle Mariners have had trouble with the shortstop position in recent years, but they finally found a guy they might be able to depend on now and for the future in Ketel Marte. Marte is a defense first guy, but does have good on base skills and plus speed.
He got called up last year and played almost everyday right away. Although he has almost no power upside, he is very young still and is above average with on base skills and could be closer to elite status with speed.
Potential player hitter comps - Dee Gordon, Ben Revere, Billy Burns, Elvis Andrus, Anthony Gose, Alceides Escobar, Chris Owings, Denard Span, Erick Aybar, Angel Pagan
Expectations for 2016 - 600 plate appearances - 3 home runs, 30 steals, .340 on base percentage
Dae-ho Lee - 1B/DH - Seattle Mariners
Although 34 year old rookie Dae-ho Lee has already experienced some downward trends in recent years in Korea, he did have a good year in 2015 where he hit 31 homers while playing in Japan. Lee was never as good as Byung-ho Park or Jung-ho Kang overseas, so it would make sense to expect a little less out of him that them.
Plus, Lee is several years older and the eye test would suggest that he may be carrying around more groceries than necessary. It looks like he's going to platoon with Adam Lind and get occasional time at DH when Nelson Cruz gets a chance to play in the field or needs rest. He is on a one year deal, so there's a good amount of incentive to perform outside of just being a team player and for his own ego. He could erupt and hit near 30 homers and get paid this off-season or just fall by the wayside, tough to tell.
Pontential player hitter comps - Justin Smoak, Brandon Moss, Stephen Vogt, Jhonny Peralta, Logan Morrison, CJ Cron
Expectations for 2016 - 375 plate appearances - 14 home runs, .320 on base percentage
Colin Walsh - 2B/3B/SS/OF - Milwaukee Brewers
Colin Walsh made the Milwaukee Brewers roster as a utility guy this year, being a Rule-5 pick from the Oakland Athletics. He will have a chance to play all the infield positions at some point. Walsh has a very good eye at the plate and actually walked an absurd 20% of the time last season in the minors.
Because of this tool, he is very good at getting on base a high percentage of the time. He also has above average power and speed which might actually make him a must own player if he is to ever get a chance to play full time. In order for him to get a good amount of playing time, it will take an injury to Scooter Gennett or Aaron Hill.
Potential player hitter comps - David Wright, Carlos Santana, Dexter Fowler, Yasmani Grandal, Eric Campbell
Expectations for 2016 - 300 plate appearances - 8 home runs, 9 steals, .345 on base percentage
Corey Spangenberg - 2B - San Diego Padres
People should know about Corey Spangenberg as he was a bench player all year in 2015 for the San Diego Padres, but he is on the list because he is expected to start at second all year in 2016. Spangenberg doesn't really have any tool that sticks out but he is essentially average at everything.
It doesn't help his cause that his team typically doesn't know how to hit year in and year out, but he could still have a year that puts him on the map to stay in the big leagues the rest of his career. This might be his only chance to have a starting job unless he can prove that he's more of an asset with the bat. If he doesn't, he'll be a career utility bench guy or quad-A player getting called up and sent down several times a year.
Potential player hitter comps - Xander Bogaerts, Christian Yelich, Odubel Herrera, Joe Panik, Zack Cozart, Freddy Galvis, Jace Peterson, Jose Ramirez
Expectations for 2016 - 600 plate appearances - 9 home runs, 14 steals, .335 on base percentage
Aledmys Diaz - SS/2B - St. Louis Cardinals
Cuban prospect Aledmys Diaz has a chance to carve out a future role on the St. Louis Cardinals with the injury to Jhonny Peralta. After signing with the team in 2014, Diaz has performed fairly well in the minors with the bat at all levels, but has been shaky at times defensively which is a big no-no for the Cards who set the record for least amount of runs allowed in a season in 2015.
So, like Peralta, this makes Diaz an offensive minded shortstop which is a bit unusual. He has average to above average power, understands the strike zone well and he's above average at getting on base. His speed is below average. Diaz most likely won't get full time at bats unless another injury happens to a Cardinals middle infielder or he gets super hot with the bat. If he does get regular at bats, he would probably slot in on this list right above Ketel Marte.
Potential player hitter comps - Xander Bogaerts, Starlin Castro, Melky Cabrera, Seth Smith, Eduardo Escobar
Expectations for 2016 - 350 plate appearances - 9 home runs, 4 steals, 330 on base percentage
Brandon Drury - 3B/OF - Arizona Diamondbacks
Brandon Drury made the big league roster for the Arizona Diamondbacks, but it wasn't to platoon at third base with Jake Lamb like many thought might happen. Drury is actually getting most of his playing time in the outfield believe it or not. Thanks to AJ Pollock and his broken elbow, guys like Chris Owings, Socrates Brito, and Drury will get many more at bats this season. He will also probably pick up a few starts at third base against tough lefties.
Although some are still high on this prospect, Drury probably isn't good enough with the bat to ever warrant a full time starting job in the big leagues. His numbers suggest that he has shown signs of power potential in the past, but only hit 7 total home runs in 2015 and looks a bit streaky with his ability to get on base. He also provides no speed upside and is average to below average defensively. He is more likely than not a career minor leaguer unless he can recapture another 20 home run season at some point.
Potential player hitter comps - Miguel Rojas, John Ryan Murphy, Jordy Mercer, Carlos Peguero, Chris Stewart
Expectations for 2016 - 300 plate appearances - 4 home runs, .280 on base percentage
If you would like to discuss this topic further, please feel free to tweet me - @TWPolhill - And please check out my latest baseball podcast - Baseball Nurd Radio