 Things just keep getting worse for Pablo Sandoval and his time with the Boston Red Sox. The Red Sox placed Sandoval on the disabled list on April 13 with a shoulder strain, and it came as a total surprise. Manager John Farrell said that he wasn't even aware the shoulder was bothering him.
"To give you an exact moment when it took place, I don't have that, to be honest," the manager said. "He's been hitting a lot extra."
As it was first believed that the shoulder injury was an excuse for the Red Sox to develop a conditioning program for the third baseman, it is now discovered that it is actually serious. The team announced on Tuesday that Sandoval would undergo surgery on that left shoulder, and the rest of his season could be in jeopardy. In his first seven at bats of the season, Sandoval did not record a hit, but did draw a walk.
Sandoval's time with Red Sox getting worse by the day
As soon as Boston signed Sandoval to a mega five year-$95 million dollar contract, the Red Sox were already getting a lot of criticism for the move. Hanley Ramirez was signed to Boston the day before, and everybody believed that he would be the every-day third baseman in 2015. Boston also had Xander Bogaerts, who played third base the season before. However, Sandoval was signed, and Ramirez was moved to left field for the 2015 season.
That plan did not work out too well for Boston. Hanley Ramirez was a terrible defender in left field, and his bat did not make up for the struggles. Ramirez hit .249 with just 19 home runs and 53 RBIs. Sandoval, on the other hand, was much worse. Sandoval hit just .245 with 10 homers and 47 RBIs. Although Sandoval was solid at playing his position with the San Francisco Giants, his Defensive Runs Saved statistic was downgraded tremendously in 2015. Sandoval's best season came in 2011 with the Giants, where he hit .315 with 23 home runs and 70 RBIs. The Red Sox are still waiting very patiently to see that production come from Sandoval.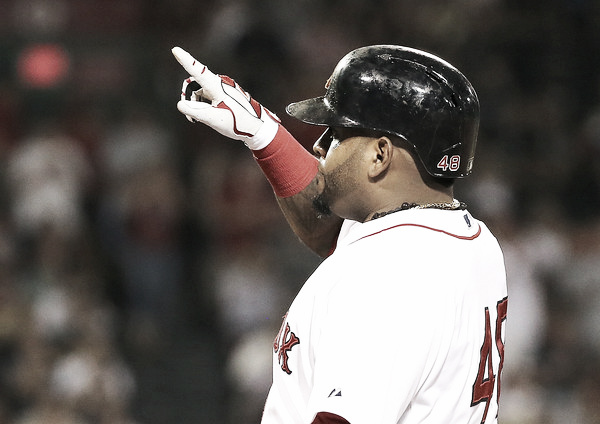 In Spring Training, Sandoval quickly saw himself in a position battle, and knew from the start his starting role was in jeopardy. Travis Shaw had a tremendous end to his 2015, and first base was out of the question for him due to the fact Ramirez was transferred into being an every day first baseman. Shaw ended 2015 with a .270 batting average as well as 13 home runs and 36 RBIs in 65 games.
And during Spring Training, Shaw outperformed Sandoval tremendously, securing the job. Shaw outperformed Sandoval with both the contact and power from his bat, and performed much better as a third baseman.
Both players were very humble about it, but his agent, Rick Thurman, was not, stating "If you want to win, why leave the Ferrari in the garage?".
Shaw, however, has done everything to help the Red Sox win. Over 25 games in 2016, Shaw has hit .322 with three home runs and 17 RBIs. "The Mayor of Ding Dong City" has also been a very solid defender at third base, much better than the "Panda" was playing in 2015.
Sandoval's contract will not be insured, and he will continue to make every penny of his guaranteed contract even if he does not play again this season.
What's next for Sandoval's career with the Red Sox?
Quickly after, Sandoval heard his name in trade rumors, specifically with the San Diego Padres. Those rumors cannot be completed now, but the Red Sox would have had to add a key prospect to the deal to get rid of Sandoval's monster contract.
Sandoval, including 2016, still has four years left with the Red Sox. The 29-year-old will need a huge bounce back, as the tough Red Sox fans are not on his side right now.
Should Sandoval indeed return from his injury this season, he will have to fight to get his playing time back, as Travis Shaw has been everything the Red Sox have asked from him.
In 2012, Boston made a huge trade with the Los Angeles Dodgers. The trade was unlike any other, as Ben Cherrington's goal was just to release a lot of money for free agency. The trade included Adrian Gonzalez, Carl Crawford, Josh Beckett, and Nick Punto all head to Los Angeles, while the players Boston received are all on different rosters now. The trade was not about the player return that Los Angeles gave the Red Sox, as the prospect with the most successful career from the haul is Rubby De La Rosa.
That trade ended up working pretty well for the Red Sox. Boston won the World Series in 2013, and the money gap was a big part of it. They used the money to sign key free agents like Shane Victorino, Koji Uehara, David Ross, Johnny Gomes, Ryan Dempster, Stephen Drew, and also got their current manager John Farrell.
Boston would need a lot of magic to pull off another trade like that. Most teams are not in need for a third baseman, and the Red Sox also have a new GM in Dave Dombrowski. It would be very difficult to trade him while he is hurt, and the interest in him continues to fall.
Sandoval in his final three years will need to work more on his bat. With David Ortiz set to retire after the season, Sandoval could find himself in a designated hitter role for 2017. There could another move soon that may not be expected from the Red Sox, but as of now, time will only tell how much Sandoval could be worth of his pricey contract after a dismal first two seasons.