The way Boston Red Sox designated hitter David Ortiz is currently batting, it would be reasonable to consider him capable of shattering any milestone that he has not already added to his distinguished docket of accomplishments.
Ortiz comes up big again
The 40-year old added another achievement to his resume on Saturday afternoon, hitting a double, a triple, and a home run in one game for the first time in his storied career, falling a single short of the cycle in an astounding 3-for-5, three-RBI performance.
Each of Ortiz' three hits carried significant meaning. His solo home run in the third inning moved him into 20th place on the all-time MLB career home run list, his two-out RBI triple in the ninth inning plated the game-tying run. Ortiz' two-out RBI double off of the center-field wall scored the game-winning tally for the Red Sox in the 11th inning, sealing their come-from-behind 6-5 victory over the Houston Astros.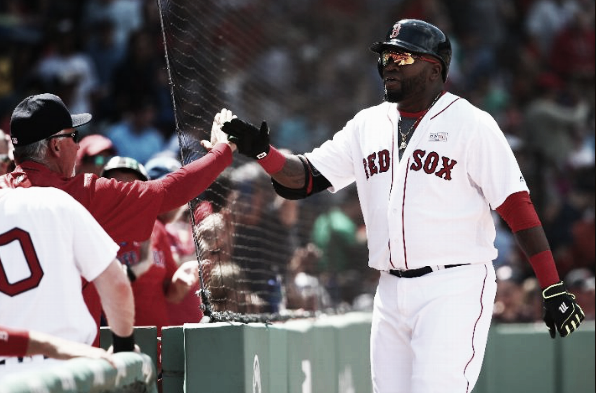 Ortiz was pelted with powder spray by his teammates as they mobbed him at second base after his walk-off blast, the 600th double of Big Papi's career.
With his home run earlier in the ballgame, which catapulted him above legends Ernie Banks and Eddie Matthews on the all-time homer list as it was career long ball No. 513, Ortiz is now just one of three players in major league history to amass 500 home runs and 600 doubles, joining rarified air in Hank Aaron and Barry Bonds.
After reliever Koji Uehara (W, 2-1) worked his way around a two-out double by Astros center field Jake Marisnick in the top of the 11th inning to preserve the tie, Red Sox shortstop Xander Bogaerts knocked a two-out single to right field before taking second on a wild pitch by Houston's Michael Felix (L, 1-1).
This brought up Ortiz, who obliged to the electricity felt in Fenway Park and hammered an offering from Felix over the outstretched glove of Marisnick and off of the center-field wall, plating Bogaerts and giving Boston their first victory of the season when trailing after the eighth inning.
None of this would have been possible without Ortiz' heroics in the ninth inning, however. With the team trailing 5-4 against Astros closer Luke Gregerson, Big Papi stepped to the plate with two outs and Bogaerts standing on first base.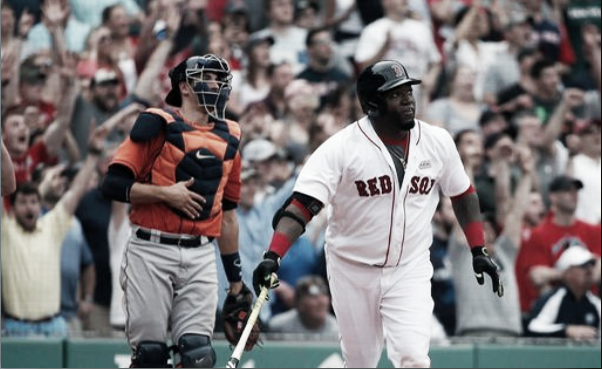 The historically clutch hitter proceeded to lace an 0-1 pitch from Gregerson past a diving Marisnick in left center, sending Bogaerts home from first and landing on third base in pure elation with his first triple since June 15, 2013.
Red Sox third baseman Hanley Ramirez was then thrown out at first attempting to bunt home Ortiz on the ensuing at-bat, confounding everyone in the park, including Boston manager John Farrell, with the surprising and inexplicable decision.
All was forgotten, however, due to the wonder of Ortiz' bat.
With the triple, Ortiz handed Gregerson his second blown save of the season while achieving his first outing with both a homer and a triple since July 15, 2006, the fourth time he has ever notched the feat in his career.
Boston's Bucholz falters once more
Red Sox starting pitcher Clay Buchholz certainly has reason to be grateful for Ortiz' efforts as they overshadowed his disappointing performance.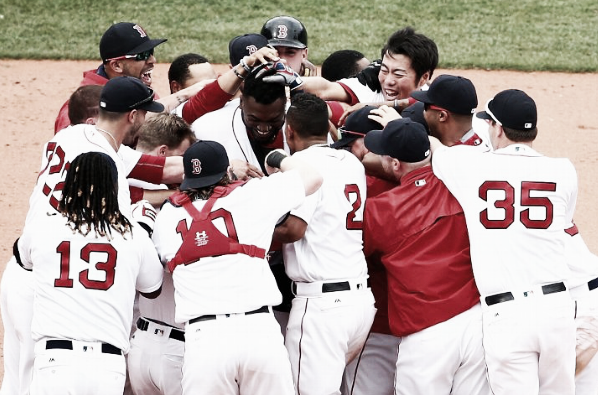 Buchholz was handed the no-decision as he lasted six innings allowing five earned runs on seven hits while walking three and striking out five. The Astros touched him early, with shortstop Carlos Correa, 2-for-4, tagging him for a solo home run in the first inning.
Boston wrestled hold of the lead in the bottom of the stanza, as right fielder Mookie Betts and center fielder Jackie Bradley Jr., extending his league-best hitting streak to 20 games, singled to precede an RBI double by Bogaerts, 3-for-6, three runs, one RBI, which plated Betts.
After a walk by Ortiz and a fielder's choice by first baseman Ramirez, third baseman Travis Shaw walked with the bases loaded, scoring Bradley Jr. to give the Red Sox a 2-1 advantage.
However, Buchholz was quick to relinquish the lead. Houston third baseman Luis Valbuena kicked off the second inning with a single with catcher Juan Castro and second baseman Jose Altuve (2-for-3, one run( working walks to load up the bases with two outs.
Then, right fielder George Springer, who homered in the Astros' 7-6 beating of Boston on Friday night, ripped one 389 feet over the Green Monster in left field for a grand slam, putting Houston in the lead, 5-2.
With the blast, Springer, a New England native, became just the third MLB hitter to garner two grand slams on the season, joining elite company in the Washington Nationals' Bryce Harper and the Baltimore Orioles' Manny Machado.
Boston would fight back, however, against Astros starter Collin McHugh; six innings, ten hits, four earned runs, three walks, two strikeouts.
Ortiz planted a one-out offering from the right-hander over the wall in right field for his 10th home run of the season in the bottom of the third inning to cut the deficit to 5-3, and an RBI fielder's choice by Betts plated a run after a leadoff double by second baseman Josh Rutledge in the following inning, setting up Big Papi's epic exploits in the later innings.
Coming up
The two teams will conclude their four-game set on Sunday afternoon as Houston's Chris Devenski (0-2, 1.72 ERA) mans the mound against Boston's Sean O'Sullivan (1-0, 6.43 ERA).