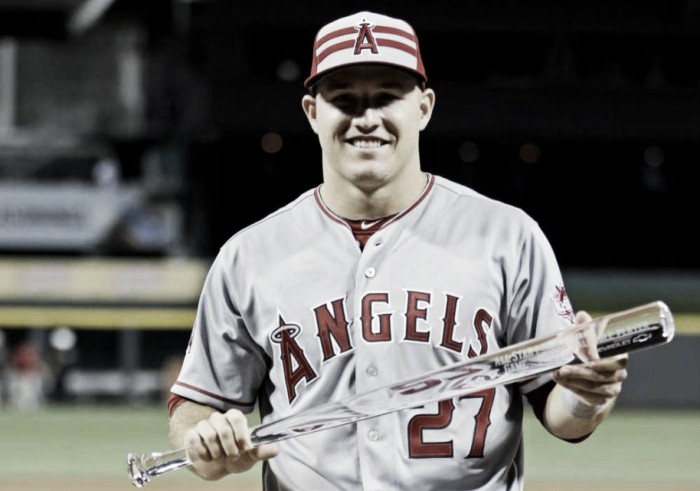 Everybody has had their own opinion on fans being able to vote for the All Star Game starters, but it remains as the voting option in 2016.
With May coming to an end, the MLB released the updated vote totals of the American League this afternoon. As of now, the current starters for the Mid Summer Classic would be Salvador Perez, Eric Hosmer, Jose Altuve, Manny Machado, Xander Bogaerts, Mike Trout, Lorenzo Cain, Mark Trumbo and David Ortiz. Perez is the leading vote getter at 1,094,942 votes, with Ortiz not far behind at 963,076 votes.
Similarly to last season, the Kansas City Royals fans have really showed up to support their team. Every player from the defending champions are either first or second in votes in their position, while Alex Gordon and Paulo Orlando are sixth and eighth in the outfield, respectively.
However, who are the most deserving candidates, regardless of team?
Catcher
Salvador Perez, Kansas City Royals
Statistically, catcher has been by far the weakest offensive position for the American League this season. There has not been much offensive production from the group, but Perez stands out from the rest. His numbers certainly aren't jaw-dropping, but he leads qualified AL catchers with a .277 batting average, .494 slugging percentage, .806 OPS, 46 hits, and 11 doubles, but is also tied for the lead in home runs (7), RBIs (25), and triples (2). He has also continued to play above-average defense, leading to the obvious selection.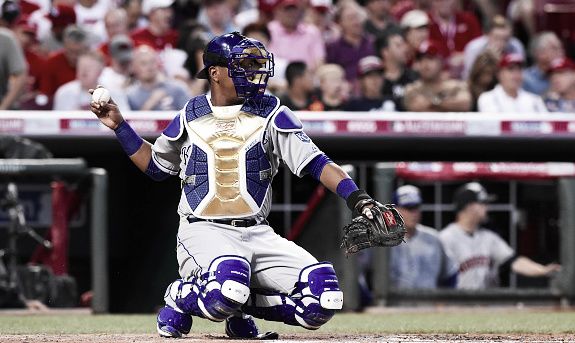 Honorable Mentions/ Potential Reserves:
Brian McCann (NYY) .231 BA, 7 HR, 21 RBI
Matt Wieters .289 BA, 4 HR, 17 RBI
First Base
Eric Hosmer, Kansas City Royals
Along with his teammate Perez at catcher, Eric Hosmer is very deserving of his first All Star Game selection at first base. The three-time Gold Glove winner not only has played terrific defense yet again, but has showed strong performances offensively this season. He is hitting .323 with ten home runs, 33 RBIs, 11 doubles, and 62 hits. He leads qualified first basemen in batting average, doubles, and slugging percentage.
Honorable Mentions/ Potential Reserves
Miguel Cabrera (DET) .305 BA, 11 HR, 31 RBI
Mike Napoli (CLE) .234 BA, 11 HR, 36 RBI
Second Base
Jose Altuve, Houston Astros
Although he stands just 5'6" feet tall and weighs just 165 pounds, Jose Altuve has had another All Star-type season. He has kept his average at a very high .327, and has also slugged nine home runs and swiped 15 bags, leading the American League. He has had a very solid all-around season, and certainly deserves to be in San Diego in July.
Honorable Mentions/ Potential Reserves
Robinson Cano (SEA) .291 BA, 15 HR, 44 RBI
Ian Kinsler (DET) .313 BA, 10 HR, 24 RBI
Dustin Pedroia (BOS) .307 BA, 7 HR, 25 RBI
Third Base
Nick Castellanos, Detroit Tigers
Nick Castellanos has came out of nowhere this season for the Detroit Tigers. After hitting just .255 last season, Castellanos has had a sensational season, and his numbers back it up. The third-baseman has accounted for a .320 batting average with 10 home runs, 32 RBIs, and also has a .351 OBP. After hitting .363 in April, he has cooled off in May with a .286 average, but certainly deserves to be in San Diego.
Honorable Mentions/ Potential Reserves
Manny Machado (BAL) .313 BA, 13 HR, 29 RBI
Travis Shaw (BOS) .293 BA, 7 HR, 35 RBI
Josh Donaldson (TOR) .256 BA, 13 HR, 29 RBI
Shortstop
Xander Bogaerts, Boston Red Sox
Xander Bogaerts had a tremendous sophomore season in 2015, but has been unbelievable in 2016. He has an incredible .354 batting average and 75 hits, both leading the American League. He also has six home runs, seven stolen bases, 18 doubles, and is currently enjoying a 24-game hit streak. Many believe Bogaerts was snubbed last season, but with his stellar play, there is no reason why Bogaerts would not make his All Star Game debut in July.
Honorable Mentions/ Potential Reserves
Eduardo Nuñez (MIN) .338 BA, 5 HR, 20 RBI
Francisco Lindor (CLE) .311 BA, 4 HR, 22 RBI
Outfield (three spots)
Mike Trout, Los Angeles Angels of Anaheim
Mike Trout continues his case as the greatest player in baseball, and has backed it up with a solid 2016. The former MVP is hitting .312 with 11 homers, 37 RBIs, has 36 runs, and has walked 33 times. Trout is a five-tool phenomenon, and has shown glimpses of all five tools once again in 2016.
Jackie Bradley Jr., Boston Red Sox
Jackie Bradley Jr. did not have the ideal start to his MLB career, but he surely picked it up in 2016. He had an unbelievable May, and had a 29-game hit streak to show for it. After hitting just .272 in April with one home run, Bradley exploded in May for a .381 batting average with eight homers, 24 RBIs, and 37 hits in 27 games. Overall, the center-fielder has hit .331 with nine homers, 37 RBIs, and 28 runs.
Mark Trumbo, Baltimore Orioles
Mark Trumbo has been known to be a big power bat throughout his career, but has been magnificent in 2016. The slugger has a respectable .289 batting average with a league-leading 15 homers. He also has 37 RBIs, and a .572 slugging percentage.
Honorable Mentions/ Potential Reserves
Mookie Betts (BOS) .284 BA, 12 HR, 40 RBI, 8 stolen bases, 49 runs (leads majors)
George Springer (HOU) .288 BA, 12 HR, 33 RBI
Lorenzo Cain (KC) .291 BA, 7 HR, 29 RBI, 6 stolen bases
Josh Reddick (OAK) .322 BA, 5 HR, 18 RBI
Khris Davis (OAK) .240 BA, 14 HR, 35 RBI
Nomar Mazara (TEX) .309 BA, 9 HR, 24 RBI
Designated Hitter
David Ortiz, Boston Red Sox
Duh. Although it is "Big Papi's" last season and he is 40 years old, he is showing no signs of that. Similarly to Derek Jeter in 2014, Ortiz would have likely gotten the nod from the fans anyway due to the fans vote, but his numbers are certainly good enough. Ortiz is hitting .337 with 14 home runs and 23 doubles, and also has a league-leading 47 RBI. Ortiz has normally gotten off to slow starts to seasons in his career, but he has been anything but slow out of the gate this season.
Honorable Mentions/ Potential Reserves
Victor Martinez (DET) .345 BA, 7 HR, 31 RBI
Nelson Cruz (SEA) .295 BA, 10 HR, 35 RBI
Lineup
Mike Trout LF
Jose Altuve 2B
Xander Bogaerts SS
David Ortiz DH
Eric Hosmer 1B
Mark Trumbo RF
Jackie Bradley Jr. CF
Nick Castellanos 3B
Salvador Perez C
Final Thoughts
There is no denying that there has been an incredible amount of talent. The Red Sox have three members in this lineup, and could potentially be four with Mookie Betts if he builds off his sensational May and three home run performance on May 31st. However, the fans will have the final say, and the lineup could look very differently from this one. Get out and vote!