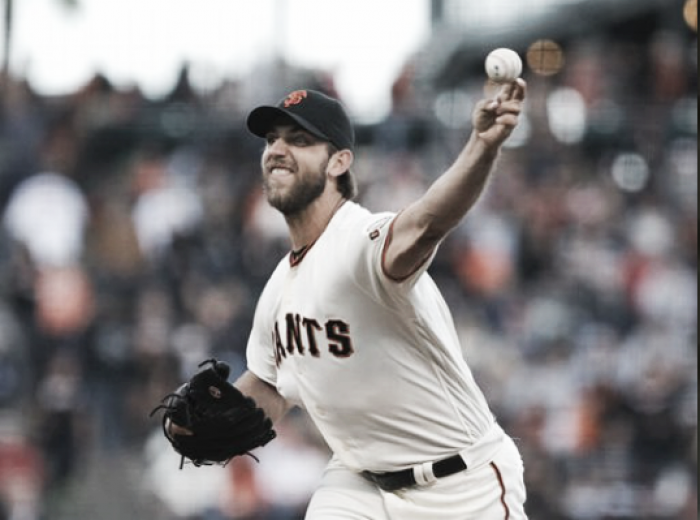 You would be hard-pressed to find a better start put together by the Boston Red Sox' (34-25) $217 million-dollar man David Price (7-3) thus far in 2015.
Making his first career outing at AT&T Park, Price, who has just a 2.55 ERA in his last six starts while yielding just 30 hits in his most recent 42 innings of work, was nearly brilliant against the bats of the San Francisco Giants (36-25), throwing his first complete game of the season while striking out seven and allowing just three hits and two walks in eight innings.
Bumgarner turns in another solid outing
However, when two of those three hits turn out to be home runs while dueling against Giants ace Madison Bumgarner, a victory is never guaranteed.
Despite lasting just six innings while earning a no-decision, Bumgarner watched his ERA drop to 1.88 on the year as he allowed just four hits and a walk in six innings of one-run baseball, fanning five on 101 pitches.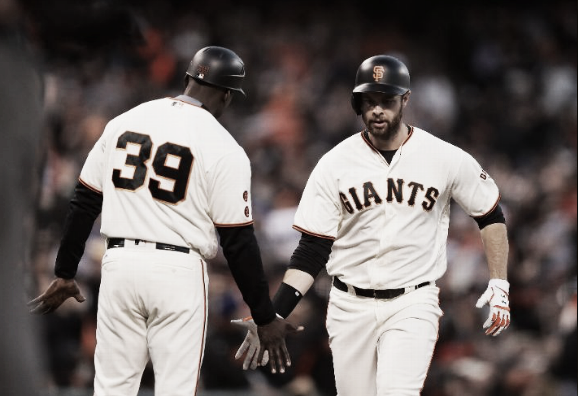 San Francisco's bullpen, which has been somewhat subpar throughout the early portion of the season, was masterful in three innings of relief, with Cory Gearrin (2-0) earning his second win of the year with a perfect, two-strikeout eighth inning, and Santiago Casilla (H, 2), Javier Lopez (H, 5), and Hunter Strickland (S, 1) combining to retire the side in the ninth inning without yielding a single hit.
Red Sox right fielder Mookie Betts was the only batsman on either side to muster a multi-hit performance as the pitching was dominant on both sides of the ledger.
Boston second baseman Dustin Pedroia did manage to extend his league-leading hitting streak to 15 games with a leadoff single in the sixth inning, however, while surging left fielder Chris Young gave the Red Sox a 1-0 lead in the fourth inning with a line drive home run, his fifth of the season.
Home runs lead Giants to win
However, the advantage did not last long, as a hanging breaking ball from Price with one out in the bottom half of the stanza was obliterated by Brandon Belt into the waters of McCovey Cove for a solo shot, the first baseman's seventh big fly of the season and the fifth of his career into the bay behind right field.
The Giants would only muster one more hit throughout the rest of the game off of Price, however, that one base knock turned out to be the deciding factor in the contest.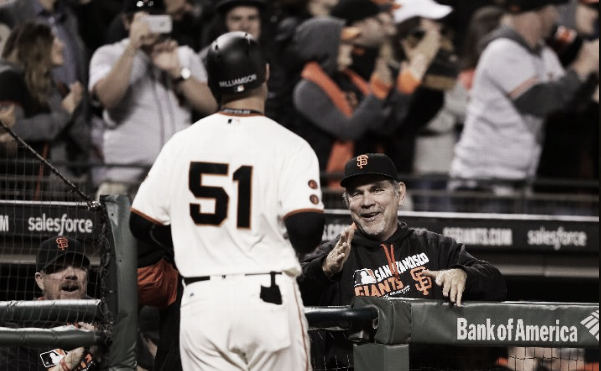 Leading off the eighth inning, .190-hitting left fielder Mac Williamson lifted a Price offering just over the left field wall for his first career home run, the first San Francisco batsman since 1993 to have his first ever slam drive home the go-ahead run in the eighth inning or later of a game.
Giants stave off late Red Sox rally
Williamson nearly relinquished this feat in the top of the ninth inning, however, misplaying a fly ball hit by Boston first baseman Hanley Ramirez to lead off the stanza, putting a runner on second with none out.
Despite the momentum, Red Sox center fielder Jackie Bradley Jr. proceeded to strike out, and following a walk issued to the pinch-hitting David Ortiz, Lopez struck out the slumping Travis Shaw to usher in Strickland to face Marco Hernandez, pinch-hitting for catcher Christian Vazquez with the game-tying run standing on second base just as he did in Sunday's loss to the Toronto Blue Jays.
First pitch swinging, Hernandez chopped a weak fielder's choice to shortstop, sending the Red Sox from the West Coast with a 1-1 split of the two-game series in San Francisco.