On Friday night at Fenway Park, the Boston Red Sox will trot out right-hander Sean O'Sullivan to the mound to face off against Tampa Bay Rays flamethrower Chris Archer.
O'Sullivan, a career journeyman who has bounced around from five different MLB organizations, has compiled a 6.61 ERA, a 1.71 WHIP, a -0.2 WAR, and has allowed 12 earned runs to just nine strikeouts in three starts thus far in 2016.
Red Sox lacking starting pitching depth, trade Aaron Wilkerson
Embattled right-hander Clay Buchholz has been relegated to a return to the bullpen after allowing 14 runs on 18 hits in 14.1 innings of work in his three starting nods since originally returning to the rotation. Left-hander Eduardo Rodriguez has been demoted to Triple-A Pawtucket after racking up a 1-3 record and an atrocious 8.59 ERA in six starts this season. Due to the inconsistency of these two arms, supposed reliable back-end starters at the beginning of 2016, the Red Sox have no better option for the role of fifth starter than O'Sullivan. With this being the case, Thursday afternoon's trading of promising minor league starting pitcher Aaron Wilkerson along with infielder Wendell Rijo to the Milwaukee Brewers for infielder Aaron Hill could turn out to be one that president of baseball operations Dave Dombrowski recollects with a frown.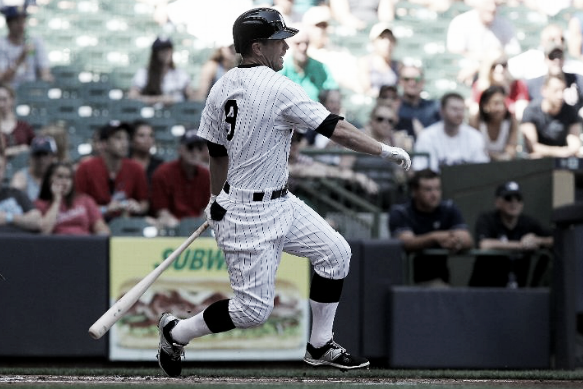 The reasoning for the deal stemmed from manager John Farrell's pressuring of the organization to acquire a right-handed bat to coexist with left-hander Travis Shaw at third base as the 26-year-old has batted just .211 with a .240 OBP against lefties this season. Hill, who has hit well this season to the tune of a .283 average, nine home runs, 29 RBI, and a .359 OBP, is certainly a respectable platoon option for Shaw as he hits at a .263 clip against left-handers.
Aaron Wilkerson leaves despite minor league dominance
However, Wilkerson's dominance in the minor leagues this season makes this deal a tough one to swallow. In eight starts with Double-A Portland, he impressed to the tune of a 1.83 ERA before going 4-2 with a stellar 2.44 ERA in nine outings at Triple-A Pawtucket. In his 17 starts in 2016 overall, Wilkerson has compiled a 6-3 record, a 2.14 ERA, a 1.01 WHIP, and an astounding 102 strikeouts.
With Boston failing to have a reliable option at either the fourth or fifth spots in their rotation, ridding themselves of a prospect such as Wilkerson without even providing him with the opportunity to showcase his arsenal on the big league mound handcuffs them. This transaction forces Dombrowski's hand following the All-Star break, as he will be forced to expend more prospects from the Red Sox star-studded minor league system for at least one, potentially multiple, consistent starting options as the team chases a division title.
Following the move, Dombrowski defended the trade, stating the Wilkerson, who has garnered a 22-7 record and a 2.52 ERA in 44 starts since being acquired by the Red Sox organization two seasons ago, was not the man for the job. "I don't think we can count on Aaron being a guy — even though we like some of his abilities — I don't think we can count on him stepping forward, and being with his situation of never pitching in the big leagues," Dombrowski told MassLive.com.
Ruling out the possibility of Wilkerson being able to step into a starting role with the major league ballclub at this stage of his development appears slightly premature. However, Dombrowski has always stressed the importance of acquiring big-chip pieces from other organizations to fill glaring holes at the trade deadline rather than attempting to build from within, as he did by adding David Price to the rotation of the Detroit Tigers at the 2014 trade deadline.
Furthermore, Dombrowski's hesitance to give Wilkerson a shot could have been influenced by left-hander Roenis Elias' poor performance in his first outing with the Red Sox. After being promoted following a brilliant stretch at Triple-A Pawtucket, the left-hander appeared overmatched in a loss to the Seattle Mariners on June 17, allowing seven runs on seven hits, including two home runs, in just four innings.