The Oakland Athletics have had great success in recent years in highlighting and identifying top pitching prospects within the organization. There is another one that could be going to the Coliseum in Oakland in the next couple of years.
His name? Logan Shore.
First year in pro ball
As a product out of the University of Florida, Shore was placed in Single-A ball right after graduation and pitched admirably. In seven starts, all five innings or less with the Vermont Lake Monsters, the young right hander showed how good he could be.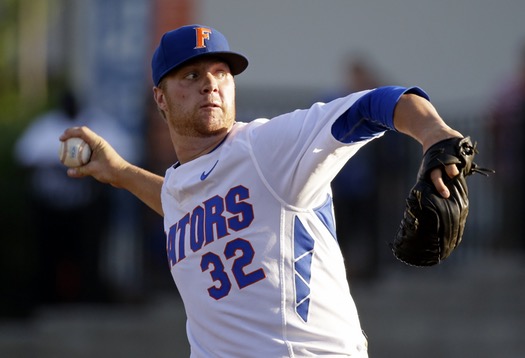 While perhaps the amount of hits and earned runs given up were a bit of a downside in his numbers, his amount of strikeouts were impressive. In 21 innings pitched, Shore struck out 21 batters, including seven in game against the Tri-City Valley Cats.
Considering the fact that Shore spent the beginning part of the year with the Florida Gators, Shore's first go around in A's system went seamless.
Against the Los Angeles Angels during Cactus League action, in his first outing, Shore proved that he has what it takes to be in Major League Baseball after a strong performance on the mound. The Coon Rapids-native struck out three battes, gave up just three hits and one earned run in four innings of work against a major league lineup.
If that's the start, be excited for what's to come.
What's next?
Expect Shore to jump at least two more level this year to the Double-A Midland RockHounds after spending some time in High-A ball.
His stuff is not going to overwhelm you, that is for sure. Shore's fastball tops out in the mid-to-low 90s and will not miss many barrels. What his strength is though, is his changeup. The pitch starts out at a decent position before it sweeps down and in towards right handed hitters, causing many swings and misses.