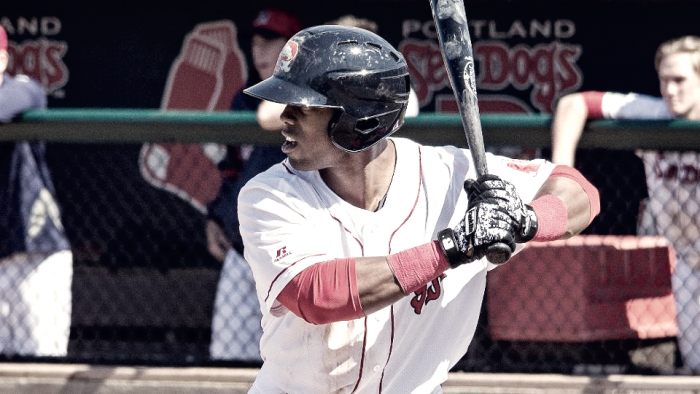 In a roller coaster of a game, the Portland Sea Dogs took an 8-3 lead, gave up seven unanswered runs, then came roaring back to win a slugfest of a series finale, securing a season-opening 3-game sweep of the Reading Fightin' Phils. It was the first time the Sea Dogs opened their season with a sweep since 2009, and they had not swept their opening series at home since 2005.
Jamie Callahan picked up the win with 1 2/3 innings of lights-out relief. Trey Ball started for the 'Dogs, allowing four runs over 5 1/3 innings of work. The Sea Dogs lit up Reading starter Drew Anderson for seven runs over three innings, but a rally saved Anderson from the loss, which was given to Tom Windle who coughed up the lead in the eighth.
The Sea Dogs were led offensively by Aneury Tavarez and Danny Mars, each with three hits apiece. Both finished the series hitting .500. Jordan Procyshen chipped in a grand slam, while Heiker Meneses and Cole Sturgeon added a pair of hits. Mars and Mike Olt added 2 RBI each. Reading got two-hit performances from Scott Kingery, Andrew Pullin, Harold Martinez, and Chace Numata. Pullin chipped in with three RBI, while Kyle Martin added two.
Sea Dogs score first, but Ball struggles early
The Sea Dogs got on the board in the first inning yet again, the second straight game that they pulled off the feat. This time, a single and stolen base by Heiker Meneses set up the first-inning tally. Former major leaguer Mike Olt followed with a two-out triple off the right field wall to stake Portland to a 1-0 advantage.
Unfortunately, making his AA debut, Trey Ball struggled to secure a lockdown inning, giving up three runs in the second. Harold Martinez blasted a hanging curve off the center field wall for a double. Two walks and a single followed to score a run and load the bases. Ball looked to minimize the damage by inducing a run-scoring double play off the bat of Jorge Flores, but Scott Kingery had other ideas, smacking a double high off the Maine Monster in left field to score the third run of the frame.
Big third inning boosts the Sea Dogs to lead
However, the Sea Dogs, coming off a last-place finish in 2016, showed that they have a little more fight in them than last year. The #9 hitter Danny Mars started a big rally in the third inning with a leadoff single. Aneury Tavarez followed with another single to put runners on the corners.
Meneses halved the deficit with a sacrifice fly, but Portland was far from done. Cole Sturgeon followed with a single, and Olt drew a walk to load the bases. Rising prospect Nick Longhi ripped a single to left field to tie the game at 3-3. However, catcher Jordan Procyshen hit an absolute moon shot, a grand slam deep into the right field bleachers for a 7-3 Portland lead.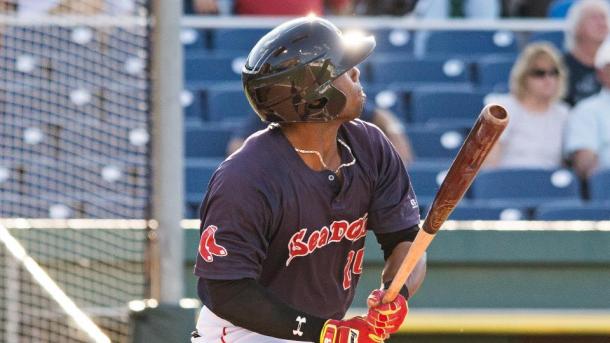 Ball finishes decently, bullpen collapses
Although Ball was able to hold the lead for a few innings, he surrendered a single tally in his final inning of work - the sixth. Reliever Taylor Grover took over and blew an 8-4 lead, recording a blown save. The collapse started with a leadoff double by Flores to start the seventh.
Kingery singled him over to third, and Andrew Pullin blasted a monster 3-run shot to pull the Phils within one. Two batters later, cleanup man Kyle Martin hit an absolute screamer, a 430-foot bomb that came off the bat at 112 mph, knotting the score at 8 runs apiece.
However, the bullpen collapse was not finished. Grover finished the inning without further damage, but his replacement, Jake Cosart, struggled mightily...particularly in finding the strike zone. Over six batters, Cosart, making his AA debut, could barely find the zone. He retired just one man, and that was on a sacrifice bunt.
He also walked four batters and hit another to bring across two runs for a 10-8 Reading lead - just their third lead of the series. Manager Carlos Febles helped minimize the damage by bringing in Jamie Callahan, who was also making his AA debut. Callahan looked composed in navigating out of serious trouble. Entering with the bases jammed and one out, Callahan induced a shallow pop fly and ground out to escape trouble, setting up Portland's eighth inning rally.
Portland rallies to complete sweep
Once again, Portland put on their rally caps, scoring three times in the eighth to secure the series sweep. They victimized Tom Windle, who was in line for the win before he blew the lead. The inning started innocently, as Procyshen struck out, but Windle hit Joseph Monge to bring the tying run to the plate.
After a fielder's choice, Mars swatted a game-tying two-run shot over the Maine Monster. Portland wasn't satisfied with a tie though, as they continued their rally with a single by Tavarez and double from Meneses. After an intentional walk, Olt drew a tie-breaking RBI walk. It was all they would need, thanks to a shutdown ninth inning from Callahan, who fanned the side to end the game and the series.