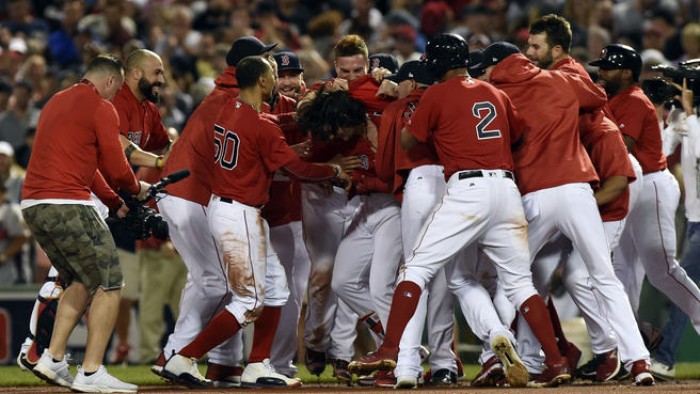 Hyped up since the moment the acquired Chris Sale, the Boston Red Sox got off to a bit of a slow start in April before improving as the season progressed. They eventually caught and passed the Yankees to take a 3 ½ game lead into the All-Star break - a lead they grew by a game with a walk-off win over the Yanks last night.
Now, at 51-39, the Red Sox are definite buyers, but what do they need, and what are they willing to give up from a farm system which Dave Dombrowski has ravaged over the past few years to assemble this year's team.
There are untouchable prospects, like Rafael Devers, Boston's third baseman of the future along with Michael Chavis, who could become the 3B/DH when Hanley Ramirez leaves. But who will president of baseball operations Dave Dombrowski be willing to move?
The Needs
In this series of trade deadline previews, the Red Sox have already made one move. They acquired third baseman Todd Frazier from the Chicago White Sox, sacrificing pitching prospects Jake Cosart and Jonathan Diaz.
Cosart could become an elite reliever, but he needs to refine his command. However, with hitters batting just .167 against him, he's got great stuff that could work well at the major league level. Diaz is a low-level lefty starter that could develop into the back end of the rotation or a bullpen arm himself.
Meanwhile, the Red Sox pick up Frazier who struggled for most of the season, but he compiled a .900 OPS in June and has shown signs of picking it up. He has also belted 16 home runs, more than anyone on the Red Sox roster.
He could provide a veteran presence for the Red Sox at the hot corner, which is currently manned by youngsters Devan Marrero and Tzu-Wei Lin. The platoon has been effective thus far, but their durability has to be in question.
Adding a seasoned veteran and two-time all star like Frazier could be an effective move. Frazier also has a 0.2 defensive WAR which, while not spectacular, is better than what the Red Sox have produced at third base this season. Frazier's pull-happy swing is perfect for the Red Sox with the alluring Green Monster out in left field.
Looking at Frazier's spray chart suggests he would be hitting closer to .240 or .250 with five or six more home runs had he played with the Red Sox this season. The Red Sox would be more than happy to sacrifice a couple of prospects for that level of production.
The Trades
But now, for the trades we haven't discussed? What other moves might the Red Sox make? Realistically, the Red Sox might not do much more than getting Frazier. They don't have many real weaknesses on their roster. Dombrowski has already said he's "not sure how much deeper we can get (in the starting rotation)".
So there will likely be no deal for a starting pitcher. However, the one deal the Red Sox may consider is finding a cheap bullpen piece to add to their strong but not dominant bullpen.
Bullpens have proved the key cog to many recent World Series winners, and the Red Sox would love to have some insurance in relief, especially after Joe Kelly went down with an injury that could keep him out the rest of July if not longer. So, beyond the Frazier trade, here's the one trade that may happen: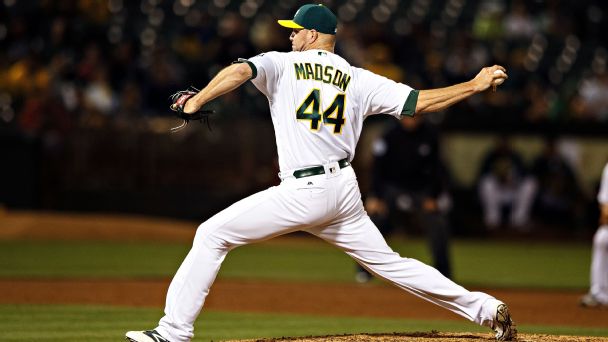 Trade 1 - Acquire Ryan Madson from Oakland Athletics for OF Danny Mars & 1B Josh Ockimey
The Red Sox find an excellent reliever in Madson while sending the A's a pair of good prospects that should satisfy Oakland. Both prospects the Sox give away here are expendable. Ockimey is the prize of the two, and Oakland, with the likely soon-to-be-traded Yonder Alonso manning first base and limited depth at the position will be glad to pick up a top-notch first baseman prospect.
Mars is the add-on, but he's an excellent add-on to the deal. Mars has been a consistent hitter for Double-A Portland Sea Dogs, and he continues to mash in 2017. He started the Eastern League All-Star Game, and he ripped three hits including a double in a 3-4 performance.
Ockimey was on fire early for Single-A Salem, but he has cooled recently to the tune of a .252 average. However, with Sam Travis seemingly slated to take over the first base duties in Boston, Ockimey could be expendable. It always stings to give away talented prospects, but Madson could be the difference-maker that the Sox need in the bullpen, a dominant set-up man that allows Farrell to use his other weapons effectively.
That's the only trade the Red Sox will likely make, along with the possible Todd Frazier deal. The Sox do not need much, but they can acquire the pieces they need while giving up precious little top-tier talent.