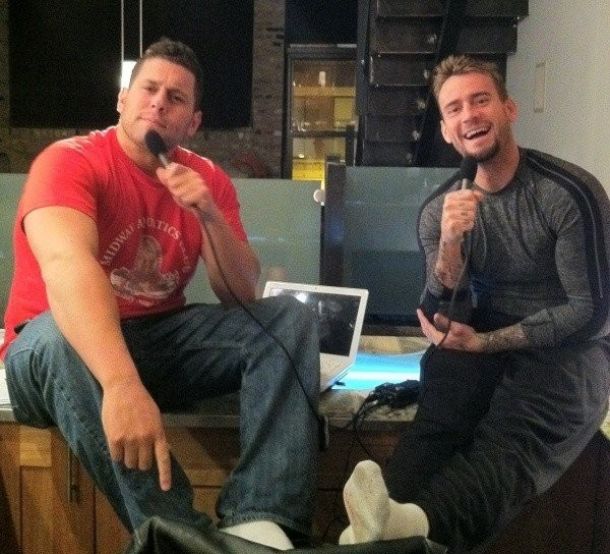 This week, Colt Cabana released episode number 226 of his podcast, "The Art of Wrestling." Normally this would not be newsworthy, but this episode featured former WWE star turned recluse CM Punk telling his story of leaving the company in January, being fired on his wedding day, and much more. While Kim Kardashian thought she could #breaktheinternet by releasing some photos, Punk seemed to have a much better shot with this podcast. The story has been featured all over the internet in the past few days, but this particular article isn't going to be just reciting the same things that can be found in the podcast (which you can find here) or in one of the many transcripts found . It will certainly touch on the points raised by Punk, but the main focus will be on what the backlash of this could be.
No matter how many articles are written about what is surely Cabana's most popular edition of AOW yet, there do not seem to be any which touch on what this might mean for people besides CM Punk. His wife AJ Lee, for instance, who is still an active WWE Diva; Cabana himself, for providing the platform for Punk to speak; Punk's friends in the WWE locker room; Chris Amann, the doctor who Punk called out for being "one of the most worthless pieces of s**t [he has] ever met." All of these people will surely be affected by the near two hour-long podcast in which Punk didn't pull any punches.
Before getting into that though, there are a few little anecdotes that haven't been passed around to death all over the internet, and here are just a few of them:
The WWE locker room has a weird tradition around surgeries: "It's been a long tradition in the WWE locker rooms, when somebody has something like [the mass on Punk's back], Doc cuts it out, everybody watches it, people film it, it's the weirdest f*****g thing. Benoit used to pop dudes' zits."
Alberto Del Rio had a no-compete clause for UFC in his termination papers, just like Punk: "There was a big no compete specifically naming Ultimate Fighting Championships, which I got a huge kick out of. I was like 'all right, okay. But they're not competition with WWE.' But in mine and in Del Rio's no compete they're like 'you can't go to UFC"
Punk never agreed to be in WWE 2k15, and got a large settlement as a result: "So then there's all this s**t about the video game, which was dumb of them to advertise me for the video game. Like, 2K Sports tweeted at me 'do I have your attention now?' Well, 2K Sports, do I have your f*****g attention now? Thanks for the big fat check."
WWE illegally lists its employees as independant contracters: "For 10 years of my life I was illegally listed as an independent contractor and they were terrified that I was going to go to court and ruin the way they do f*****g business."
Let's move on to the repercussions of the podcast. As has been reported elsewhere, the WWE brass are not happy about the comments Punk made, which means he's unlikely to ever work with WWE again or even appear on one of their shows. This is a shame as it means he could get the Randy Savage treatment and not go into the Hall of Fame. But as Punk said in the interview, he never wants to work for WWE again so this probably won't bother him. What may bother him is if WWE decide to take out their frustrations on others. It has already been reported by Bryan Alvarez that Colt Cabana has been blacklisted by WWE, meaning that he will never get the chance to work with them again.
Cabana is not a WWE employee, however, so that is as much punishment as he can really receive from the company unless they also decide to ban their employees from appearing on AOW. What may be more worrying to Punk is that he has several friends still employed by the company, such as Kofi Kingston, Daniel Bryan and Randy Orton. While Orton is unlikely to be punished as he is one of WWE's "golden boys", and Bryan has proven to be just as big a draw as Punk himself, Kofi Kingston has never really hit the big time in WWE and it's possible that he never will if he stands by Punk. This may turn out well for him as he could follow in the footsteps of Gail Kim, Shelton Benjamin or Luke Gallows and leave for a company who appreciate him more, be it TNA or GFW or a Japanese or even Lucha company.
On the other hand, he may find himself being given the Zack Ryder treatment and being cut from TV and relegated to doing house shows, or to borrow a phrase from ex-WWE and ECW wrestler Danny Doring, could he be stuck with "unbooked catering" (referring to the food provided for wrestlers, as some wrestlers are told to be at every show even if they aren't booked to wrestle.) Of course the biggest worry for Punk in all this must be that his wife AJ may be punished for his comments. There have been a lot of rumors almost every week that AJ will be leaving WWE soon, whether it is because she doesn't like working there, or she wants to focus on family life with Punk, or whatever other story might hit the dirt sheets in the coming months. If that is the case, and she does leave soon, then neither she nor Punk will probably mind how she is used between now and then. If she wants to stick around and continue with the job, which she has always wanted to have, being a WWE diva, then she may have to resign herself to a period of punishment if WWE do choose to punish her.
It is, of course, impossible to say with certainty what WWE will do about the comments made by Punk on AOW, but it will be interesting to see whether they will be addressed on Monday night, when Vince McMahon will be joining Stone Cold for a live podcast on the WWE Network. If so, expect another flood of articles across the web about Vince's comments. Until then, we can only speculate what, if anything, WWE's response to Punk's podcast interview will be.