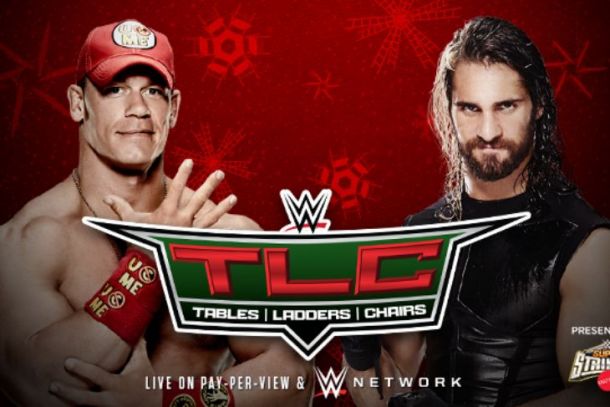 The card for the 6th annual TLC looks great on paper. Ok, maybe not. The card has some glaring issues. The fact that the WWE World Heavyweight Championship isn't represented here in some fashion is a bit problematic. Even if Brock isn't wrestling, he should at least still have some presence on the show. That said, lets see what the Vavel Pro Wrestling Team thinks about the rest of the card.
The New Day vs. Gold & Stardust
Mark Lynch: The New Day wins this. Why? Because it's time to start the Rhodes Brothers feud. And what better than to start a feud by a group of black guys
beating two southerners.
Travis Brown: The battle of light and darkness begins here. The New Day will find a way to win this but don't be surprised if The Dust Brother find a new adversary in the dark.
Chris Barratt: Ugh. I won't be watching this any time soon. The New Day' debut has been awful, but I'd expect they'll win here, especially after Kofi got the win over Stardust on Raw.
Oliver Lines: As much as I am a fan of Stardust, or rather Cody Rhodes in general, I can't see Gold and Stardust winning here. It's The New Day's first PPV and it seems rather likely they'll get put over, if not to give them a bit of credit and momentum going forward.
Lovell Porter: This is a strange first feud for the Super Best Friends… err, I mean The New Day. When it is all said in done, where does it leave both teams? TND should have won the number one contenders gauntlet match that took place on Raw and they should be feuding with Miz and Mizdow. THD will win, and they should win handily. It's time to poop or get off the pot when it comes to the careers of Kingston, Woods, and Langston.
United States Champion Rusev vs. Jack Swagger
Brown: Finally the United States belt is in the right hands with Swagger. If anything this needs to happen so Rusev can embark on a feud with a larger talent. This should be a great ending to the feud.
Barratt: Rusev retains. There's no way that the coolest guy on the show, who is undefeated, drops his title with no build-up to a guy he already feuded with. Rusev to get the big decisive win he's known for. Swagger will tap to The Accolade.
Lynch: Rusev will win. Rusev is Cena bait. Plain and simple. They will not have him drop a match to someone on Swagger's level.
Lines: Oh, however could this possibly turn out? Rusev has yet to lose during his time with the main roster, and they've been through almost everyone who could possibly beat him, including Swagger. Put your hand over your heart, shout "WE THE PEOPLE!", wait for the Russian to break out the Accolade until Jack passes out, then, once again, see the Russian flag drop from the ceiling. It's been done so many times, but yet it's still entertaining. There'll probably be a Patriot Lock in there, but it won't be enough to give Swagger anything close to a win.
Porter: Ok, stop me if you have heard this one: Jack Swagger walks into a wrestling ring and ends up getting his butt kicked by Rusev. Wait? You have heard that one before? So has this writer. Swagger is great, but it's really hard to look at him as a legitimate challenger for Rusev at this point. Rusev wins, but not after the Accolade, but the running savate kick. Yes, It's a savate kick.
Divas Champion Nikki Bella vs. AJ Lee
Barratt: It makes no sense for Nikki to drop the title (a running theme of all the title matches on this show) since she has a storyline and none of the other divas do. Expect Brie to be involved in some way but ultimately AJ will fall to the Rack Attack. And trust me, she will sell it like an absolute boss and gets pinned for the loss.
Lynch: Nikki will win. It is way too early for Nikki to lose that title.
Lines: With heavy rumours that Lee will be leaving the company very soon, especially when taking into account husband CM Punk's recent podcast where he basically tore apart the company, the only scenario will be Nikki retaining. And after AJ leaves, it will finally set up the title feud between sisters Nikki and Brie.
Brown: Nikki will step into the New Year as the Divas Champion. I do feel AJ will regain the title again at some point.
Porter: So… we are doing this again. Hopefully this time the match will be longer than a minute. Does anyone want to see the Bella's prominently featured? Do they really add anything to the show? Give us AJ vs. Paige for the 67th time. That would be infinitely more interesting than watching Nikki go over AJ again. It's too bad that that is exactly what is going to happen. Maybe they will bring up Charlotte or Bailey from NXT to take the title from Nikki.
Erick Rowan vs. Big Show (Steel Stairs Match)
Brown: Luke Harper may have something to say when this is all said and done. Brutal match where no man will be left standing… Well except Big Show because he is going to win.
Lynch: Eric Rowen wins. The WWE loves to bully bullies
Porter: How exactly does one win a Stairs match? Is there a chance that this match wont stink? In any event, Rowen has been progressing nicely. They are slowly trying to build his character and the crowd seems to be into it, which is great for Rowen. The only person with anything to gain here is Rowen, so he should win the match.
Lines: What in the name of Vince McMahon Senior is a Stairs match? Does anyone care about Rowan vs. Big Show? Well, the latter might be a tad important, given his heel turn at Survivor Series, and that's why I think he'll escape with a win in the first, and maybe last depending on how this goes, stairs match. Rowan will put up a good fight and definitely do himself some favours, but I can't see Big Show losing this one. Chokeslam to end it.
Barratt: IT GETS WORSE! I'm not at all looking forward to the majority of this show. Rowan is just being pushed down our throats with no reason given for why we should like him apart from "John Cena says so." Big Show turns heel and face as often as a coin turns heads or tails while it's in the air. So let's go really out there: Big Johnny (Laurinitis) sticks around after his Slammy appearance, reminds Show about that whole ironclad contract thing from like two years ago, and Show realizes he doesn't need this crap and walks out, leaving [email protected]$$ Erick Rowan to cry in the ring because nobody wants to play with him.
The Miz & Damien Mizdow vs. The Usos — WWE Tag Team Title Match
Lynch: Mizdow with the win with skull crushing "DowNalley". It's like the skull crushing finale, but with Mizdow.
Lines: Mizdow is by far the best character around and there is nothing to suggest that he and Miz will drop their newly-won title against the Usos. After being resigned to doing impressions of everyone from Paul Revere to LeBron James in the past year, his commitment to being the Miz's 'stunt double' won fans over and to take the title away from him would be criminal. Enough backstory, Miz and Mizdow will win, probably with a Skull-Crushing Finale from the Hollywood A-Lister because there's no way he doesn't finish it.
Porter: Watching Jimmy smack the heck out of Miz the other day was extremely enjoyable. It's a shame that is the only bit or retribution the Usos will get here. Mizdow is way too hot right now for the titles to switch hands. Mizdow and Miz retain.
Barratt: Two possible options here: 1) Miz and Mizdow retain, because the Usos have zero momentum and were seemingly picked at random from the five teams available to face the champs, or 2) Miz gets angry at Mizdow's popularity and an argument costs them the titles. I'd imagine the latter happens and Miz and Mizdow keep the titles until The Ascension show up to ruin their Christmas... in January sometime. WWE are always behind.
Brown: Jimmy and Jay Uso once again become champions. Don't be surprised if we see Damien and The Mix finally clash.
Ryback vs. Kane (Chairs Match)
Porter: Kane has no chance here. The sad part is the old Kane would destroy Ryback. Ok, maybe not destroy him, but it would be a much more competitive.
Lines: So, the World's Most Terrifying Insurance Salesman to win this and Ryback to disappear back into obscurity where he can be fed all he wants? That sounds about right. Or rather, Ryback dominates the entire thing and Kane continues to do what he's done best in the last year or so: lie down and put talent over.
Lynch: Kane gets destroyed and it makes this writer a sad Panda.
Brown: Feed him more! Ryback will win. Hopefully losing to Ryback will push Kane over the edge and he will become the big red machine once again!
Barratt: Ryback has gotten a big push as of late, and Kane doesn't win matches on PPV. Or really ever. So, Kane to win because at least one decision during the event won't make any sense. But really, we all lose because we watched a Kane vs. Ryback PPV match instead of Paige vs. Emma III.
Intercontinental Champion Luke Harper vs. Dolph Ziggler (Ladder Match)
Barratt: Now we're into the matches with that actually have some potential. Luke Harper is secretly one of the best wrestlers in the company, and has a brutal offence. Ziggler is the ultimate underdog who could sell the Qu'ran to a nun. Harper is going to win, but only after a long drawn out prop-based brawl and possibly some Authority interference. Also, this has the potential to be the best match of the show.
Lynch: Luke Harper wins. Ziggler is on to better things. Well, until Roman Reigns comes back and they put him on the back burner again.
Lines: Now this will be fun! Following a huge push at Survivor Series for Ziggler, where you may remember he took out Kane, Seth Rollins and his opponent here, Luke Harper. And as much as Ziggler deserves this title back for his heroics last month, there isn't much point in taking the belt away from Harper after just a month. Maybe after this loss, Ziggler will move onto pastures new.
Brown: it's possible Erick Rowan will interfere but more than likely Harper will be on the receiving end of a Zig Zag. Ziggler regains his IC title.
Porter: This is the match everyone should keep their eyes on. Ziggler is pretty much the love child of Mr Perfect/Billy Gunn/Shawn Michaels (It was a crazy summer that year!) and Harper is terribly underrated. Harper will climb the ladder and pull down the belt, but watching him get to that point will be a sight for sure.
John Cena vs. Seth Rollins (Tables Match)
Lynch: Cena loses after interference from Rusev or Brock.
Lines: Because of course he is, Cena is number one contender for the title. The same title he has wrestled for twice in the last four months, being destroyed by Brock Lesnar both times. Rollins doesn't really need the win being that he still has that guaranteed title match and, barring interference, is unlikely to emerge victorious. It's possible that we could see the return of Randy Orton outta nowhere to help Cena win, undoubtedly after a curb stomp makes him kick out at two. So yes, Cena wins LOL.
Brown: Somehow J&J security will screw this up for Seth. The only reason I have a rough time picking Rollins is because it still seems as if we are heading to Lesnar vs. Cena at WrestleMania.
Porter: This writer is going into this one with zero expectations. Both Rollins and Cena are both great, but table matches tend to leave a little bit to be desired. They are intent on feeding Cena to Lesnar once more, so Cena will pick up the win here. It being a table match, Rollins will still look strong even in loosing.
Barratt: Rollins should win here. Cena wins all the time and it's just stale. But, Lesnar needs to beat someone at the Royal Rumble to set up for his match with Reigns/Bryan/Taker/Rocky at WrestleMania, so Cena needs to retain his number one contendership. That is unless WWE plans to feed Ryback or someone to Lesnar at the Rumble. Cena AA's Rollins onto Mercury and Noble and the rest of The Authority, who are balanced on a table. There may also be a spot where Rollins tries to Blackout (it's not a curb stomp, shut up announce team) Cena through a table, and the table doesn't break.
Dean Ambrose vs. Bray Wyatt (Tables, Ladders & Chairs Match)
Lines: Another one that should be fun. The Lunatic Fringe did lose this matchup at Survivor Series after being disqualified for using a chair on Bray, before proceeding to bury him in tables, ladders and chairs of various shapes and sizes, setting up this match. It'll be a close one and Dean will probably do some impressive high-flying stunts, but a Sister Abigail from Wyatt will do for the former SHIELD member.
Brown: These guys are just getting started. This feud could possibly continue up to WrestleMania but there needs to be more than just crazy against crazy for it to work. Bray will win at the ppv, but Could Bray be trying to enlist Dean to start a new faction?
Barratt: This will be an awesome match. Dean Ambrose has been amazing in this feud but Bray on the other hand needs some freshening up. The way to do it is for he and Ambrose to go completely over the top like Dean did at Survivor Series. Just destroy the ring and ringside with weapons. Bray needs to find a new niche as the hardcore guy that the company is missing right now, a Raven or Mick Foley type who pulls out Hardcore matches at every opportunity possible. Ambrose should realize that he and Bray are similar after all, and enter into an unholy alliance of unhinged lunatics. The match ends in a no contest when they make friends with each other.
Lynch: First off, this is going to be the match of the night. Dean Ambrose wins and only after he piles a pile of tables, ladder, and chairs (OH MY) so high on Bray that he can't get up.
Porter: This match will be the second coming of the Demolition Derby. Expect Ambrose and Bray to destroy each other (as well as entire arena). Ambrose has a terrible record at ppvs and this will be no different. Bray will put Ambrose down after Sister Abigail.