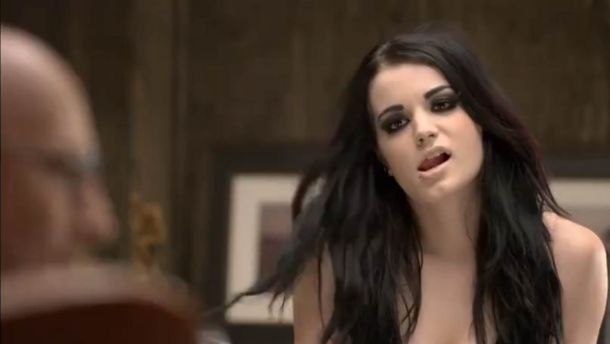 Why is the article header a picture from a commercial rather than a match itself you ask? Well, this week's episode of Main Event comes right in the middle of the promotion for the Royal Rumble, SmackDown's move to Thursday nights, NXT's move to Wednesdays and Macho Man's announcement as the first inductee in the 2015 Hall of Fame class, and so this episode felt like one big commercial, with some pesky wrestling matches breaking it up. Once the Raw recap videos are added in as well, the grand total of actual wrestling on the show comes to about half an hour.
WWE referees don't know the rules of wrestling.
The opening match pits Los Matadores against Goldust and Stardust, who announced their involvement in the Royal Rumble before the match. It's not the worst match in the world, but it really highlights the need for more tag teams. There are no fresh matches. Los Matadores, the Dusts, The Usos and Miz and Mizdow all just wrestle each other on loop. Kidd and Cesaro and The New Day are both new but are wrestling each other. The Ascension have ascended to the main roster, only to rehash their NXT act of never facing anyone on the roster. So hooray, Los Matadores get to wrestle Goldust and Stardust for about the thousandth time. As mentioned, it's an acceptable match, but it's marred by the ending.
El Torito is up on the apron, so Goldust knocks him off (as heels are wont to do). This is fine, it's heels bending the rules and hitting a non-participant, which heels do. That's OK, because they aren't breaking the rules. Then, in full view of the referee, El Torito gets back in the ring and delivers a hurricanrana to Goldust, allowing Diego to roll him up for the win. In what world is that legal? El Torito climbing in the ring and doing a wrestling move to a wrestler mid-match is interference, and should end the match. Los Matadores should be disqualified and the Dusts should win. That's how interference goes, and why managers get knocked down a lot so heels can cheat without getting caught.
If Lana or Paul Heyman or J&J Security or any other heel manager steps into the ring and hits their client's opponent, the match is thrown. There can't be one standard for the bad guys and another for the good guys. Interference is interference, plain and simple.
The return of Chris Hero (maybe)
The Ascension are up next to squash a pair of jobbers. It's pretty straightforward and if you've seen one Ascension match you've pretty much seen them all. The highlight here is that the jobber who takes the beating is (I think) Chris Hero, indy darling and former NXT failure. He had a pretty abysmal run in NXT where he was known as Kassius Ohno, and was fired for (allegedly) being too fat. If this is him here, it pretty much sums up his time as a WWE employee: a brutal destruction. He gets smashed around, thrown outside and into a few barricades, brought back in, double power bombed and the hit with the Fall of Man for the three count. His poor partner doesn't even get to tag in, and wisely doesn't try and break up the pin.
The shining light on a very dark show
This episode is poor. I think that's a fair assessment. This match is the redeeming one. Rusev and Justin Gabriel give a textbook example of fitting a 20-minute match into five minutes. It's an exciting, back and forth affair that lets Gabriel get to showcase some nice quick offence and actually give Rusev a challenge. Of course, because it's Rusev he answers the challenge, but Gabriel looks like a very competent wrestler here. With this match, and his appearance on Raw, are we possibly going to see a Justin Gabriel push soon? That would be long overdue, aside from his time in The Nexus Gabriel has never been given a spotlight, and he could really shine. He shows that against Rusev, using his speed to avoid attacks and land some blows and get rolling.
He then goes up top too soon and gets knocked off the ropes and kicked in the head by Rusev, which in most Rusev matches would mean its all over. Not today. Gabriel manages to get back on top, hitting a springboard clothesline that has Rusev reeling, before going for a springboard back elbow, but Rusev has it countered and turns it into a power bomb, before clamping on the Accolade for the submission victory. This match has an NXT feel to it, as there's only going to be one winner going in, but the loser looks strong throughout. That's not something we see a lot of on the main roster, unless the loser is John Cena or Roman Reigns, or sometimes if it's a pay-per-view match. Excellent work all round.
The main event is surprisingly not a train wreck.
The main event for the evening is The New Day against Adam Rose and Kidd & Cesaro. On paper, this should be horrible. The New Day have had an awful time since debuting, not least because Big E is the only member worth a damn. Kofi Kingston's battle royal and Royal Rumble spots are cool, and he can jump really well, but jumping is all he can do. Xavier Woods is a walking racial stereotype with a punchable face and would probably be quite an OK mid card heel, but also cannot wrestle especially well. Adam Rose's only good episode was that episode of NXT when he debuted with his Above Envy theme, before WWE bastardized it and made him into a guy who wrestles a furry.
The best part of any Adam Rose appearance is searching through the Rosebuds to see which indy wrestler is getting a cameo, and is it Tessa Blanchard again? So despite the fact that half of the participants in this match should be either fired or repackaged or shipped off to FCW (or wherever they send people now before they're ready to be on NXT TV. Sami Callihan has been living there for about eighteen months), this match wasn't awful. Usually, that would mean that Kidd and Cesaro carried it, but this week was different. It was quite a well-wrestled match. Certainly it wasn't good enough to be main eventing anything, especially on the same show as the Rusev/Gabriel match that preceded it, but it was OK for what it was. The best moment of the match was a spot that saw Kofi and Woods hit suicide dives to the outside at the same time as Big E hit his spear through the ropes.
The match came to an end with the Big Ending/Flying Nothing combination where Big E uses the Big Ending and one of other of his partners (depending on who he's teaming with on the day) leaps over them and pretends to help in some way. The New Day get the win to bring an end to what was a pretty bad episode of main event. It wasn't atrocious or anything, but it wasn't good by any stretch of the imagination.
Note: Next week there won't be an episode of Main Event, there will instead be Santino's Royal Rumble Lottery, which has the potential to be quite fun.