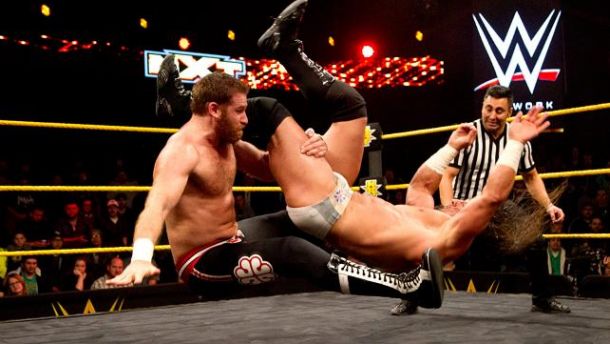 This week, NXT showed why it is far and away the best show that WWE produces. There were four matches, only one of which didn't have a clean finish (and even then it was a finish that made sense), all four of which were great.
Tyson Kidd should've been champion by now.
How sad is it that the only championship to Tyson Kidd's name is the Tag Title that he won with David Hart Smith? Tyson is a fantastic wrestler, and has proven recently that he can be excellent at playing a character. If he were the size of John Cena or Sheamus, he'd be a five-time champion by now. This week he's back on NXT for a match against Finn Bálor, and it's a lovely back and forth match. There are some great sequences, including Kidd countering a rope-assisted high kick into a dragon screw over the ropes, Bálor busting out a Sling Blade (or "a Tanahashi" if you listen to Matt Striker's Lucha Underground commentary), and Kidd running along the apron to deliver a brutal kick to Bálor's face. WWE Euro shop needs to start selling Tyson's cat ears hoodie. And while they're on, sell that shirt he wore on Raw too.
Bull! Bull! Bull! NOPE.
Bull Dempsey and Baron Corbin's passive aggressive stare downs over the last month finally came to head this week, and oh my word it was magical. Dempsey's super plan to be better than Corbin? Lose in about a minute. Dempsey puts up a fight and goes up for the head-butt thinking it's going to be one of his usual squashes, to which Corbin just rolls out of the way, picks him up and delivers the End of Days for a win. Bang boom sorted. Bull is a poor man's version of about four half-decent wrestlers; Corbin is a WEREWOLF BIKER who just obliterates guys in seconds. What was Bull expecting?
Weekly Sasha Banks Appreciation Section
So, Sasha Banks. Last week's report said that if you're not enjoying Sasha you're looking NXT wrong. Nothing has changed. This week she's teaming with Becky Lynch against the Women's Champion Charlotte and a former Divas Champion in Natalya, and she's the best part of the match again. What's strange is that she's not the best in the company at any part of being a wrestler. She doesn't have the technical wrestling ability of a Paige or an Emma, the natural presence of a Nikki Bella, the pedigree of Charlotte or Natalya, the adorableness of Bayley, the pure athleticism of Alexa Bliss or Charlotte (again) or even the star power and ability to connect with the fans that AJ brings to the table. Yet somehow, Sasha continues to be the most entertaining female on the roster with Paige trapped in Total Divas purgatory and Emma missing.
She'd probably put in a claim for most entertaining overall if not for the sheer number of male wrestlers compared to females. She only loses out to superstars like Bálor, Kidd and Seth Rollins. Anyway, the match. The match is an exciting one, keeping the Charlotte vs. Sasha core that works so well and adding in Natalya, who has turned into a great ring veteran in her time on NXT, as well as Becky Lynch whose relative lack of matches makes her a real wild card. It ends with Sasha getting a sneak roll-up victory, and celebrating like she's won the Super bowl. It's similar to when Daniel Bryan first started using the YES! chants to completely over-celebrate the smallest of victories, and look where it got him. Now we're not suggesting that Sasha will be winning the WWE World Heavyweight title after wrestling multiple matches at WrestleMania 35, but she's definitely got big things in her future.
Sami Zayn - Adrian Neville. What else is there to say?
A+. 10 out of 10. 5 stars. Whatever the highest level of praise you can give is, this match deserves it. There's no way to do it justice simply by writing about it, so here are the big highlights for you to look out for, but go to the WWE Network and look it. All the little things in this match are perfect and it really needs to be seen to understand how great it is, but here are the main parts that should wow you: firstly, it's Sami Zayn's first title defense so the emotion is running high. His exploder suplex looks more dynamic, the Helluva Kick looks brutal and his kick outs seem more desperate.
On Neville's side, he wants to show Sami's title win was a fluke so he really brings the fire. His electric chair counter into a hurricanrana looks like it snaps Sami's head off. His superkick counter of the tornado DDT through the ropes is immense. He rolls Sami up and bridges over Sami's entire rolled up body. Truly, this match was a perfect rematch to the R-Evolution match, and if you're reading this and you have access to the Network, or can look this some other way, make sure to go and look it.
Oh no he didn't!
Thus far in his short NXT career, Kevin Owens has: broken his nose while annihilating CJ Parker; attacked his "best friend" Sami Zayn while Sami was celebrating his first NXT title; caused Adrian Neville to have to be stretchered out after a match between the two. These things were all despicable, but this week he crossed a line when he KICKED THE NXT TITLE after stepping on Sami's throat. End him Sami.