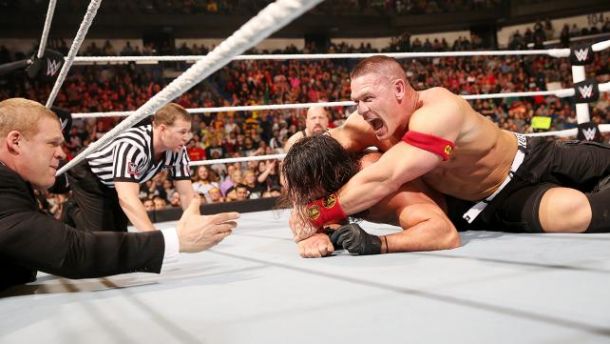 John Cena kicks off Raw and Cena is all smiles. It's strange to see someone so happy after being responsible for the loss of employment for three other men. Cena spends the first few minutes attempting to get the heat off of himself. Even attempting to get the hashtag Authority sucks trending on twitter. Cena says no matter what happens he has a plan b. He will leave the Royal Rumble as the WWE Champion. Cena says once he wins the belt, he is going to go home and sit on his couch until Eric Rowen, Dolph Ziggler, and Ryback are given their jobs back. Can't help if the irony of that statement is lost on Cena.
Right on cue the Stephanie and Triple H make their way to the ring. Steph and Triple H continue their, "Cena is really a bad guy" rap. Triple H says he is going to give Cena the opportunity to get them their jobs back. Cena has to defeat Seth Rollins in a lumberjack match. Triple H calls out the lumberjacks and they are all mid card heels. That match starts, now!
Lumberjack Match: John Cena vs. Seth Rollins-
Right from jump street Bad News Barrett makes his presence felt, tripping Cena and allowing Rollins to take control of Cena. Cena gets tossed to the outside and the lumberjacks immediately assault him. Cena tosses Rollins to the outside and the lumberjacks attempt to attack him, but J and J Security stop them for doing so. The fix is in!
Cena hits the AA on Rollins, but the lumberjacks pull Rollins out of the ring. Cena goes up top and dives to the outside on to Rollins and the lumberjacks. Cena pulls Rollins back in the ring but only gets a two count. Rollins tosses Cena into the turnbuckle via a running power bomb. Cena kicks out at two (shocking, right?). Cena hits a power bomb on Rollins for a two count as well. Cena goes for another AA, but Rollins flips out of hit and hits a Shiranui. Cena is barely able to kick out.
Cena hits another AA, but J and J pull him out of the ring. Cesaro big swings Cena into the barricade. Cena gets tossed back in the ring. Big Show floor Cena with a WMD on the outside of the ring. Rollins finally gets the three count for the win.
Seth Rollins defeated John Cena via pin fall.
This match was a lot more fun than you would think it would be. There was a ton of great back and forth action. The end result here was not surprising on any level. There will be a contract signing for the title match later tonight. Brock Lesnar will be face to face with both of his challengers. Don't be surprised if tonight ends with Lesnar destroying both Rollins and Cena. Everyone seems to have forgotten that Lesnar still owes Rollins a receipt.
Backstage, Steph tells the Usos Naomi will be competing with her hand behind her back. She then tells Dean Ambrose he has to pass a psych evaluation before he is allowed to compete. Anyone else getting a strange sense of Déjà vu? As stupid as a psych evaluation for a wrestler is, this writer would be lying if he said he wasn't hoping Dr. Shelby would be administering the evaluation.
Tag Team Match: sigh The New Day vs. Tyson Kidd and Cesaro w/ Adam Rose and Natalya-
This has the potential to be a great match. Cesaro starts off by tossing Kofi into a kick to the head by Kidd. This writer is going to do his best not to go off into a rant about how terrible New Day's gimmick is… nope this isn't the time for that. Kofi eventually hit a hot tag to Xavier Woods who takes Kidd out with the Honor Roll. Kofi gets the pin after a backbreaker clutch top rope foot stomp (say that five times fast, go ahead we dare you!).
The New Day defeated Tyson Kidd and Cesaro via pin fall.
Even though New Day's gimmick stinks, they really are talented. It's pretty cool that each combo of the team seems to have its own tag team finisher. This loss doesn't really hurt Cesaro and Kidd. These two teams will probably spend the next few months trading wins. If they are given enough time to work, each match should be better then the last.
They are playing up the fact that Macho Man is expected to be announced as the first Hall of Fame inductee this year. Not sure why they are saying he is expected to be. Either he is or he isn't. This doesn't make a ton of sense.
Big Show is in the ring, babbling about something. Not really sure what. The crowd's boring chant is drowning him out. Seems they are still working on this Big Show vs. Reigns angle. Haven't they fought on Raw each for the last month? Why should we care about them having a match at a ppv? Reigns comes out and delivers a promo that actually wasn't terrible. Ok, it wasn't good, but it wasn't terrible. Ok, maybe it was terrible. At this point it's hard to tell what is good and what isn't when it comes to Reigns.
Singles Match: Roman Reigns vs. Luke Harper w/ The Big Show-
Harper actually spends a ton of time working over Reigns. For a big guy Reigns works from the bottom a ton. Harper is about to hit the Clothesline from the Garbage Can, but Reigns Spears him before he can connect.
Roman Reigns defeated Luke Harper via pin fall.
After the match Big Show knocks Reigns out with the WMD.
Divas Match: Naomi vs. Alicia Fox-
Naomi has one arm tied behind her back. Naomi manages to go on the offensive early, but you have to remember, she only has one hand here. After a valiant effort, Naomi finally falls to the Scissor kick by Alicia.
Alicia Fox defeated Naomi via pin fall.
Jey Uso w/Jimmy Uso vs. The Miz w/Damien Mizdow-
Talk about the feud that wont end. After pretty much the same match that they have been having for the past few weeks the Miz manages to hit the Skull Crushing Finale for the win.
The Miz defeated Jey Uso.
Daniel Bryan is in the ring. Bryan talks about how he is going to win the Royal Rumble. Before Bryan can have his moment, Stephanie comes out and rains all over his parade. She tells Bryan that since he is able to compete, he will have his first match on Smackdown this Thursday night. And it will be against Kane. The world's toughest insurance salesman walks down the ramp and attacks Bryan. Bryan ends up getting the upper hand, which is totally implausible. Kane is a good opponent for Bryan to start off with. Everyone always sings Kane's praises. He is apparently extremely easy to work with. It will be great to see Bryan back in the ring.
Divas Match: Brie Bella w/Nikki Bella vs. Paige w/Natalya and Tyson Kidd-
It is a bit silly that the only reason this match is happening is to put over that silly "reality" TV show. What is the world coming to when Raw is a commercial for Total Divas. Any who, Brie rolled up Paige after Paige was distracted by Tyson Kidd.
Brie Bella defeated Paige via pin fall.
Tag Team Match: The Ascension vs. Jobber 5 and Jobber 6-
It's official, the Jobbers have the best gimmick since The Machines. Next week The Ascension will face Jobber 7 and 8 who in a strange twist of fate will resemble Iron Mike Sharpe and Barry Horowitz.
The Ascension defeated Jobber 5 and Jobber 6 via pin fall.
Singles Match: Dean Ambrose vs. Rusev w/ Lana-
This match was over before it started. Rusev worked over Ambrose's injured knee until the ref stops the match. What a crappy finish for a main event.
Royal Rumble World Title Match Contract signing:
This ends the same way every contract signing ends. The details are not important. In the end, Seth Rollins stood tall after delivering a Curb Stomp to both Cena and Lesnar.
This was not a good episode of Raw. In fact, Raw has been pretty subpar for the past few weeks. The build to the Rumble has left a lot to be desired. Reigns seems to still be the heir apparent, but he has been floundering in a major way as of late. His inability to deliver believable promos or quality match is disheartening. That said, the return of Daniel Bryan my rectify that. If WWE thinks they have an alternative in Bryan we may be spared the pain of watching Reigns win the Rumble and flounder as he tries to match wits with Paul Heyman (assuming Lesnar is still champion).