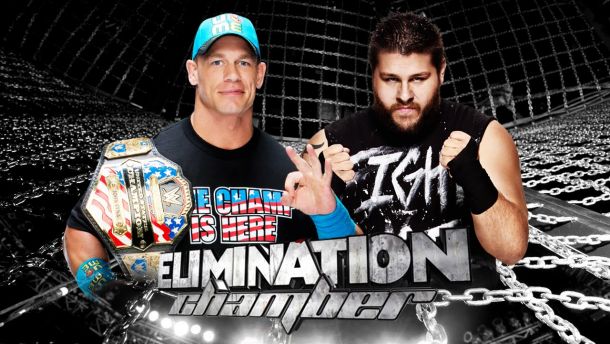 Are two pay per views in a month too much? Probably. Should wrestling fans around the world just shut up and enjoy the ride? Definitely. We are currently in a very strange place in wrestling history. WWE is trying so hard to get subscribers that they are overloading us with premium network content. The return of the King of the Ring and the surprise return of the Elimination Chamber are two great examples of this. If you have not signed up for the network yet you need to. The amount of content you are getting for $9.99 per months is worth it.
All that said lets take a look at the Elimination Chamber's card. For the first time in a long time the world title will not be defended in the Chamber, but a new Intercontinental Champion will be crowned and for the first time in history the tag titles will be on the line in the Chamber as well.
Divas Champion Nikki Bella vs. Paige vs. Naomi (Triple Threat Match)
Turning Naomi Heel was the best thing the WWE has done for a Diva in a long time. Naomi is a phenomenal athlete, but she needed more of an edge to her character to take the leap into legitimate title contender. Having Tamina in her corner makes her even more formidable. One could argue that she was basically just given AJ Lee's spot (come on, she has Tamina as her muscle and she is feuding with Paige And the Bellas at the same time) but who cares. At least she is getting some much-needed TV time.
The road to this match was written weeks ago when Naomi put Paige on the shelf. The prevailing notion was that when Paige returned she would be facing Naomi, who would have won the Divas title from Nikki Bella. That clearly is not the case. Both Bellas have improved vastly in the ring, but be honest: do you buy Nikki or Brie as a face? The only time Brie was remotely palatable as a face is when she was attached at Daniel Bryan's hip and feuding with The Authority. Nikki has never been able to connect as a face with the audience. The Bellas are just not likable on any level. The sooner WWE realizes that the better off all parties involved will be.
And the winner is…
Nikki Bella. There is seemingly no end in sight for Nikki's title run. This writer's gut tells him that Nikki will hold the belt just long enough to break AJ's streak. If that happens, WWE would be putting their presumed pettiness on full display.
WWE Tag Team Championship Elimination Chamber Match
This tag team Elimination Chamber match is the closest thing we are going to get to a War Games match in WWE. Maybe if this match goes over well WWE will find a way to make War Games a reality. The winner of this match is going to be hard to predict. All of the teams… Well except Ascension and Los Matadores, have a legitimate chance to walk away with the belts.
The Lucha Dragons have been on fire as of late. The crowd has gotten behind them, and it's not hard to understand why. They are super exiting, and Kalisto could possible the greatest high flyer in WWE history if he sticks around. Some of the things Kalisto can do in the ring are unreal.
The Prime Time Players had been kept out of the ring after re-uniting a few months back. They have been keeping us quite entertained via a series of hilariously spot on promos on every team in the tag division. Who knew to get these two over all WWE had to do was give them time on the mic.
Kidd and Cesaro being put together in a tag team seemed like a throw away, but both competitors have managed to make it work. The Lucha Dragons are great, but Kidd and Cesaro are head and shoulders above The Dragons and every other team in this match when it comes to ACTUAL tag team wrestling. Both Kidd and Cesaro were known as top notch singles wrestlers. Their singles game transitioned perfectly into tag wrestling.
Their first reign as tag champs was cut short, but dropping the belts to the white-hot New Day did not quell Kidd and Cesaro's momentum. Making them the challengers in this case effectively turned them babyface, which is exactly what the division needed. The amount of heel teams were starting to outweigh the faces. There is more balance now.
The New Day are probably bigger heels than The Authority at point. Let that sink in for a little bit.
And the winners are…
The New Day. They have to retain the belts here. Taking the belts off New Day would make about as much sense as giving someone a fake "Macho Man" gimmick. The New Day need the belts to bolster their overall heeliness. Imagine the promos that will follow if New Day survives the Chamber with the tag titles. They will be unbearable… and awesome.
John Cena vs. Kevin Owens
We don't get to say this often, but this is the definition of a dream match. Who knew that we would ever see Kevin Steen Owens in the same ring as John Cena, let alone going toe to toe with him at a pay per view no less? At first glance Owens may not look like much but he maybe one of the greatest heels to lace a pair of wrestling boots. He take no crap attitude and vicious in ring style make him the perfect foil for Cena. If anything, Cena and Owens path to WWE should serve as enough of a reason from the two of them to clash.
Cena was admittedly green when he made his jump to WWE's main roster from OVW. Cena' started off slow but in 10 years or so has become a 15 time world champion. It took Owens almost 15 years to even get a look by WWE. If that isn't the basis for a great ongoing feud, this writer doesn't know what is. Cena attempting to give Owens "veteran advice" last week on RAW was a nice touch. The idea that just because Owens just made it to WWE means he is a rookie is a common troupe in WWE. It's a good sign that WWE is aware of this and that they choose to point out that ignoring a wrestler's past is impossible to defend at this point.
And in the winner is...
Kevin Owens. This pick may shock you, but the fact that the U.S. title is not on the line is telling. If this match were going to be another in the long line of Cena destroying NXT talent (oh you didn't notice that, did you?) then the belt would be on the line. Expect Owens to cheat and hit multiple powerbombs for the win.
Intercontinental Championship Elimination Chamber Match
Having an Elimination Chamber match for the Intercontinental title in this day in age is great. The IC title has not meant much as of late, but having such a high profile match for the belt will add some much added prestige to the title. It is common knowledge that Daniel Bryan's IC title reign was designed to get the belt over once again, but for the second year in the row Bryan has to relinquish a title due to injury. It's a shame that Bryan's body seems to be failing him at this point. If anyone could shine up the IC title and make it important again, it was Bryan.
The problem WWE faces now is that they do not have many legitimate choices available that could accomplish what the original goal for Bryan's title reign was (raising the IC title back to prominence). This writer loves R-Truth but an R-Truth title reign at this point will not do much for the IC title at this point.
King Barrett has been IC champion a total of 157 times but has only held the belt for a total of 20 days. Barrett has come a long way, but he is extremely injury prone. Its funny that one of the knocks against Dolph Ziggler is that he is always hurt. That is presumably the reason he has not gotten a major push. For some reason that line of thinking has not been applied to Barrett, who recently won the King of the Ring and is supposedly in line for a major push.
Then there is Ryback…
Moving on, Rusev could be an interesting choice. Coming off his series of hit-or-miss matches with John Cena, Rusev could use a bit of a boost. Problem is giving him the IC title doesn't really do much for him either.
Sheamus is a viable option but we have seen the Sheamus as champ song and dance before. Sheamus has never made for an interesting champion. Sheamus just isn't very compelling in or out of the ring.
And the winner is…
Sheamus. This writer doesn't feel good about it, but this match is Sheamus's to win. No real rhyme or reason, other than the fact that this is the same guy who was booked to beat Daniel Bryan in seconds at WrestleMania. Look for him to pin Ziggler in the end to win.
WWE World Heavyweight Champion Seth Rollins vs. Dean Ambrose
It's funny… At first it was Dean Ambrose who was supposed to be the chosen one in The Shield. Then it was Roman Reigns. In the end, it was Seth Rollins that managed to win the WWE World Heavyweight Championship first. Rollins was an afterthought in the beginning. WWE swerved us big time when Rollins betrayed Ambrose and Reigns and joined The Authority. After winning the Money in the Bank brief case it was only a matter of time before Rollins won the title.
Rollins reinvented himself and managed to become the top heel in the company. No one elicits as much legitimate heat as Rollins. Everyone hates him, and that's exactly how it should be. Ambrose on the other hand slowly descended into madness mid way through his run in The Shield. He went from their leader to a total loose cannon. His rage could not be controlled and he reached his breaking point when the man he considered a brother (Rollins) turned on he and Reigns. Considering how Reigns and Rollins had been built after The Shield split, it was unclear how Ambrose would be booked.
The best gimmicks tend to be when the wrestler is allowed to just be themselves turned up to 12. Ambrose is a well-known lunatic (You have to be to compete in CZW Death matches) so what he has developed into is the natural progression of his character. At times, Ambrose is left fluttering in the mid card and seems disinterested, but when he is given something he can sink his teeth into he shows up and steals the show. Anytime he is in the ring with Seth Rollins, magic happens.
If you think that statement was hyperbole, please go back and watch Rollins vs. Ambrose match at SummerSlam 2014. That was a match of the year candidate. Did we mention that it was a lumberjack match? Yes, Rollins and Ambrose managed to make a lumberjack match interesting. If these two are allowed to work, this match will be just as epic. It would be interesting if they can leverage the Elimination Chamber in this match, even though it is just a singles match.
And the winner is…
Seth Rollins. If this writer were booking WWE, it would be Ambrose who comes out on top. Since that is not the case Rollins winning is inevitable. Rollins will likely hold the title till SummerSlam. Look for a screwy finish involving all of The Authority. Rollins is seemingly being saved for a rematch against Lesnar, which Rollins will win even though he has no business doing so.
Editors note: Yes, the pick for this match was Rollins, but Kane could be a factor here as well. You have to keep in mind that at the last pay per view Kane was operating under the threat of being fired if he didn't help Rollins win. He has no such motivation at Elimination Chamber. If Kane were going to have this last run everyone is talking about, costing Rollins the belt would be a good start.
Let us know what you think in the comments sections below! You can also hit us up or on our Twitter @AboveAverageLLP and @Wrestling_Vavel.