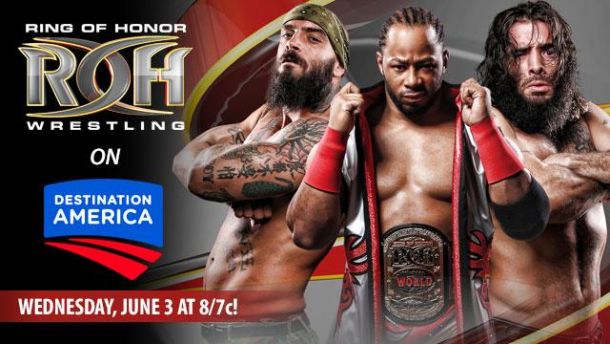 This was the debut of Ring Of Honor on Destination America. There is a Ring Of Honor introductory video package to start the show. The first shot in the video is CM Punk, followed by videos of American Dragon Bryan Danielson (Daniel Bryan), Samoa Joe, Tyler Black (Seth Rollins), Nigel McGuinness (Desmond Wolfe), Kevin Steen (Owens), as well as others. At the end of the video the words suddenly appear and fade away, "Creating Excellence." Very true sentiment, if you've ever heard of Ring Of Honor in the past fifteen years. Some amazing talent has come from ROH. Some of today's top WWE, TNA, and NJPW talent has made a name in the history of Ring Of Honor, prior to the history of their current promotion.
The Briscoe Brothers appear in the opening video promo. Jay Briscoe says, "Tonight they'll be in the same ring as the House of Truth." Mark Briscoe speaks over his brother, saying, "We're no strangers, you scallywag! You're in the big leagues baby. Welcome to the jungle!" Jay adds by saying "Donovan Dijak you're going to be broke tonight, real proper. Mr. TV Champion Jay Lethal, I been seeing you ducking. See you in the ring, boy. It's gonna be a preview of what you'll see at Best in the World." Great plug for the upcoming Pay-Per-View.
These two have been around the block for a long time. You can tell through their ability to dive deep into who they are and make you believe they're going to tear these two a part in tonight's main event. It's a great way to entice the viewer into sticking around for the remaining hour. The Briscoe's have been around for a long time; mastering one's craft would be an understatement when describing the intensity of this promo.
Commentators Kevin Kelly and King Corino are here to welcome everyone to the show. They then inform the national television audience of the main event is ROH World Champion Jay Briscoe - ROH Television Champion Jay Lethal at Ring Of Honor's Best in the World June 19th live on Pay-Per-View. Corino then goes onto make the bold claim "The main event at Best in the World is the biggest match in Ring Of Honor history." It may be the biggest match in Ring Of Honor's history."
Will Ferrera vs. Kushida
A tale of the tape is shown between the two. They're both very matched up in size, as both have the same weight at 191 lbs. and the same height at 5'7". Kushida hails from Tokyo, Japan and Ferrara from Parkside, New York. They both lock-up, then a side headlock from Kushida. They both begin to run the ropes with Kushida doing a cartwheel at one point through their exchange. Kushida kicks Ferrara to the ground and lands a trademark cartwheel dropkick. Ferrera then stands up and gains the upper hand. Ferrera has an intent angry expression on his face. The crowd is cheering loudly for Kushida throughout the entire match. Kushida is on the apron and lands a sidekick to the face of his opponent.
Ferrera gets up only to receive an arm break from Kushida above the top rope. Kushida makes his way back into the ring. Ferrera then hits a clothesline and Kushida goes to the outside. Ferrera then runs with a suicide dive through the middle of the ropes. Both enter the ring once again. Ferrera goes for a suplex, but Kushida reverses it into a fujiware armbar. Strong-style elbows are being delivered by Kushida. The crowd continues with a loud chant for Kushida. Top rope Moonsault by Kushida. Kushida then lands a head scissors, into an arm drag, rolled into the hover board lock. Ferrera taps out to Kushida pretty quickly after the move was locked.
Winner by submission:
Kushida
The Addiction then make their way to the commentary area. Christopher Daniels begins to call out ReDragon, stating, "You're part of the entitled generation and didn't earn anything like we had." The crowd begins to boo, as Christopher Daniels continues to speak "We'll give you one title shot, next week and only next week." Frankie Kazarian finishes the promo by telling commentary "We give you permission to worship us."
"Professional Wrestling's Last Real Man" Silas Young vs. Watanabe
A clip is shown of Silas turning on his tag team partner, Watanabe from their last encounter together. The clip was a good way to explain the storyline between the two prior to this match. There is another tale of the tape displayed. These two are evenly matched in weight, but Silas is 3 inches taller than his opponent. Watanabe begins the match by attempting to shake Young's hand. This failed attempt is only matched by Silas's elbow to Watanabe's face. They then both exchange strong-style elbows. Young does a headlock, followed by a shoulder tackle.
There is another exchange of elbows, with an exchange of kicks to follow. Watanabe connects with a back suplex and Silas picks himself up in the corner. Watanabe says "SUPLEX!" The crowd then chants his name, "Watanabe, Watanabe, Watanabe!" Watanabe picks Silas up and places him on top of the corner. Silas reverses the Superplex into a viscous flying clothesline. As Silas yells at the crowd, Watanabe grasps his chest and getting to his feet. Watanabe then his a clothesline of his own and a neckbreaker for a two count. Silas rolls to the outside to maintain his composure. Silas then gets back to the apron, but suddenly get's clotheslined back to the outskirts. Young reverses a suplex from Watanabe and Watanabe drives young into the barricade.
Young appears to be grueling to get an opening, but before he can Watanabe sticks his over the head release German suplex. Silas does a flip in mid-air and lands on his stomach. Silas appears to have had the air knocked out of him, but that doesn't stop Watanabe from bringing Silas back into the ring. Watanabe goes for a cover. One, two, and Silas kicks out right before the count of three. The crowd is shocked, but still hot for Young to get beat. The commentators are doing a spectacular job of putting Silas over as a true touch man during this match. Silas gets to his feet and picks Watanabe up for an airplane spin, then out of nowhere a T.K.O. for the win by pin fall. Silas then picks up a motionless Watanabe's hand and shakes it, almost in a way to mock the code of honor. Which is shaking your opponent's hand before and after the match?
Winner by pinfall
"Professional Wrestling's Last Real Man" Silas Young
Colby Corino vs. Moose
BJ Whitmer makes his way to the ring with the Decade and Colby Corino for his match against Moose. Once the Decade are in the ring with Whitmer, Moose's music plays and the audience is ecstatic. Moose makes his way to the ring with Veda Scott and Stokely Hathaway. Moose's entrance is quite interactive with the audience. The audience appears to be behind Moose all the way. Moose has a very fresh aura about him. This guy will be big money in this business one day. As Moose enters the ring BJ begins to speak into the microphone.
BJ Whitmer proceeds to claim, "I could wrestle you tonight and win. That winning streak of yours would come to an end, right here, right now. I have an opportunity for you. A man to step out of my shadow and prove not only does he belong here in Ring Of Honor, but he is the future of Ring Of Honor. So, Colby Corino, are you ready for this opportunity?" As BJ gives ROH commentator King Corino a dead stare and says to his son Colby "Are you ready to show the world that you are more of a man than your father has ever been?" The camera quickly takes a span of King Corino, who appears to be shaken. There hasn't been a lot of times in this business Steve Corino has been at a loss for words, but this appears to be one of them.
Colby Corino appears to be both stunned and confident in his abilities. He then takes his shirt off and gets in the face of Moose. Moose doesn't want any part of it and almost laughs it off, but Colby isn't laughing. Colby continues into Moose's face as BJ repeatedly says "Cease this opportunity, Cease this opportunity." Colby then slaps the taste right out of Moose's mouth. He then elbows Moose continuously, until Moose has had enough and throws Colby over the top rope with ease. Moose then follows Colby to the mat, picks him up, and throws him head first into the barricade. Moose then picks a lifeless Colby up and powerbombs him into the ring apron. However, Moose doesn't let Colby go. Instead he hangs onto the powerbomb lifts him up and gives him another one, but this time to the bottom two ring ropes.
Kevin Kelly emphasizes how Colby is just a kid at 18 years of age. Colby then bounces from the ropes and lands stomach first to the outside mats. This was a brutal spot that reflected Moose as Ring Of Honor's true monster. Colby was half his size and Moose treated him as such. Kevin Kelly and King Corino continue to sell the beat down from Moose. As Kelly exclaims Colby has been broken in half. King Corino states he is at a loss for words. Moose brings Colby into the ring and pins him for the win. The crowds chants "Moose, Moose, Moose, Moose," until Moose makes his way to up the entranceway.
Winner by pinfall:
Moose
Next we see a promo from Television Champion Jay Lethal, with his manager Truth Martini from the parking lot. It's now time for tonight's main event. This was a short promo, with not much to it. This was more of an outside entrance as it basically showed the two travelling from their vehicle to the arena.
House of Truth vs. the Briscoe Brothers
There was no tale of the tape for this match, as there was for the first two bouts of the evening. House of Truth makes their way to the ring. Lethal is holding his Television Championship. Jay Lethal declares Donovan Dijak and Shane Diesel will face the Briscoes tonight. Lethal then makes his way to the join the commentary, alongside Kevin Kelly and King Corino. Next the Briscoes music hits and the crowd is deafening as they throw multi-coloreders into the ring to show their respect and appreciation for the duo. The match begins and Mark jumps on the back of the 6'7" Dijak and locks in a sleeper. An unusual move for the first of the match, but Mark rolls to his feet after Dijak gets him off his back.
Mark's in the corner and Donovan begins to rush him. Mark jumps from the middle rope and lands an elbow. Dijak backs up and charges again only to be on the receiving end of the loudest chops currently in the business. These chops would make Ric Flair style and profile. They were increasingly louder and louder. Mark gets into a praying mantis, karate pose and lands a mantis kick. Dijak catches Mark's foot and lifts him into the air. Mark does a back flip and lands on his feet, only to have Dijak attempt a kick to his gut. Mark catches Dijak's foot, lifts it up, and forces Dijak to do a backflip as well. Dijak catches his balance and lands on his feet to tag his partner Shane Diesel. Diesel is almost the opposite of Dijak as he is on the smaller size of things.
His head comes right after the top rope. He makes 6'7" Dijak appear to be a giant. However, Ring Of Honor Champion Jay Briscoe tags his brother and becomes the legal man. He then gains the upper hand on both competitors, but suddenly Diesel land repeated elbow shots to Jay. Jay headbutts Diesel and tags Mark back into the match. The Briscoes are on point and the crowd is loving the energy from these two. The Briscoe Brothers are proving why they're the best tag team this business currently has to offer. Mark is a wild man and fully engulfed in his character. Jay appears to be very disciplined and focused on the job at hand. All the while, he's been connecting eyes with Jay Lethal on commentary throughout the match. The brothers' double team Diesel, Lethal on commentary distracts Jay. Dijak tags into the match to do a suplex, then tags his partner back. Shane Diesel and Donovan Dijak then connect with a double team. Diesel connects with short blows to Jay's ribcage.
The crowd then starts a loud chant of "Let's Go Briscoe, Let's Go Briscoe, Let's Go Briscoe." Jay powers back with elbows to both opponents and jumps to tag Mark. Mark does some Redneck Kung Fu and continues to deliver the loudest chops going today. As Truth Martini gets on the ring apron, Mark lands a fireman's carry. Truth is distracting the ref while Dijak knocks Jay off the opposite corner apron. Diesel takes control, and then we go to commercial. Upon returning from commercial Mark does a jumping crossbody from the second rope, only to be caught by Dijak. Dijak lifts his knee and delivers a standing backbreaker. Shane Diesel tags into the match and hits a fall away slam to Mark Briscoe.
He tags Donovan Dijak and Mark chops him repeatedly. Jay finally tags in and all hell breaks loose. Jay cleans house and connects with a Rick Rude-like neck breaker to Dijak. Jay punches him, then hits the running elbow. Jay picks Shane Diesel up on his shoulders. Mark climbs to the top. He dives off with the flying clothesline, with a hard shot to Shane Diesel's chest as he backflips off the shoulders of Jay. Briscoes land the Doomsday Device and pin Shane Diesel for the win.
Winner by pinfall:
The Briscoes
After the match Dijak kicks Mark, while Jay front flips over the top rope. Jay comes in and kicks Dijak, then attempts his patented JDrilla. Jay Lethal breaks it up before the damage is done. Jay Briscoe then hits his JDrilla finisher to Jay Lethal. He then stands over Lethal holding his Ring Of Honor World Championship. The crowd is extremely loud as the show comes to an end.
This was an impressive debut for the long awaited for Ring Of Honor. They proved American Wrestling could be taken seriously with a positive and professional sports-like atmosphere. Amazing job getting the television audience engaged. The stories were told well and ROH left with the feeling of wanting to see more. A fantastic national television debut on Destination America from Ring Of Honor Wrestling.