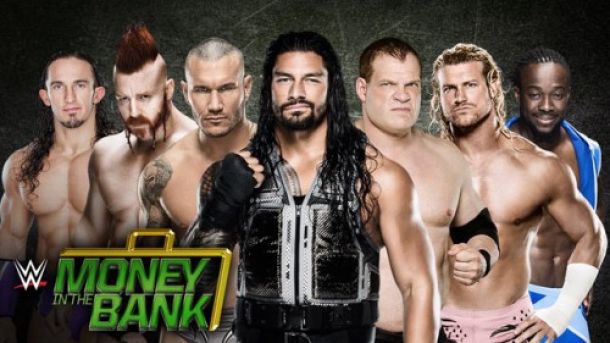 This year's participants in the Money in the Bank Ladder Match include Neville, Dolph Ziggler, Randy Orton, Kofi Kingston, Sheamus, Kane, and Roman Reigns. From a logical perspective what's the likelihood of each participant climbing the ladder and leaving with the Money in the Bank briefcase? We'll be examining each participant, to give an accurate assessment of Sunday's matchup.
The first candidate is Neville. Neville is pretty fresh to the WWE Main Roster. He is an unbelievable talent with a bright future ahead of him. The WWE audience is just getting to learn who this superstar is, but little is still known about his character. His in-ring work speaks volumes, as it should because this up and coming talent paved his path on the independent scene, worldwide. Currently, there isn't anything storyline related to signify Neville as the winner in this match. He was featured in a match on with Bo Dallas during the WWE Elimination Chamber event. Nothing against the inspirational Bo Dallas, but he hasn't been put in the position of main event level contender ship.
As of late Neville has been featured in matches with contenders who've been going for the WWE Intercontinental Championship. Neville had an impressive showing against Kevin Owens's NXT Championship Open Challenge. However, he came up short against the NXT Champion. Is "the man who gravity forgot" ready for a WWE World Championship run? His win/loss record since being brought up from NXT may say otherwise.
Former Mr. Money in the Bank Dolph Ziggler is also a participant in this year's ladder match. For the past couple of months Dolph has been heavily featured as Lana's new love interest. Even this past Monday featured Rusev distracting Lana, causing her to possibly injure herself by falling off the entrance ramp. At WWE Payback Lana threw in the towel for Rusev during his "I Quit" match against John Cena. Since then, Lana has been in a storyline breakup with the now injured Rusev. Rusev's recent injury hasn't slowed the storyline down in anyway, as Rusev continues to make appearances with his injury. In the past few weeks he has been attempting to get Lana back, but when Lana declines the offer he yells at her in a very degrading manner. These scenarios usually end with Ziggler coming out to accompany Lana to the back.
However, this past Monday featured Rusev causing the distraction to Ziggler. Ziggler and Lana appear very awkward together, with little chemistry displayed through their actions. Lana's true feelings about Rusev are imminent. Although this is a storyline break up, Rusev and Lana are very much involved with each other. Ziggler being added to the mix only adds less credibility to a floundering storyline. Unfortunately, the television relationship between Lana and Dolph is lackluster to say the least. Dolph has also been featured in the hunt for the WWE Intercontinental Championship for the past few weeks. Will Ziggler pull off the big one yet again and become a two-time Mr. Money in the Bank? Or will Lana cause Dolph the victory yet again, by having Rusev come out with a distraction?
It feels like there aren't many serious contenders for this year's briefcase, but the Viper is definitely one of them. He has been featured in main event storyline's since Seth Rollins won the WWE World Championship at Wrestlemania 31. Not to mention, Orton also defeated the champion the same night he won the Championship. Since then, Orton has been featured in an on-going feud with Rollins. After WWE Payback, Orton had taken a back seat to Dean Ambrose. Randy Orton has been on top of his game as of late. He has been on point with his promo delivery and his in-ring work is the best we've seen in years. Recently Orton hasn't been featured in many of the WWE World Championship vignettes, but don't count him out because of that.
Randy appears to be focused with a newfound appreciation for his craft. Will Orton prove he still has what takes and become the holder of the contract for a second time in his career? This proved to be a great benefit when he took his opportunity to cash in and win at SummerSlam 2013 against Daniel Bryan. Orton's current situation may say different. Maybe Orton's time has come and passed as the WWE World Champion. Maybe the better spot for Orton is helping to create tomorrow's superstar's by giving them the prevail rub to other talents. Randy's been in the WWE for over a decade. Orton is finally starting to come into his own element out there. There is a lot of stock in the viper. Will he be able to prove his worth at Money in the Bank? Then we come to a man who has been in the WWE almost as long as Randy Orton.
He is 1/3 the current WWE World Tag Team Champions and a founding member of New Day, Kofi Kingston. Kofi has to be the most intriguing element this match has to offer. After a number of years as a face, where people didn't believe he had it in him to become a top heel. He has proven the doubters wrong through the "Power of Positivity." Not only has Kofi shown he can be a viable heel in today's day and age, he has done it with two inexperienced wrestlers. Earlier this month, a match featuring Kofi Kingston was announced as part of a NXT Special from Tokyo, Japan on July 4, 2015, to be broadcast on the WWE Network. The reason this match is being mentioned is because this match involves Kofi Kingston facing off against the Beast, Brock Lesnar.
This adds a hidden element to the Money in the Bank match. This adds the element of surprise. Why would Brock Lesnar be facing Kofi Kingston 3 weeks after Money in the Bank? Kofi has been in a lot Money in the Bank ladder matches, but never been able to capture the big one. This announcement of Brock vs. Kofi makes Kofi Kingston the dark horse winner of the 2015 Money in the Bank contract. Think about it. What logical explanation is there for Brock Lesnar to face Kofi Kingston? Kofi is a top hand in the ring and is currently in the most hated group in WWE. Brock Lesnar was suspended indefinitely the last time he was in a WWE ring. It's well known that Brock's been announced for future WWE live events, however there is a storyline restricting Brock from coming back to WWE on "good terms." If Kofi wins the Money in the Bank briefcase he has rightful ownership of the contract. What if Brock Lesnar were to come to the ring after Kofi wins the briefcase and destroys everything in his path, then takes the briefcase from Kofi?
This would be a logical reason for Kofi Kingston to face Brock Lesnar 3 weeks after Money in the Bank at the NXT Special from Tokyo, Japan. Brock Lesnar would be the keeper of the briefcase, but Kofi Kingston would be the true Mr. Money in the Bank. The match on July fourth would be for the Money in the Bank contract. This would force WWE to reinstate Brock Lesnar back as a WWE Superstar. If Brock were the holder of the contract Triple H and Stephanie McMahon would be at a stalemate and forced to reinstate Brock from his indefinite suspension. This would also ensure Brock has a rematch against Seth Rollins for the WWE World Championship. This is also a viable reason to hold a main event between the two at the 2015 SummerSlam. Will Kofi Kingston bring the Money in the Bank contract back to the New Day? Could New Day become Mr. Money in the Bank? Or will Brock Lesnar claim of opportunity to once again become WWE World Champion?
The Celtic Warrior Sheamus is another force to be reckoned with in this match. He is a former WWE World Champion and has experience in previous Money in the Bank ladder matches. Since his return Sheamus hasn't let a bad haircut and a beard braids get in the way of Brogue Kicking anyone who gets in his way. His strong-style in-ring work helped contribute to the recent injuries of Daniel Bryan. He has forced everyone to remember he's a true brute when it comes to pushing his weight around. He hasn't dropped a beat since an unfortunate injury caused him to be sidelined for a number of months.
This leave of absence must have brought the burning fire out of Sheamus. He has a lot of good things going on at the moment, as he is currently staring as Rock Steady in the new Teenage Mutant Ninja Turtles 2 movie, which is currently being filmed. Is there any chance filming obligations restrict Sheamus from being the potential winner of this contract. This contract has a one year expiration date, which would lead you to think filming obligations wouldn't play a role in determining the outcome of this match. However, Sheamus also has been feuding with top opponents in the WWE Intercontinental Championship hunt.
He was a featured player in the Elimination Chamber, but came up short as the pin fall to declare Ryback as the new Intercontinental Champion. It would seem Sheamus has more of a bone to pick with Ryback than Seth Rollins. Even if the feud wasn't with Ryback, Sheamus has been feuding with other Intercontinental Championship contenders, such as King Barrett, Dolph Ziggler, and Neville. Will Sheamus stay in the WWE Intercontinental Championship scene or will he step up his game at Money in the Bank and bring the briefcase home to Ireland?
There is another wrestler who has been in the shadow of the champion for far too long. From the past recent weeks it would appear the Director of Operations Kane has been pushed to his limit with Seth Rollins. A match between the two has been teased for months. Seth Rollins disrespects Kane with almost every opportunity. The WWE Universe has been waiting for Kane to snap and finally put an end to the ungrateful architect. The chemistry between Kane and Seth Rollins is undeniable. Kane has proven why he has been on top of the roster for the better part of two decades. He is getting up there in age, but proves his worth each and every time he is featured.
It feels as though Kane is coming to the end of his career. It would be bitter sweet to witness another great run as WWE World Champion from the devil's favorite demon. A lot of people are clamoring for the Kane of old, but for the past 3 years of Kane has been amazing. His run as the tag team champions with his partner Daniel Bryan was truly memorable. Since then Kane has sided with the Authority and become the Director of Operations. His promos as the Director of Operations have been some of the best he's ever delivered. This past Monday we almost witnessed a face turn from Kane, but as Seth is a heel and Kane is still part of the Authority, which are also heels, it's hard to decipher if Kane is truly a heel or a face. It's almost like you want to root for the guy, but then you realize his character has been bastardized in many ways. He is of the utmost deserving out of anyone on the roster.
If Kane were to win there is a storyline waiting to happen between himself and Seth Rollins. Kane has been pondering on many scenarios when it comes to the demise of Seth Rollins. Kane shows signs of the demon of old at certain points, but also shows self-control his character has lacked in previous years. Kane is huge contributing factor in Seth Rollins is currently WWE World Champion, as it was Kane who pushed Ambrose off the ladder to allow Rollins to climb and unlatch the briefcase to earn last year's Money in the Bank contract. Is today's PG era of WWE ready for a return of the demon Kane? Will Kane is also a veteran when it comes to Money in the Bank ladder matches. Kane could easily cease his opportunity to segue himself into a chance to face Rollins for the WWE World Championship. Does Kane have ulterior motives in being included in this match? Is Kane determined enough to climb the ladder to take something he has yet to accomplish in his almost two-decade long career?
The last piece of the puzzle is a man who has been full of criticism for the better part of 2015. He is the 2015 Royal Rumble winner and the man who main evented against Brock Lesnar in Wrestlemania 31. He is Roman Reigns. Roman has had a hard time gaining ground since the Shield disbanded a little over a year ago. He was protected as a part of the Shield with 6 man tag matches and limited promo time. However, without his brothers in the Shield it was time for him to sink or swim. Since his Royal Rumble win the fans have been very stubborn in accepting this second generation wrestler. A big reason for this is because the other two members of the Shield were so damn good.
Both Rollins and Ambrose had a number of years' experience on the independent wrestling scene, honing their craft. When you hear Ambrose and Rollins deliver a there is a certain cadence in their delivery, which is currently lacking Reigns. Although Roman has been slow in growing his character, there have been significant improvements in his promo ability and in-ring work. A big hindrance to Roman Reigns is he is still living in the shadow of the Shield. He is the only member who has the same entrance music, same outfit, and the same entrance from the audience. It's almost as if he's been riding on the coattails of the Shield since the breakup occurred. The WWE Universe would be more accepting of Reigns, if he had more moves included in his repertoire, new entrance music, a new entrance, and new ring gear. The audience sees through this one-dimensional characterization of a former Shield member. Since the 2015 Royal Rumble the WWE Universe hasn't been very accepting of his somewhat forcible push Roman Reigns has been on the receiving end of.
Steve Austin has been very vocal as of late about turning Roman Reigns heel. Claiming the audience isn't accepting him as a face and he needs to turn that aggressive fire come out in true heel fashion. Roman has a storyline to be included in the hunt for the WWE World Championship, as it was Seth Rollins who pinned Roman Reigns at Wrestlemania 31 by cashing in his Money in the Bank contract. This past Monday Reigns stated "He hated the briefcase one point in his career, but now he longs for it." The past few weeks Roman Reigns has been portrayed as an unbreakable force. He hasn't lost a match in weeks, including the Monday Night Raw after Elimination Chamber, where he defeated three men in three separate matches in the same night. This pushed Reigns to the forefront of the WWE World Championship title picture.
This was the night he earned his spot in the Money in the Bank ladder match. However, Elimination Chamber reflected Roman as a second fiddle to Ambrose. Between the two, Roman has been there as Dean's helper in every instance Ambrose appeared to be outnumbered, but there have been noticeable pieces of the puzzle that would suggest Roman Reigns has a heel turn in the near future. Will Roman climb the ladder to be the only man in history to win a Royal Rumble and the Money in the Bank contract in the same year? If Roman unlatches the briefcase is he locked in to become the next WWE World Champion? Will the fans be accepting of Roman winning the Money in the Bank briefcase or will we have another Royal Rumble 2015 with the crowd completely burying Roman? Reigns has declared on more than one occasion that he will be this year's Mr. Money in the Bank, will Roman be right?
The participants in the 2015 Money in the Bank ladder match have all been dissected. Who has a true chance of being this year's Mr. Money in the Bank? There are currently a lot of unanswered questions, but one thing's for sure. This Sunday, June 13, we'll find out who will climb the ladder, unlatch the briefcase with the contract, and earn an opportunity at becoming the WWE World Champion.