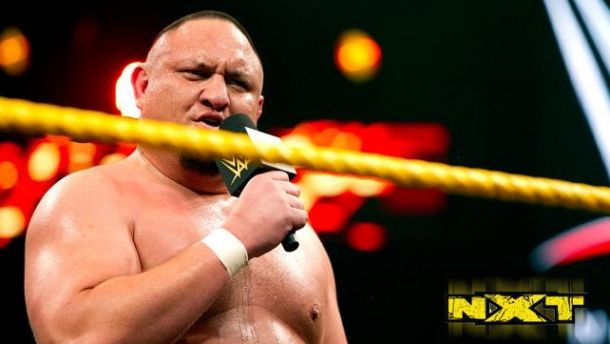 We start the show with an video to package to promote Samoa Joe's NXT debut as the "Most anticipated match in NXT history."
Zack Ryder & Mojo Rawley - Elias Samson & Mike Rallis
Ryder's music plays as the camera spans the audience. Zack makes his way to the ring and stops mid entrance. While his head turns back from where he came Mojo Rawley's music plays. Rawley appears to be super hyped for this match. As he should be, it's been months since we've seen a Mojo Rawley match on NXT programming.
It's always refreshing when there isn't a promo to start a wrestling show. The other team is waiting in the ring and the match then begins. Mojo remains hyped and can't help himself from dancing. This is a very ridiculous dance and leads one to believe the tag team is more comical than threatening. There is an irish whip from Rawley and a shoulder tackle, as Sampson hits the mat. Rawley then does a "Hammer Time" dance, as Corey Graves referred to it.
The dance turns into a hammer fist from Rawley. He tags Ryder into the match. There is a an irish whp from Samson to Ryder into the corner. Elias runs toward Zack only to receive a double knee to the chest. This was shortly followed by a dropkick from Ryder. Ryder connects with a Broski Boot from there. After he makes his it to his feet Elias lands a European Uppercut then a headlock. The crowd has been dead thus far in the match. The NXT Universe then gets behind Ryder and begins the chant of "Let's Go Ryder." Ryder makes his way out of the headlock to tag Mojo Rawley. Mojo is as hyped as he's ever been.
Elias tags Mike Rallis at this point but Mojo causes Rallis to get in the corner, runs from the opposite corner, and lands a Stinger Splash. He is able to connect with another splash from the opposite corner. He then bounces off the ropes into a Battering Ram, silimar to the Ultimate Warrior jumping shoulder tackle. He stands up and tags back in Zack Ryder. They perform a double team with Rallis is picked up in spinebuster position by Rawley and Ryder lands a Ruff Ryder from the middle rope. Ryder pins Rallis to win the match.
Ryder and Rawley meshed well together. Ryder has been featured regularly since he challenged John Cena weeks ago on Raw. This may be a way to bring Rawley to the main roster, similar to the Lucha Dragons.
Winner by pin fall:
Zack Ryder & Mojo Rawley
Another picture of Samoa Joe appears on the screen, promoting Joe's NXT debut tonight.
There is then a video promo of Finn Balor. This promo is mainly to display Balor's demon with in. As Finn is speaking we see flashes of his body paint. There is an eeriness to Balor's delivery. The end of the promo is an advertisement for the July 4,2015 NXT show from Tokyo, Japan.
There is then a video package of Dana Brooke. She emphasizes a heel mean streak with her persona of "the Total Diva," yet the video package featured her athleticism and spending time with her fans. During the video short Dana declares "I am the most driven female wrestler the world has ever seen. Don't forget the Total Diva has arrived." She has a lot of potential, but gives off the auro of being inbetween heel and face. This video came across as more confusing than character defining.
Emma - Blue Pants
Emma makes her way to ring. No dance as once part of her entrance. Instead we see Emma with an edge. She is wearing dark maroon gear and makeup to match. The facial expressions she makes throughout the entire match are exactly what you'd expect from a Lance Storm Academy graduate. Blue Pants makes her way to the ring. Her music is an odd acapella song similar to the theme of the Price is Right. The crowd begins chanting "Happy Birthday" as the bell rings. Blue Pants begins to dance, but Emma attacks Blue Pants with repeated punches.
The crowd then roars in a loud chant of "Let's Go Blue Pants, Let's Go Blue Pants." In between each chant half the crowd chants "She Can't Wrestle, She Can't Wrestle." Blue Pants has grabbed the hears of the NXT Universe. They have become completely on her side, and completely against Emma. There is then an arm wrench with more punches from Emma. Emma is showing a lot of aggression during this match. Blue Pants hits some punches and kicks, but Emma gives a Blue Pants a giant clothesline.
Blue Pants gets up and reverses an irish whip from Emma. Emma delivers clubbing elbows and Blue Pants is on the ground. Emma then locks in her submission move and Blue Pants taps.
Winner by Submission:
Emma
There is then an interview in the back with Enzo Amore, Big Cass, and Carmella. This the most entertaining faction in all of NXT. Carmella begins to speak by saying "Blake and Murphy are pathetic pigs." She says some other things in regard to Alexa Bliss and her new look, but then Enzo starts to talk. Enzo Amore is true gold when he delivers a promo. This doesn't fall short of the bar either. His quick wit is unmatched by any other original NXT talent. The words start to roll off his tongue "We come to ruin your day, Mocking J.
You got the life expectancy of a snowman in the sun, couple of sweet boys. If she grew up where we grew up, If they grew up where we grew up. Send 'em to Uncle Phil." There's no telling what this truly meant, but he didn't miss a beat. Big Cass then finishes the promo with an ever looking gaze. Unfortunately he wasn't staring at the camera, but off beyond the announcer giving the interview. Big Cass informs the audience at the end of his promo "They'll take care of them next week." Both Big Cass and Carmella walk off. Enzo remains and says "I got plenty of time. I got no time for this." He then walks out of the camera shot.
Tyler Breeze - Bull Dempsey
Breeze makes his way to the ring with his music playing He has his selfie stick with red velvet, a red velvet cape, and red velvet pom-pom like boots. He definitely grabs the attention of the viewer. He has improved immensely since debuting in NXT. Breeze truly knows his character, which resembles a young early 1990's heel Shawn Michaels. When HBK's manager was Sensational Sherri. Bull Dempsey's music begins to fill the arena, as he makes his way to the ring. The commentators discuss how these two opponents are complete opposites in every way and go on about Bull Dempsey's "Dad Bod," as Corey Graves put it. Bull starts the match by punching Breese.
The commentators are doing a good job building a story between these two. Breeze makes his way outside the ring and Bull follows. Tyler starts to run around the ring, with Bull far behind. Bull continuously runs for Breeze, but he find himself out of breath and taking short breaks. The crowd chants "Cardio, Cardio, Cardio." Bull begins to run again but Breeze begins to lap him. Upon lapping Bull, Breeze rolls Dempsey into the ring. He slides in and capitalizes by landing a Beauty Shot for the win.
Winner by Pinfall:
Tyler Breeze
A video recap of Sasha Banks - Becky Lynch is shown.
Becky Lynch - Jessie
Becky's entrance is awesome! Steam shoots into the air all the way up the entrance ramp, on both sides. As the Steam Punk stands at the top of the stage, she removes her goggles from her eyes and places them on her fiery red hair. As she makes her way to the ring the audience is singing with her song. By the time Becky's in the ring the crowd has become louder than the music itself. The commentators state "People said Becky Lynch arrived at Unbreakable." Becky begins the match with a headlock, then a shoulder tackle from Jessie with a pin. Lynch bridges out of the pin to her feet. Elbows and kicks between the two and the crowd chants "NXT, NXT, NXT." Jessie locks in a standing arm bar.
The crowd start getting behind Becky, chanting "Let's Go Becky, Let's Go Becky, Let's Go Becky" While in the arm bar Jessie mocks Becky by using her taunt. Jessie is very interactive with the crowd, causing heat amongst the audience. Lynch reverses into 2 clotheslines and a snap suplex. Lynch then connects with two running leg drops. These leg drops are reminiscent of 1-2-3 Kid. Beck then grabs the left elbow and the left knee of Jessie. Jessie's back is now horizontal to Lynch's back, while standing Lynch slams Jessie's stomach to the mat and locks in her Degusted Arm Bar for the win. Becky is slowing rising as NXT's most talented wrestler. Becky, Sasha, and the other NXT female wrestlers can really bring a whole new dynamic to the main roster. These women can really bring credibility to the poorly lacking Diva's Division.
Winner by Submission:
Becky Lynch
We then see the NXT General Manager William Regal from his office. He says he has a major announcement to be delivered during Samoa Joe's match, with Kevin Owens on commentary. Dempsey walks into the camera, eating a bag of Nacho Cheese Dorito's. With every bite the crumbling bad gets louder and louder. The silence in the room only intensifies the sound of Bull chomping chip after chip. Regal walks up to Bull and says "Look Flower, you got to get your act together," then leaves. Bull picks up the bag of chips Regal took out of his hands and continues to eat. Even though Bull basically just ate a bag of chips, this added a lot more to his character. This brings an element a lot of people can relate to. We'll see where Bull goes from here, but it may be an opportunity for Bo Dallas to inspire. All Bull has to do is Bo-lieve.
Jason Jordan is in the back with a possible new partner in Chad Gable. Gable appears to rub in the face of Jordan, that his first partner was a flop. He then reassured Jordan that "He'll be there waiting for him, willing and Gable." Jordan then walks off, as Gable notices Jordans name tag on his locker. He adds Gable to Jordan's name and the two become locker buddies.
Angelo Dawkins - Baron Corbin
Baron Corbin's entrance music plays as he methodically makes his way to the ring. The commentators put over Corbin's win against Rhyno. The crowd chants "Corbin Sucks, Corbin Sucks, Corbin Sucks." There are an exchange of headlocks between the two. Corbin lands back elbows, then two clotheslines in the corner. Dawkins misses a bulldog and Corbin hits the End of Days for the win. The crowd ate Corbin alive during this match, but Corbin's facial expressions reflected an affection for the boos he was receiving.
Winner by Pinfall:
Baron Corbin
Samoa Joe - Scott Dawson
Owens is shown on commentary with his left arm around the shoulders of Byron Saxton. Joe's music plays and he walks from the back to the top of the stage. Owens asks if Graves is excited for Joe's debut. The two lockup in the corner and the ref breaks them out of the corner. There is another lock up between the two, then Dawson and Joe trade arm wrenches. Dawson then gets Joe in a headlock. Joe reverses out of the headlock and throws Dawson to the ropes into a shoulder tackle. Joe yells with delivering the shoulder tackle and there is suddenly an added intensity to the match.
Joe continues to wrench the arm of Dawson. A stiff forearm is delivered to Joe from Dawson. Scott then begins to bite the big Samoan's forehead and turns it into a suplex, but Joe blocks out of it. European uppercuts from Joe and he screams again as he connects with a clothesline. Joe then lands several of his signature punches. While this is going on the back and forth commentary between Owens and Saxton is fantastic. Joe lands his rock bottom like signature slam from the corner and lifts Dawson to the top of the ropes. Samoa Joe then delivers a staggering muscle buster for the win.
Great debut for Joe. He showed a great fire that has been lacking with Joe for some time. He appeared to be in great shape and had a fresh appearance to his look. He looked to also enjoy himself during this match. Samoa Joe has paid his dues for many years in this business and is finally arrived in the WWE, as he was always meant to.
Winner by pinfall:
Samoa Joe
Kevin Owens takes his headset off and makes his way to the the top of the stage. Joe grabs a mic and yells "KEVIN OWENS! Where do you think you're going? You said if I stepped in this ring you'd drop me like that, but you're doing what you did. Be a good man and give the world what they want to see." Joe's intensity was off the charts. He was on a-whole-nother level. He really showed why he is a true veteran. Samoa Joe's mic work was enthralling.
Kevin Owens then begins to speak and only adds more to what Joe said by elaborating "I don't run anywhere. I walked away for 2 reasons. I'm a good man and I'm not going to drop you like I did Zayn in your first match. You're a rookie in NXT and I'm a veteran. Let me tell you, you can't get a title shot in your first match unless you earn it and you simply haven't done that. William Regal's music then plays. Regals says "I agree, Joe hasn't deserved a title shot, but he has earned a right to fight. Next week, Kevin Owens will face Samoa Joe. The crowd pops huge for this and the show closes.
This was an awesome end to NXT. It left you wanting more. It's rare in this day and age a wrestling show makes you feel like you want to see next week's episode immediately, but this episode of NXT truly delivered and captivated the WWE Universe. It left off at the right time and gave you just enough of a taste to want to take the whole bite.