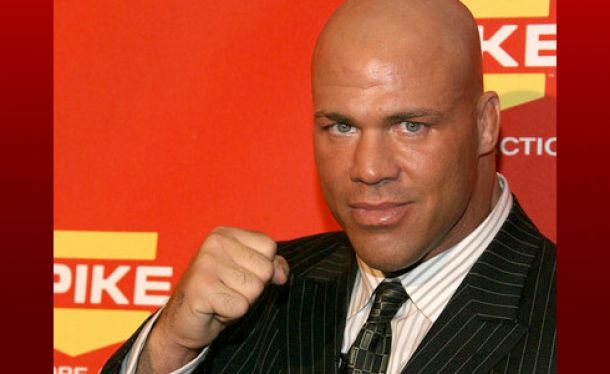 TNA Hall of Famer Kurt Angle will be taking time off to have surgery on a diagnosed tumor in his neck. The Olympic Gold medalist has known about his tumor for a year now, but it has not been causing him any problems until recently, which lead to a muscle atrophy. Muscle atrophy is when muscles waste away. It can be caused by physical activity and this can happen when a disease or injury makes it difficult or impossible to move an arm or leg.
Kurt made the announcement during Saturday's TNA Impact taping. There is no timeline revealed for when the Olympic Gold Medalist will return back to action, and Angle's announcement will soon air to the rest of the public in the end of July or maybe in the beginning of August.
Angle has had a history of neck problems dating to the 1996 Olympic trials when he suffered what was essentially a broken neck. After months of rehab he was able to fight through the pain and won an Olympic gold medal in freestyle wrestling. During his WWE career, Angle often talked about winning a gold medal with a "broken freaking neck" as a way to put over his strength, gratification, and courage.
Others are still wondering if it's real or just a storyline, and there's no question that Kurt's absence will hurt TNA's popularity, but TNA is currently dealing with a lot of wrestlers leaving the company and how long TNA Impact Wrestling will be on the air or even survive. On social media Kurt Angle tweeted a special statement related to his neck tumor, which was, "Thanks to all of you for your support! I am humbled by all of your kind words. Be back real soon. Much Love".
When Kurt talked about his injury at the TNA's Event, EC3 came out and attacked him and Chris Melendez attempted to make the save for Angle, but however EC3 delivered a piledriver to Melendez on the outside of the ring. Because of the attack, some people think it is a storyline but it is not confirmed yet that it is truly real or not, and before Angle told the news in front of everyone, he said he would have a rematch with EC3 in the future.
Kurt has made another quote about his neck in the past, which was, "My neck was broken, they told me I need to call it quits, they told me it could end my life. Somebody tell them...this is my life". Judging by that quote tells a lot about how Kurt was born and built and how he handles situations like this. Everyone here at Vavel wishes Kurt Angle a speedy recovery.