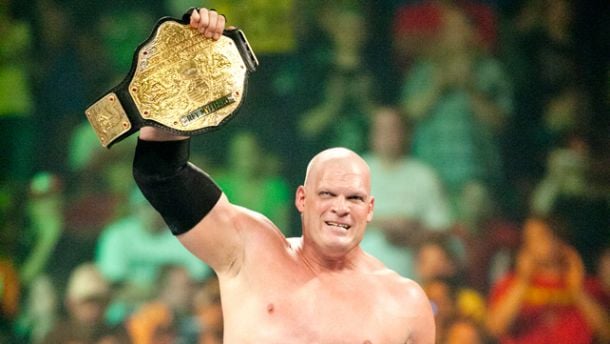 In an ancient theory from when time began, when you break a mirror you automatically get seven years of badluck. Many people back in 2003 were highly disappointed when the "Big Red Machine" Kane lost a mask vs. title match against then World Heavyweight Champion Triple H, to lose his mask and attack his tag team partner, Rob Van Dam. Soon thereafter he ended up losing a lot of what he made his name upon (and no, not Isaac Yankem or Unibomb). On June 23rd, 2003, Kane broke a mirror backstage.
On that same exact night, Randy Orton interfered hitting an RKO, and forcing him to unmask. From this point forward, he was in the undercard with feuds against RVD and Matt Hardy, and even losing his next WrestleMania matches in the most poorly recieved match of the Undertaker's streak and one of the worst matches of the night. The following WrestleMania he had one of the worst performances in the first ever Money in the Bank ladder match.
The next year, his WrestleMania win-loss luck would change, but this team he was in a tag team match; with the Big Show who hadn't had great luck either. They would defeat the team of Carlito and Chris Masters. Kane had become sort of like a Tito Santanta worker; a glorified jobber who often won. Fast forward to 2010, the last day under the curse he would lost to CM Punk on an episode of Smackdown!.
The next match, he won....Kane's luck had changed completely, he even built himself a little streak, winning 11 singles matches straight within the next two months....including his first world title (ECW not included) in over a decade; at the Money in the Bank PPV, where he defeated Drew McIntyre, Matt Hardy, Dolph Ziggler, Cody Rhodes, Christian and PPV Posterboy, Kofi Kingston to pick up his first and only MITB victory.
Later that night he'd cash in the contract against Rey Mysterio, who just won the World Heavyweight Championship from Jack Swagger a few seconds earlier, becoming the seventh person to successfully cash in money in the bank, and officially change his luck. 2 years later, he'd get his mask back and be in high profile feud's with John Cena and have a lengthy tag title reign with Daniel Bryan. 
Though this may've been coincidental, it is highly unlikely as it was timed to perfection, like a long term hidden angle. However, imagine trying to pitch an angle like this to a wrestler?