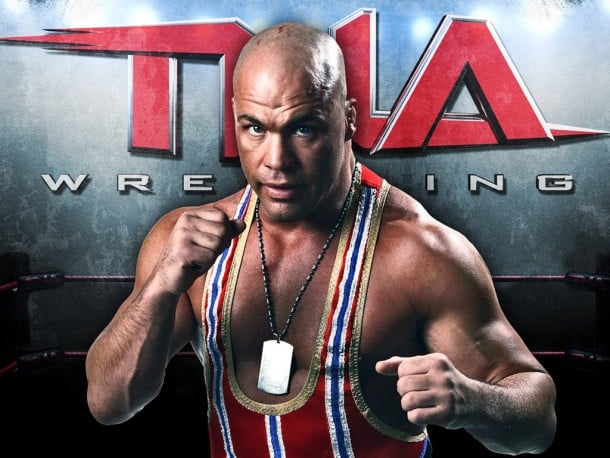 One of wrestling's all time greats, from his Olympic Gold medal win all the way to his time in TNA, Kurt Angle has been one of the best to have ever laced up a pair of boots, captivating audiences all around the world, managing to stay at the very top everywhere he has gone.
Now it seems like Angle is entering his final chapter in his wrestling career, at least where TNA is concerned, as he has announced that the company's upcoming Maximum Impact Tour of the UK.
Final Goodbye
Angle who has been with TNA for nearly a decade and won every major title available with the company spoke highly of the UK fans during a media tour in England and is "glad i'm (Angle) able to do this in the UK."
For some it may seem a strange decision for him to finish up overseas, but the UK wrestling fans have been some of TNA's biggest supporters over the years and consistently viewed the product even during some of it's tougher years and Angle is clearly appreciative.
He had originally stated his intentions to simply take a year out of wrestling once his contract had finished and then assess his options, and his change of heart has yet to be explained, which could be a sign that TNA are simply hoping to boost ticket sales.
Ever since Angle joined TNA he has been one of the shows top talents who has consistently featured in main event feuds, working with the best in the roster and over the years has worked feuds with the likes of, Samoa Joe, Jeff Hardy and EC3.
However with Angle now nearing the age of 47 and having a history of injuries, hanging up the boots seems like a smart decision on his behalf and allows him to bow out on top, whilst he can still put on a world class match, something he will be hoping to do in England, one last time.
The Future
Whilst Angle has stated his TNA career will be coming to an end following the tour, he has yet to clarify whether he is retiring from all sport or not, which has left the door open for speculation about what his next move could be.
He already has a deal in place with Bellator MMA for next year where he is set to be on the commentary table for the February 19 show, and has teased the potential for him to get in the ring to take on Ken Shamrock in the future.
But considering his age and the physical tole that MMA takes, stepping foot into that world may be a risk too far for Angle, and most of his fans would likely be hoping for a final run back where his professional wrestling career began, the WWE.
There is no doubt that Angle is a future WWE hall of fame athlete, his career and accolades speak for themselves, but fans are desperate to see him in the ring one more time, especially on the grandest stage of them all.
Considering the fact that WWE's current roster boasts some of the best in-ring talents in the world, the potential match ups are endless for him, with the likes of Daniel Bryan and Kevin Owens being perfect examples.
Even a more logical storyline such as Angle coming to deal with Alberto Del Rio would make for a huge Wrestlemania moment and the company needs as many big names as possible to draw in a record breaking crowd.
However Angle has stated that he, " had a better career in TNA than I (Angle) did in WWE" but also admitted that was down to "experience and maturity" allowing him to have a better grip of the product and himself.
What the future holds for one of the all time greats, nobody truly knows at this stage, but if he's to return to WWE it would need to be sooner rather than later, but his retirement from TNA could also be from the business in general, it could be true, it could be damn true.