This weeks episode of Lucha Underground promises to be an exciting one after what took place last week. We saw Pentagon Jr face off against Prince Puma in a grudge match that ended in a no contest due to interference by Mil Muertes. Due to that we now have a triple threat match for the Lucha Underground Championship with all three competitors mentioned.
Sexy Star was also in action after not being seen for some time against Cobra Moon. It was a decent match but nothing special with Marty the moth getting involved causing Sexy to lose her match. Backstage we saw a conversation between Lucha Underground talent known as The Mack who is a friend of Sexy Star, who might have a romantic interest as well. He wanted a match against Marty and so it was granted.
Brian Cage - Johnny Mundo
These two have been feuding on and off again for about a year or so, throwing everything and anything at each other. Neither man follows the rules of the temple. From hardcore matches to just a plain singles bout, both men promise to destroy each other in the ring tonight. Johnny Mundo is a cocky arrogant luchador who really only cares about himself and will do whatever it takes to win a match, where as Cage is more of an all around talent. Tune in to this match because I'm sure that this storyline won't be ending here or anytime soon.
The Mack - Marty The Moth
If you have been following the show you have to wonder why Marty is so weird and bizarre and what his obsession is with his sister. Anyhow The Mack wants revenge after Marty has been attacking Sexy mentally and is defending her honor so to speak. We really don't know if the Mack is a friend or if he has a crush on Sexy but this author honestly doesn't expect much to come of it and its not because neither man is talented enough. Both men aren't exactly the mold you see in lucha they're bigger men and are not high flyers, but The Mack can pull off some very impressive moves for a big guy.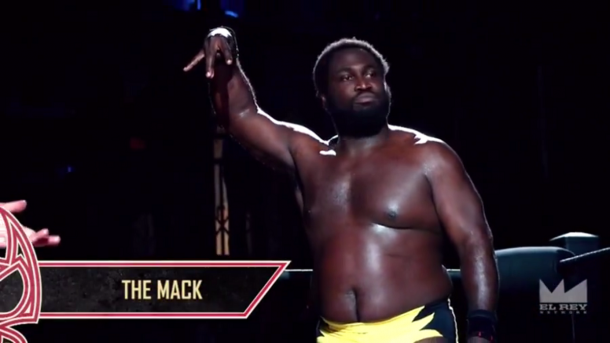 Pentagon Jr vs Prince Puma - Mil Muertes(Lucha Underground Championship)
This is a match you do not want to miss at all. The action and excitement these men will put into this match is something you can't describe. It is must watch television and there is no telling how far either men will go to walk out as the champion tonight. Lets remember this is Lucha Underground, anything can and will happen and the element of surprise is always here. Tune in tonight and watch and this author will be back with a review of the show tomorrow.