 The final part of our series of the 2015-16 Alpine Skiing World Cup reviews concentrates mostly on the men's technical disciplines.
Marcel Hirscher Equals Overall World Cup Title Record
Once again, Marcel Hirscher finished the season as the overall World Cup champion. The title was Hirscher's fifth, equaling Marc Girardelli's record of most overall titles. Unlike Girardelli, Hirscher has achieved his five titles in consecutive seasons.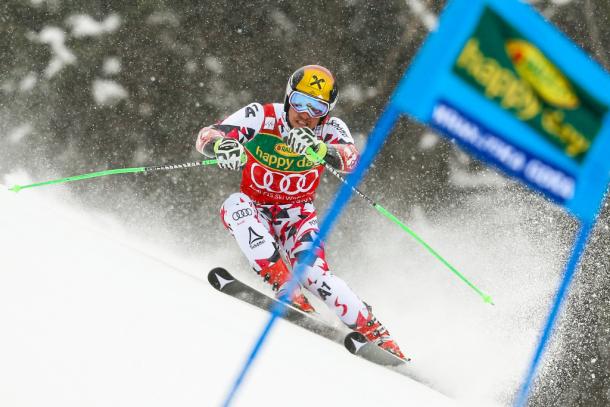 Like in the previous season and in 2012, Hirscher also celebrated the World Cup title of giant slalom. However, this season's title run in giant slalom wasn't as impressive as the previous season's. In the 2014-15 season he won five out of eight races, often with massive gaps. This season he won four out of 10, with more modest gaps.
In slalom Hirscher's reign came to an end this season after previous three seasons' titles as Henrik Kristoffersen beat him for the title. However, those two were so much ahead of the rest of the field in the final slalom standings that it is too early to declare Hirscher having declined in slalom, Kristoffersen may just have been the toughest rival Hirscher has had in slalom.
If Hirscher wasn't as dominant in the technical disciplines as in the previous season, he made up that well in super-G where he achieved the career first victory and finished as high as sixth in the season standings. As his main overall title rival Aksel Lund Svindal suffered a season-ending injury in January, Hirscher was able to win the title with a huge 397-point gap to Henrik Kristoffersen. Had Svindal remained healthy, the super-G points might have been the deciding factor for Hirscher's title campaign. Besides, Hirscher was the only man to win in three disciplines if we exclude alpine combined and parallel races.
Henrik Kristoffersen New Slalom Champion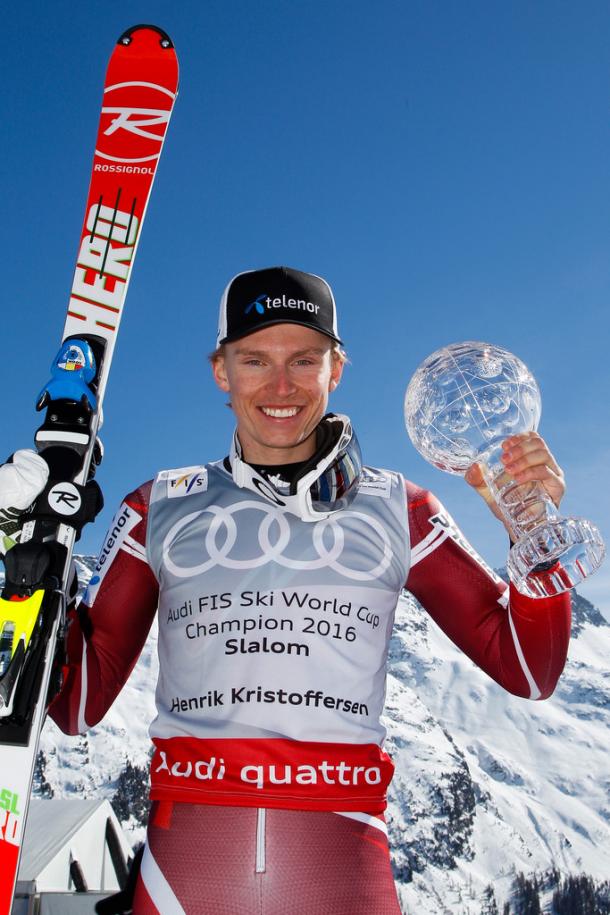 Henrik Kristoffersen has been labeled as the next great skier since his brilliant World Cup breakthrough season 2013-14 when he achieved his first podium and victory to finish third in the slalom World Cup as well as won the Olympic bronze medal at the age of 19. This season it was time for the six-time junior World Champion to achieve his first title on the World Cup level in slalom.
Kristoffersen dominated the early season in slalom. Even though his rivals were able to close the gap as the season progressed, he was the winner in six of the first seven slalom races. Since then he made the podium only once in the remaining four races, yet wrapped up the title in the penultimate slalom of the season.
The injury of Svindal allowed Kristoffersen to finish as the runner-up of the overall World Cup. However, the 397-point gap to Hirscher shows he still has a lot of work to do to become a contender for it.
Giant slalom is the next step for Kristoffersen, a discipline in which he is a three-time junior World Champion. While he couldn't win a giant slalom race this season like in the previous season's World Cup, he finished the season in a career-high third place of the giant slalom standings with four podium finishes. Yet the 279-point deficit to Hirscher shows he still has work to do, which may not happen during one offseason. In his best giant slalom in Alta Badia, Kristoffersen lost only 0.19 seconds to Hirscher so he already has the potential to be close to the top. But he still needs to become able to consistently match and even beat the best to become a title contender in his other discipline. And even then Hirscher will remain as the overall title favorite as long as he remains as one of the best in slalom and giant slalom, his super-G and combined skills are a big asset in the overall title race.
Alexis Pinturault Ends The Season On High Note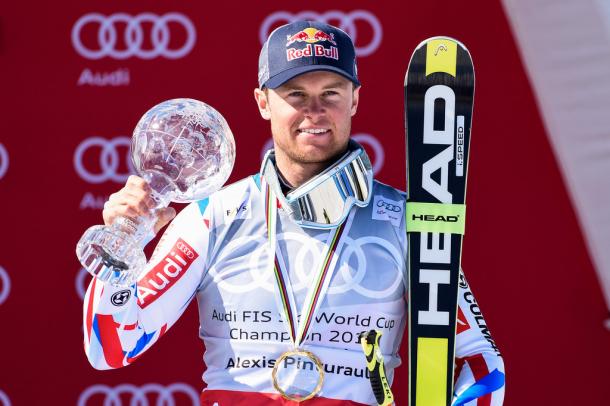 Alexis Pinturault had a brilliant second half of the season, starting from winning the alpine combined of Kitzbühel. Another combined victory in Chamonix saw him winning his career-first small crystal globe in alpine combined.
Another strong discipline for Pinturault was giant slalom where he won four consecutive races in February before the last two races' second places. For the second time in a row, he finished second in the giant slalom standings, 76 points behind the champion Hirscher.
Pinturault's season suffered a setback in December; while on a way to lead the first run in the Beaver Creek giant slalom, he crashed, wasting a good chance for scoring high points. That crash also kept him out from the following week's giant slalom in Val d'Isère, possibly costing him the discipline title.
Outside giant slalom, Pinturault was unable to make progress this season. Although he can be very quick in slalom, he lacks the consistency and the 12th place of this season's standings was his worst in four years. In super-G he had made good progress in the previous two seasons; in that sense the 27th place of the super-G standings was a disappointment after his 10th place of the previous season. Pinturault is considered to be a skier with the talent to become an overall World Cup champion; however; he has a lot of work to do outside giant slalom to achieve that dream.
French Team Strong In Giant Slalom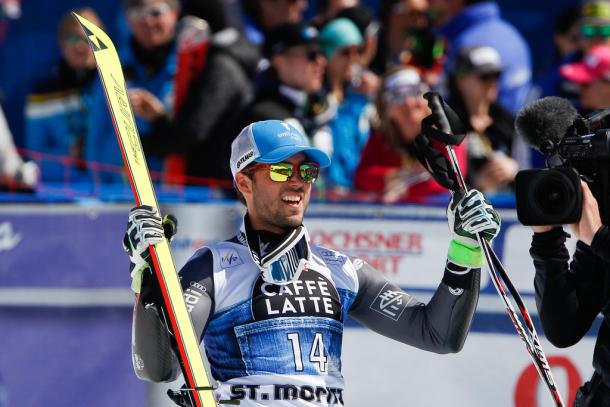 Besides Pinturault, three other Frenchman achieved the podium in giant slalom this season. Thomas Fanara showed the form to race equally against Ted Ligety and Marcel Hirscher with his second place of the season-opening Sölden giant slalom. However, he lacked consistency and he made the podium again only in late February in Hinterstoder where he was third. The season of the 34-year-old got a sweet end in St. Moritz where he finally achieved his maiden World Cup victory, leading a French podium sweep.
The best-placed Frenchman behind Pinturault in the giant slalom standings was Mathieu Faivre in fourth place. The 24-year-old achieved his first World Cup podium in February in Naeba and made the podium again in St. Moritz where he was third after leading the first run.
If Pinturault and Faivre improved as the season progressed, Victor Muffat-Jeandet had an opposite season. Muffat-Jeandet was second in the giant slalom standings after the first four races with three podium finishes but fell down to fifth place in the final standings.
Difficult Season For Germans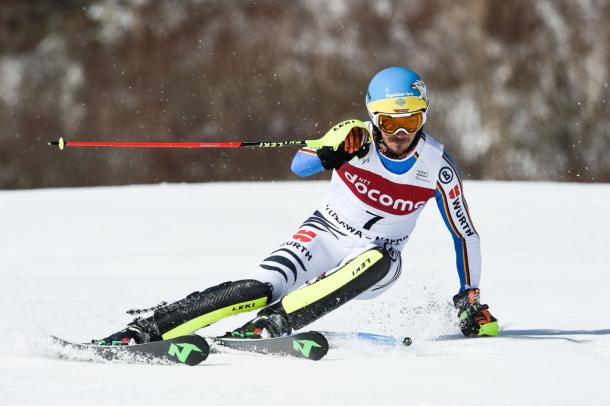 The previous three seasons' slalom World Cup runner-up Felix Neureuther was once again left without a crystal globe. The German has suffered from back issues and despite the promising podium results of the giant slalom and slalom of Val d'Isère in December, he wasn't able to ski on his usual high level this season. He achieved the podium one more time, to win in February in Naeba, on his way to finish the season in third place of the slalom standings but 422 points behind the champion Kristoffersen.
Another German, Fritz Dopfer, had had a career-best 2014-15 season with the fourth place of the giant slalom standings and the fifth places of the slalom and overall standings. This season he didn't come even close to repeating that, finishing in seventh place of the slalom standings and only 21st place of the giant slalom standings, making one podium appearance in slalom. Still looking for his maiden victory, he was leading both the giant slalom and the slalom of Naeba after the first run but failed to even make the podium in those races.
Stefan Luitz is a young German with lots of potential in giant slalom. In Beaver Creek he showed his talent, racing even for the win before a mistake late in the second run saw him falling down into 22nd place. That race remained as his best chance to make the podium; his season-best result was a fifth place in Hinterstoder while he finished the season as ninth of the giant slalom standings.
Back And Knee Destroy Ted Ligety's Promisingly-Started Season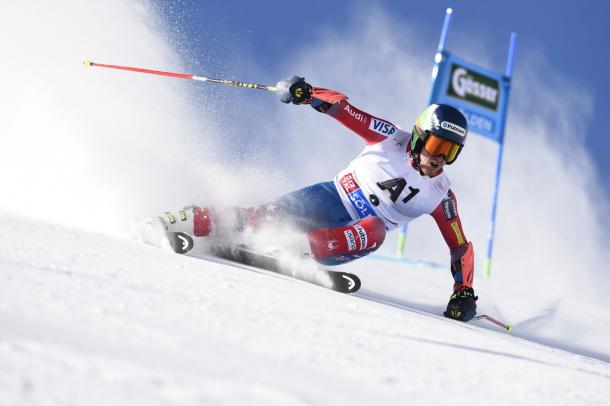 The five-time giant slalom World Cup champion Ted Ligety had a poor 2014-15 season by his standards when he finished third in the giant slalom standings, most of the time unable to match the dominant performances of Marcel Hirscher. The start of the 2015-16 season looked like he had again found his old great form when he won the season-opening Sölden giant slalom as well as finished second in the technical super-G of Beaver Creek.
However, those remained as Ligety's only podium finishes this season. Back issues had been hurting his training in November and he even missed the top-30 cut for the second run of the Val d'Isère giant slalom. To make things even worse, he suffered a season-ending knee injury in a training crash in January.
Speed Specialists' Struggle In Giant Slalom Continues
Back in the 90s and 00s when the speed specialists like Hermann Maier, Stephan Eberharter, and Lasse Kjus won overall World Cup titles, they mastered giant slalom, just like Aksel Lund Svindal did in 2007 and 2009, and Carlo Janka in 2010 to win the overall title. However, giant slalom is where Svindal and Kjetil Jansrud had fallen short in their campaigns against Hirscher in the previous three seasons.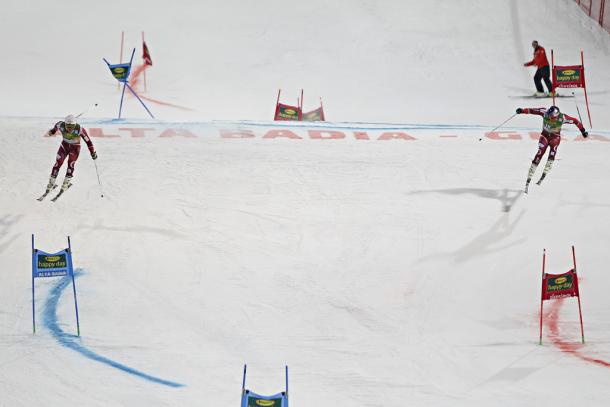 It may be the development of giant slalom why the speed specialists are struggling nowadays but it doesn't change the need for a third strong discipline. Jansrud and Svindal's highlight of the season in giant slalom was facing each other in the final of the sole parallel giant slalom in Alta Badia; however, that race was highly different from a regular giant slalom. In regular giant slaloms, the best result was a 14th place for Jansrud and a 24th place for Svindal, far from where they should be to score good points for the overall title campaign.
The most promising giant slalom performances of speed specialists were by Carlo Janka and Aleksander Aamodt Kilde. Back issues had been keeping Janka aside from his old parade discipline until late February but in his second comeback giant slalom he finished as high as in seventh place. The super-G World Cup champion Kilde had achieved his only junior World Championship in giant slalom in 2013 and he showed those skills with brilliant second runs in Hinterstoder where he finished 16th and in St. Moritz where he achieved his season-best 11th place, setting second-quickest second runs in those races. Kilde has already shown his great potential in speed disciplines; if he could also break into top 10 in giant slalom, he could be an overall title contender in the future.