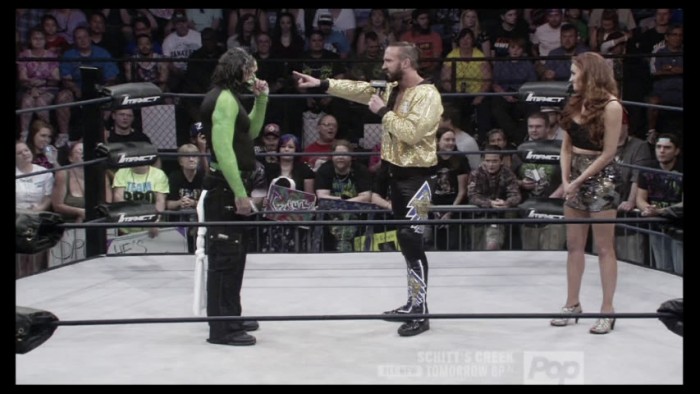 Opening Segment: Bobby Lashley attacks Drew Galloway in a gym
Murphy's Musings: Obviously, the creative team is building to a title feud between the two, but this was poorly shot, and ultimately poorly executed. Wrestling is supposed to suspend logic, yet the company wants us to believe that Drew Galloway was conducting an interview - inside a gym - talking about Bobby Lashley - at the EXACT moment when Lashley pulls up and attacks him. The angle didn't really do anything in terms of building excitement for the upcoming match.
In-Ring Promo: Mike Bennett and Jeff Hardy, setting up a match between the two
Murphy's Musings: This was basic and served its purpose - to set up a match between the two. TNA is building Mike Bennett nicely and Bennett is doing a great job at playing that arrogant, yet talented heel. It would have been great to see a little more of a tie-in to the ongoing Jeff Hardy-Matt Hardy feud, but it was clear that the purpose was to give the spotlight to Bennett.
Match #1: Jeff Hardy and Matt Bennett fight to a no-contest due to interference from Bobby Lashley at 1:50
Murphy's Musings: This is one of TNA's biggest problems. The company has all of this talent and instead of working to create compelling stories that make sense, the creative team gets sucked into throwing guys into matches with no buildup. So, naturally, Dixie Carter comes out and makes Lashley vs.Hardy vs. Bennett for the main event, with the winner being deemed the #1 contender to Drew Galloway's title. But, the question is? Why did Lashley attack the two of them? Especially after the opening segment, it's clear that Galloway will be out for revenge, so it's not like Lashley NEEDED to insert himself into a match to become the #1 contender.
In-Ring Promo: Decay challenges James Storm to a match
Murphy's Musings: The Decay act continues to be solid. The Abyss mask removal was uneventful, but hey, why not? Crazzy Steve has evolved from a directionless comedy act to being part of a solid mid-card faction. Rosemary is definitely the standout. She really plays the role well and hopefully, management keeps her away from the Knockouts Division for as long as possible, beyond being a hired gun for Maria.
Match #2: Abyss defeated James Storm in 5:50
Murphy's Musings: Nothing eventful here and the announcers did a poor job of at least letting the audience know that at one time, Storm and Abyss were partners, which is another part of storytelling that TNA hasn't gotten the hang of.
In-Ring Promo: Maria calls out Jade, which leads to the debut and brawl with new TNA Knockout, Sienna
Murphy's Musings: Another Knockout adds more depth to the roster. It would have seen nice to have seen Sienna built a little bit before an automatic brawl and feud with the champion, but aside from Gail Kim, the division is practically irrelevant.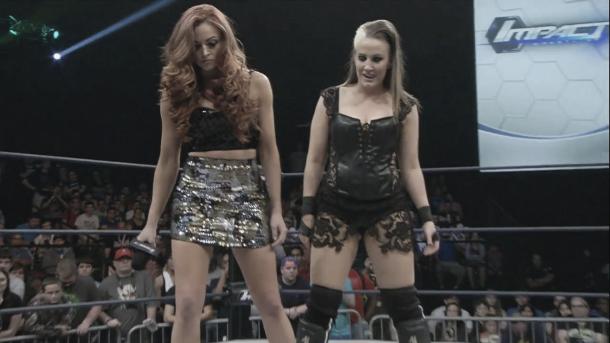 Match #3: Bram retained the King of the Mountain Title over Eddie Edwards, Eli Drake, Andrew Everett and Jessie Godderz
Murphy's Musings: This match was a mess. The title is meaningless and creative threw four guys in there, with absolutely no buildup. On the bright side, TNA may be on to something with Eli Drake - so the company needs to stop sidetracking him. Eddie Edwards and Andrew Everett have an X Division feud going, so their inclusion is confusing. And Jessie Godderz is supposed to be focused on the tag titles with Robbie E. So his inclusion is questionable as well.
In-Ring Promo: EC3 and Mike Bennett continuing their feud
Murphy's Musings: THAT was gold and kept the feud alive and well. EC3 was awesome in conveying his desire for revenge, combined with Bennett's arrogant smirk throughout the promo. He didn't try to be cool or witty he just played it as a heel should.
Match #4 and Main Event: Bobby Lashley defeated Jeff Hardy and Mike Bennett with Drew Galloway as the special referee in 13:30. Lashley is now the #1 contender to the TNA World Heavyweight Title
Murphy's Musing: A great effort by all, but again, this a long-winded well to get to the inevitable clash between Lashley and Galloway. And since Galloway didn't actually play a role in the outcome of the match, there was no real reason to have him out there. It would have been a better use of his time to have him on commentary to build up the match, which could still have led to the show-ending altercation.
So, overall, it was a typical Impact episode. Good wrestling, with poorly built storylines. With the continued rumors of the company being sold, one can only hope that Dixie finally wakes up and puts the company in the hands of management and creative personnel that can run the company properly.