The Revival promo
The former champions kicked off the show and claimed they will take back their titles and become the first ever two-time champions in NXT history. They admitted American Alpha are great amateur athletes, but this isn't amateur and they should take their towels and use it to dry their tears.
The Revival were then interrupted by Johnny Gargano and Tommaso Ciampa who said their time at the top has come and gone and claim they can't beat American Alpha and can't beat them either. Wilder says they are generic and simply just good hands, but Ciampa wants to know if they're talking about themselves.The Revival tell them to go back to their bingo halls whilst they take care of business, but Ciampa asks if they will take care of business the way they did in Dallas?
The Revival attempted to jump them but failed and a match was set up for later on in the night.
Analysis: This was a great segment that developed all four men brilliantly. The Revival need time to build their characters which this provided and the increased focus on Gargano and Ciampa is welcomed by the NXT Universe and they have shone bright recently.
Tye Dillinger - Buddy Murphy
This was a fairly brief match with Tye Dillinger picking up the victory after dominating throughout the majority of the bout. The story was all about whether or not Buddy Murphy could cope on his own and the answer was no after he was hit by a Perfect Ten his frustrations continued and that is the story being told.
Analysis: Not much to say about the match but once again Dillinger received an amazing reaction, he is without doubt one of the most popular talents in NXT and he now needs to be focussed on more and given some storylines. For Murphy, it is difficult to see him shining on his own, whilst he is a good talent the fans don't really seem to care for him.
Samoa Joe and Finn Balor interview with Corey Graves
Corey Graves sat down with the two men fighting over the NXT Championship in an interesting and unique backstage segment. Balor started things off claiming he never saw the defeat coming and he had no regrets defending the championship at a house show as that's what champions do. Joe says he had to jump through ridiculous hoops to just get a shot but Balor says that is his problem.
Balor told Joe that he expected everything to be handed to him and that's not how it works but Joe claims no one deserves it more than him.Joe says he helped him in the Dusty Classic and when he asked for a shot at the belt and Balor didn't fight to allow it, he never gave him a fair shot.
Balor says he has never been in a cage match, but his first ever ladder match was against Kevin Owens and he won. Joe says he got busted open at Dallas and had doctors all over him getting in the way even though Balor was the one laying on the ground hurt. Balor says forget the future, the NXT Championship means everything to him right now. Joe says this is a chance to show people where their place is. Balor tells him to enjoy it whilst it lasts, he has seven days with Joe promising it will all be over at Takeover.
Analysis: That was something different that you don't see with every feud which is what NXT does well. There was nothing new brought up with both men just relaying points that fans already knew but it was a good way to remind fans that this has been building for a long time.
Elias Samson - Austin Aries
Samson starts things off using his strength to his advantage but some good hip tosses and a dropkick allow the greatest man that ever lived to get in charge. A very aggressive Samson hits a huge clothesline but once again Aries fights back and sends him flying out of the ring and dives between the bottom two ropes and takes him out before hitting a rolling elbow and a big kick into the corner. A Neckbreaker followed by knees to the head and then the Last Chancery submission forces Samson to tap.
Analysis: Another quick match with little excitement but this was simply to put over Aries as a threat to Shinsuke Nakamura at Takeover, it did the job.
The Revival - Gargano and Ciampa
Gargano starts off well with drop kicks to Dawson and then sends Wilder out of the ring, Ciampa enters and continues to wear them down but a distraction allowed the former champions to gain the upper-hand. The Revival then worked on Ciampa, cutting off the ring and isolating him but eventually, Ciampa made the tag and Johnny Wrestling came in hot and took down The Revival.
After plenty of domination Dawson would get The Revival back on track by winding up for a big punch which Gargano ducked, but instead of hitting him he decided to DDT Gargano which was a unique spot, this was followed up by a huge suplex from the top rope but Gargano would wrap in the small package and get a shock victory.
Post match The Revival beat down Gargano and Ciampa until American Alpha entered the ring to make the save.
Analysis: This was a very fun match that continued to build Ciampa and Gargano, getting a victory over a team like The Revival shows the WWE has plans for these two guys. It also means The Revival are even angrier heading into Takeover which will make the match even more aggressive.
NXT Women's Championship match contract signing
The show's main event was a contract signing between Nia Jax and Asuka. Jax spoke about how dominant she has been since arriving and that Asuka may have beaten Bayley but she broke her, she says Asuka has never faced anyone like her before. Asuka kept her message short and sweet simply saying that Asuka talks too much before speaking in Japanese, the champion said if she isn't scared of her then she should be.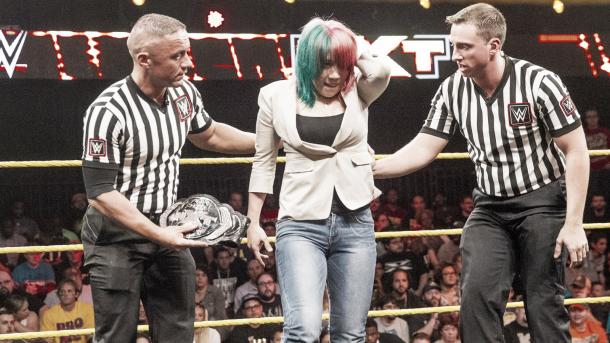 Asuka then hit Jax with a flurry of quick chops and attempted to kick her in the head but instead Jax caught her leg and landed a huge powerbomb and walked away ending the show.
Analysis: This was a good segment that was kept short enough that it made the perfect impact. It showed that neither is scared of the other but Asuka needs to be careful as Jax's power and strength will play a factor, it should be a good match.
Overall it was a good show but not one of the greatest episodes, even for a go-home show. The crowd felt tired after several hours of taping and some of the matches were too short to capture the crowds attention but it did the job in building towards Takeover.
Match of the night: The main event tag team match was the pick of the night which was an easy choice as the other two options were too short. But this match was fun but with the shock ending it meant that it ended quicker than it could have so both teams didn't hit their peaks.
Star of the night: Gargano and Ciampa. Another great week for these two men who are becoming more popular with every appearance on the show, they have bright futures with the company and working as a team in NXT could be the best thing for them right now.
Rating: 6.5/10