Raul Mendoza is just one of 32 hopeful wrestlers that will be competing to win the upcoming tournament hosted by WWE; The Cruiserweight Classic.
The 24-year-old has his eyes firmly fixed on the prize but is hoping that his performances will make his country proud more than anything else.
Mexico's Mendoza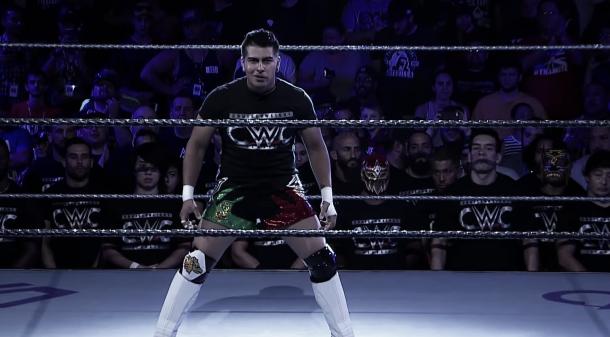 Mendoza will enter the competition as one of the many unknown qualities within the tournament but it could play to his advantage when he faces off against the experienced The Brian Kendrick in the opening episode of the Cruiserweight Classic.
The tournament which will be held at NXT's home; Full Sail University in Orlando, Florida will feature a number of international performers with a total of 17 nations set to be represented among the competitors.
The 25-year-old Luchador says he is 'happy' to be at the event and is hoping that he can represent his country well among others also.
He said (while accompanied by a translator) "I am very happy and ready for my first match here in WWE, preparing well and just getting ready. "
On representing his home nation of Mexico he said "I am very happy to not only represent my country but to represent the school that I have came from and to also be included in the top 32 cruiserweights from all over the world."
With his focus on winning the competition he said he also wants to 'impress' everyone who watches him perform as he said "I want to leave a great impression, not only with the fans but everyone involved.
"I especially want to impress my fellow cruiserweight combatants and of course win the whole tournament and represent my country well while doing so."
Mendoza is scheduled to take on former WWE superstar Brian Kendrick in the final match of Episode one which will be shown on the WWE Network on July 13th.
Looking up to Eddie
The brief introductions that were given to the competitors during the debut showing that took place via Facebook Live highlighted a number of key details about the performers and revealed who the Mexican who in his home country performs under the name Jinzo looks up to.
Like many others within the wrestling and WWE world, such as Sasha Banks, Mendoza idolized the late-great Eddie Guerrero as told during his introduction by lead commentator Mauro Ranello.
The former WCW star will be a key figure for many of the wrestlers ahead of the tournament and is one of the most famous cruiserweight stars in the world.