 After months of national competition, and years of waiting and training, the wait is finally over. Martha Karolyi and the United States selection committee has finally announced the Women's Gymnastics team that will be competing in Rio de Janiero, Brazil at the 2016 Summer Olympics.
How we got here
There have been several opportunities for each gymnast to prove themselves to Martha Karolyi and the selection committee.
The Proctor and Gamble (P&G) nationals that took place last month was a great start for people like Laurie Hernandez. Earlier this year there was also the AT&T American Cup, and the Pacific Rims (PAC Rims) as well as the American Secret Classic in Hartford were all a part of the process that lead to tonight's decision.
The team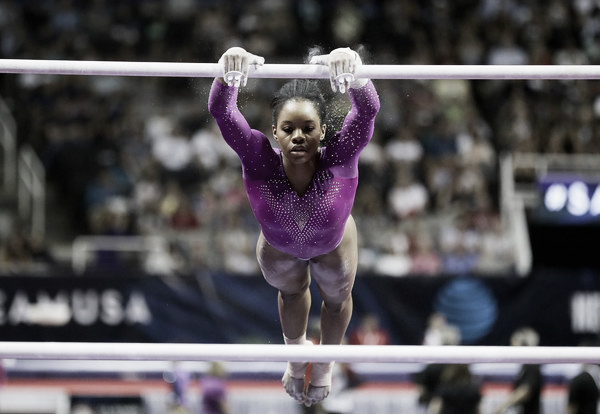 The team is headed by Simone Biles, who won the automatic spot from winning the all-around once again as expected. Aly Raisman after another solid night was also named to the team as expected. Also making the team as has heavily been suggested in recent weeks is Laurie Hernandez, with another strong showing in the all-around just edging out Raisman for second behind Biles.
The two names who were a little bit more questionable heading into day two were Gabby Douglas and Madison Kocian. Despite them both falling off of beam, their other events and past experiences this year were good enough for them to make the first five.
The alternates
The alternates were where there seemed to be more debate. Ragan Smith, MyKayla Skinner, Ashton Locklear and Maggie Nichols seemed to be in a battle for the three alternate spots, but after a solid night from all four of them, the spots went to the specialists; Ragan Smith on beam, Ashton Locklear on bars and MyKayla Skinner on Vault and Floor, electing to leave Maggie Nichols at home likely in part due to her injuries earlier this year.
Martha Karolyi's last selection
Despite all the good gymnasts she could have selected, Martha Karolyi did a great job in her last Olympics, selecting the top five gymnasts to take back with her to the ranch for the last time.
She was clearly the boss, and certainly had the main hand in deciding the team the final twelve minutes in the room.
For more information on this breaking story, check back later on VAVEL.com! You can also view the LIVE here in case you missed the events.