When Conor McGregor fought Nate Diaz at UFC 196, he was much more erratic with his fighting skills. He fought Diaz as if he was still fighting in the Featherweight division, resulting in him getting winded very quickly, and becoming more inefficient as the minutes passed. McGregor's adage of "Precision beats power, and timing beats speed" did not hold much weight in his first bout against Diaz.
UFC 196 breakdown
Though McGregor was hitting with excellent timing and precision in UFC 196, he wasn't making as much of an impact on Diaz as he would against, let's say, Jose Aldo or Max Holloway.
Diaz was absorbing shots to the face throughout the fight, and although he was bleeding almost to no end, he was able to stand tall and fight back hard against McGregor.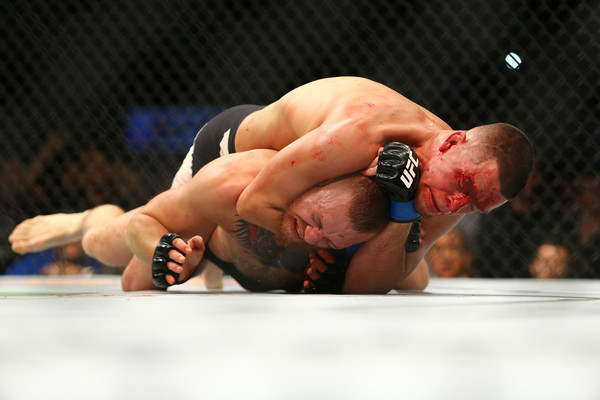 McGregor wound up taking some strikes to the face in the second round, which caused him to show apparent exhaustion. His biggest mistake was attempting to take down Diaz, who ultimately dominated the ground game and took control over McGregor relatively fast. Diaz forced a tap out with his dominant wrestling.
Calculation
In UFC 202, McGregor clearly took advice from his coach and learned. Straight out of the gates, McGregor showed a much more calculated approach to the fight. Rather than rushing right into throwing punches, he was analyzing every move Diaz made in order to optimize his striking.
Something that really stood out about this fight in the opening rounds was McGregor's leg kicks. His focus started with injuring Diaz' lead leg, which started to swell pretty quickly after a few shots. There wound up being an apparent weakness in Diaz' leg because McGregor was able to bob and weave around many of his punches, and followed up with a few strong jabs which caused Diaz to stumble and fall throughout the fight.
These knockdowns seemed to sway the fight in McGregor's favor each time they happened, but it wasn't enough to keep Diaz down for the count.
Defensive improvements
Diaz started to show signs of life in the third round, which turned the tables of the fight in his favor, briefly. He pinned McGregor against the fence and got him into a clinch battle a few times, which slowed the fight down a bit on both ends.
McGregor was far more exhausted at this point, which resulted in Diaz beating McGregor in significant strikes for the round.
Though McGregor was a bit beat up in the third round, he had a second wind in the latter end of the fight and was beginning to defend in the clinch much better. Likewise, he prevented Diaz from taking him down on multiple occasions, which was a major factor in him making it through the last two rounds. Diaz managed a takedown in the final ten seconds of the match, but McGregor was still able to survive the end of the match.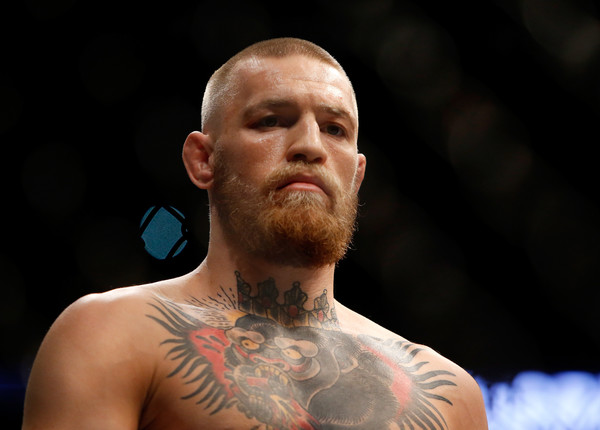 There were not as many clinches or back-to-the-fence opportunities in UFC 196, which made UFC 202 a much different fight altogether. McGregor's tactical approach to the fight was a major help in his victory. Without his leg kicks and well-timed dodges and punches, McGregor would undoubtedly have a lesser chance of winning. McGregor was also extremely lucky that the fight never actually made it to the ground until the final seconds because his exhaustion might have resulted in another submission if he wasn't careful.
Per Bleacher Report, unless McGregor gets medical help, he won't be cleared to fight until February 2017. Despite this injury concern, McGregor is reportedly willing to defend his title in the Featherweight division, and then fight Diaz in the Lightweight division accordingly. For now, Diaz/McGregor 3 is TBD.