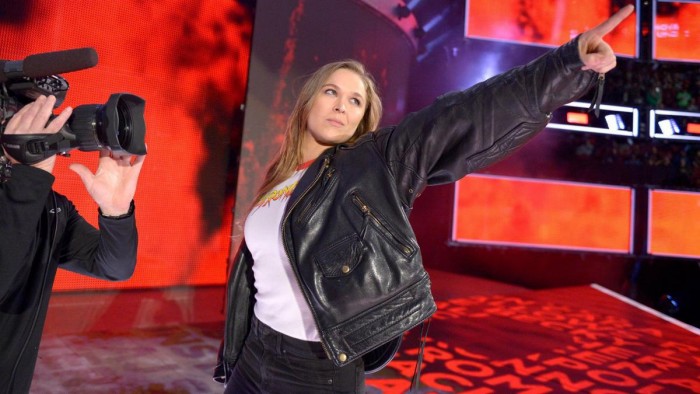 As the Royal Rumble pay-per-view wrapped up this past Sunday, fans were met by a surprise appearance from former UFC bantamweight champion Ronda Rousey. Ronda Rousey interrupted a segment between the inaugural Women's Royal Rumble winner Asuka, Smackdown Women's Champion Charlotte Flair and RAW Women's Champion Alexa Bliss. Asuka was in the middle of deciding which champion she wanted to face at Wrestlemania when Rousey started to make her way to the ring. Once inside the ring no words were spoken between any of the four women. Rousey simply pointed at the Wrestlemania sign, indicated a possible match to take place on the grandest stage of them all.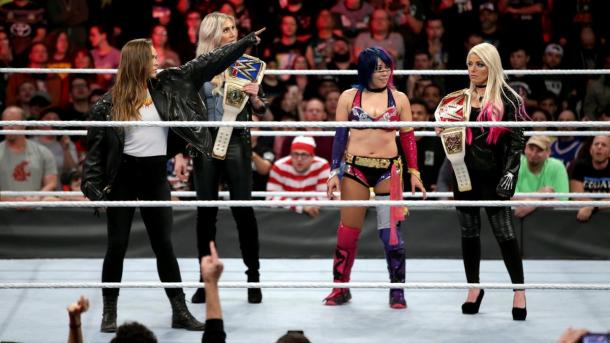 Former WWE Star not too thrilled about Rousey's push
Since Sunday night a few wrestling stars have expressed rather negative thoughts on Rousey's debut. Former WWE star Taz spoke about Rousey on his podcast stating: "It kind of takes the spotlight away from Asuka's victory. But what did she win? I mean, you're pointing, Ronda Rousey, I know how tough you are, but what did she earn? She didn't beat anyone, she didn't fight anybody here. I don't get it." Taz makes a valid point in his statement. Yes Rousey is a big name, but she hasn't earned anything in the WWE yet and is nowhere near close to getting a match at Wrestlemania. WWE should have Rousey show that she can perform inside the square circle, her badass reputation and star power isn't enough. There is no doubt that Rousey can perform, but she's not proven in front of a pro-wrestling audience.
It is really no surprise that Taz or anyone would be upset at Rousey getting a match that she didn't earn. The Tough Enough winner of season one, Maven got tons of heat from the locker room after he was given a spot on the main roster. Maven received several ribs from the men because they felt he didn't earn his place in their locker room.
Ronda Rousey overshadowing the historical 1st Women's Royal Rumble
Another point that Taz makes is that Ronda Rousey's debut took away from such a historic event. This was Asuka's moment and it got sidelined by Rousey. Rousey could have appeared at any other time. Not only did this debut take from Asuka, but also the entire Women's Royal Rumble. Nia Jax and Nikki Bella have both taken to Twitter to express their opinion after WWE made a tweet that referred to Rousey's debut as the most talked about event of the night.
WWE finally did something that was truly historic and a major milestone, but seems to only be able to think about those few minutes that consisted of Rousey. Nia Jax made a tweet about WWE's promotion of Rousey by saying, "Cool she's here…I guess 30 women making history can just be forgotten." This comment may just be a heel flare-up but Nikki Bella also showed the same indifference on her Twitter. In reference to Rousey's debut Nikki Bella sent out the tweet, "Wonder what all the 30 other women candid thoughts were too?"When it came to the same post that WWE released that Jax tweeted about, Nikki's comment was, "The FIRST EVER WOMEN'S ROYAL RUMBLE???" It doesn't seem as if Nikki is just rolling with a character and that her thoughts are genuine since she currently doesn't wrestle full time.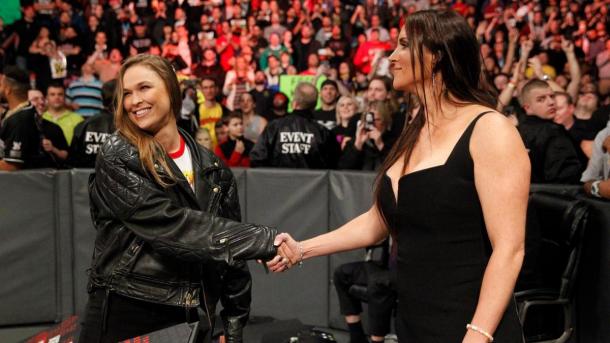 Closing thoughts
Yes Ronda Rousey crossing over and joining the WWE is monumental and great for both the company and Rousey, but the timing was just wrong. The thirty women who performed in the rumble and the women who have paved the way and couldn't be there should be the main topic that WWE pushes, not Rousey.