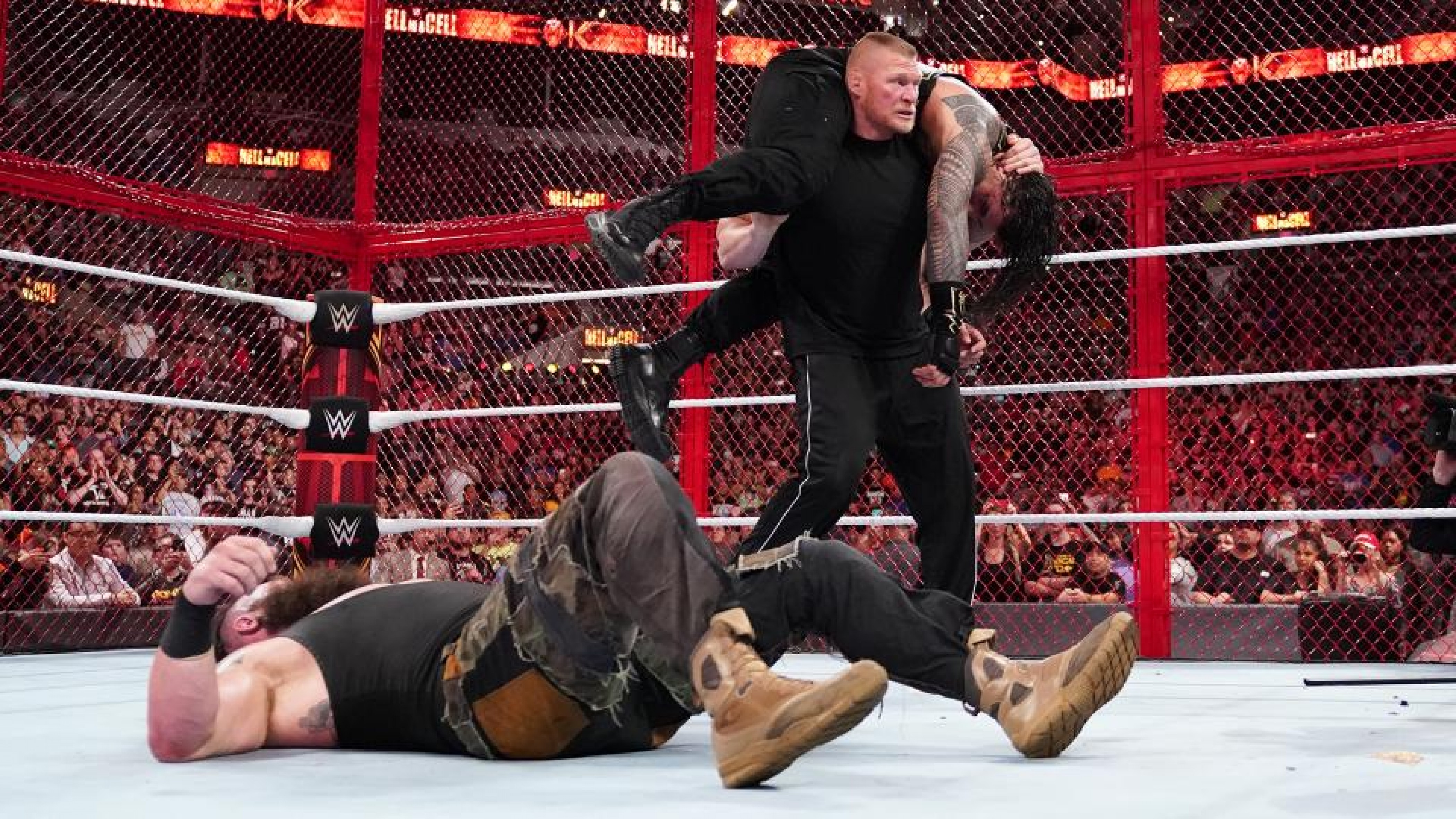 Hell in a Cell will serve a primer, a bump on the never ending road to WrestleMania. San Antonio will host one of the longer running, and more iconic, shows on the calendar. How did it all go down? Keep reading and find out.
A Predictable Pre-Show
The Preshow was no different than any others before any show. It had preshow hosts who were little more than background noises.
It had one of them with an odd accent that was difficult to understand at times and also a mediocre Tag Team Championship match.
Long story short, it happened.
On that show, Rusev Day failed in their challenge to defeat the New Day, with Kofi and Big E defending. The best part of this match was the "shirt" Lana was wearing.
A small pop for Aiden English when he used the Accolade was all the energy a late coming crowd could muster.
This match would have been better served on the Main Card. Something fun like The B Team versus the Fashion Police or The Ascension should have been here. I have always been a fan of something meaningless on the preshow, since the preshow is meaningless. Title matches should not be on a preshow.
Overall: 5/10 (should have been elsewhere.)
Veterans open
No, that is not the name of a new tournament (but maybe it should be. Someone call Vince). Randy Orton and Jeff Hardy began the show, meaning the Cardinal Red cage lowered to the floor for the very first match on the Main Card.
It seems like the crowd was not that "on it" and the cell itself seemed plastic. The action found its way outside early.
There were a few eye-popping moments, like Jeff surfing a table into Orton, Jeff pulling out a ladder (that he didn't leap off), a Poetry in Motion into Orton into the Cell, and Jeff getting tossed into the middle of a different ladder.
Late in the match, Orton destroyed Hardy. Hardy fought back, but Orton put the good guy in the paint down.
Then a screwdriver to the ear hole, then a twist…Well, that's a new way to draw blood I guess… It sparked Hardy who fought back with recklessness. Things slowed down, but a docile crowd came out of their chairs when Hardy went into a chair with a Swanton Bomb onto Orton. Even then, it was only good for a near fall.
So, Orton put a screw driver through the ear of Jeff Hardy. Karma got Orton back with a chunk of his leg missing. The ending to this match was as unsettling as the match was itself. A referee frantically screaming for help, EMTs casually strolling towards a potential patient, Orton disregarding the warnings of a legit injury to finish the match, and just…it was odd.
It was a rough match to watch with a rough ending to watch that was executed poorly. It wasn't bad, but left a bad taste in my mouth.
Overall: 3/10.
Well Built
Smackdown has done a fantastic job making their two top belts mean something tonight. The feud between Becky and Charlotte has been just this side of fantastic. It came at the right time too, as Becky was beginning to get buried amidst the Women on the Blue Brand.
The "best friend turned bitter enemies" is one of the most used storylines in wrestling history. It is also the most effective of the standards.
While this might not have the historical impact of Shawn Michaels and Marty Jannetty, the name recognition among non-fans that Andre and Hogan had, but this will produce the most entertaining match. The fact this did not take place in The Cell means this feud has somewhere to go.
The match was exactly what would could expect. Reversals, counters, and chemistry were abound. It was not the most technically advanced match in WWE history, but the emotion that came along with this match kind of gave it a built-in excuse. It was the best match of the first three, and it wasn't even close.
The match built and built and the longer it got, the better it got. Charlotte countered a triangle with a powerbomb. Becky got out of a Boston Crab. Charlotte got out of the DisarmHer. Becky Lynch, in the biggest counter of her career, rolled through a spear and pinned Charlotte. We have a new Smackdown Womens' Champion!
Overall: 8.5/10
The failure of Becky to shake Charlotte's hand after the match was perfect. This isn't over and that is a good thing. (plus .5 bump for this.)
Overall: 9/10
The Hounds of Justice versus the Dogs of War
At one point in time, each of these men have been World Champions.
However, we also have someone who was a former cheerleader that Shawn Michaels and Triple H dumped poo on. We have someone who was Health Slater's side kick. We have someone who has been referred to as the "Titty Master." We have another who may or may not have had nudes leaked of his "situation" and … the rest of that doesn't need to be said.
My point is, we have five strong workers full of charisma that are over, at the top of their careers in a match. As you can expect when you have four performers of this pedigree, it was the definition of what a tag team match should be.
As good as Charlotte and Becky was, this blew it out of the water. It is very rare Dave Meltzer gives a WWE Tag Team match 5+ stars, but this one deserved.
It was seriously fantastic!
Overall: 12/10…MATCH…OF…THE…YEAR
TNA match with a TNA ending
The biggest names in TNA history, with all due respect to Jeff Jarrett, Kurt Angle, Ric Flair, Sting, etc., the two names most synonymous with TNA/Impact Wrestling are Samoa Joe and AJ Styles. Without those two, TNA stays in a dimly lit Asylum in Tennessee and never makes television.
These two have been partners, enemies, and friends. Their feud has been nothing short of amazing. Whether it is the wide eyed promos from a southern man who is defending his family, or a storybook from a Samoan Submission Machine, these two are meant to be together in the Main Event.
The match kept the trend going. It was on par with Charlotte and Becky, and with a different ending, would have been right up there with the match before. These two veterans are some of the absolute best.
The ending…the ending…they didn't deserve it. It is understandable though why it had to happen, as well as the importance of it. The ending furthers the storyline, which will things going. This makes sure we get at least one more of these.
However, one thing the WWE did better than TNA ever did, was this "dusty ending." TNA wouldn't have had the reverse angle showing AJ tapping before the ref's hand fell the third time. TNA would have screwed up the timing. It was an ill-conceived plan executed very well.
Overall: 7.5/10
It is what it always will be
We all knew this match was not going to be a technical one. As predicted, this was the palette cleanser sandwiched between two marquee matches. The winner was not shocking. Nothing in this match was shocking. A cigarette and a run to the fridge didn't kill enough time. Daniel Bryan and the Miz did what they could. Maryse rolled through a roll up, and the slowest non-slow count brought an end to this. It wasn't terrible, but the WWE universe will be fine if they never see this again.
Overall: 4.5/10, but it served its purpose.
Femme Fatales
We got to see most of the ladies who were not on the card from Raw. Alicia Fox and Mickie James accompanied the challenger, Bliss.
Nattie came out with Ronda Rousey. Ronda sold a rib injury and looked to be legitimately injured.
While Ronda was the most dangerous woman in an octagon, she stepped in and has quickly become one heck of a female wrestler. She was made for this, and her MMA career gave her credibility and kept her from being the standard WWE "Diva," which puts her in the right place.
It is odd to see someone wo"manhandle" Ronda Rousey like this. Bliss did a great job taking it to Rousey.
The numbers game got to Rousey for a bit, and the injured ribs played a major factor throughout the match. Watching this match was a lot like watching the Browns versus the Saints today...
High hopes but limited expectations.
It was easy to root for the underdog, which was the woman from Ohio, Alexa Bliss. And a lot like the Browns, Bliss had the match in hand. And a lot like the Browns, Bliss let the opponent come back. And a lot like the Browns, Bliss rolled over and let the match end quickly.
Overall: 6.25/10
The Main (yawn) Event
If there was ever a time for a sign to read: "___ wins or we riot.", this is it. It is bad the biggest pop for the three men who were in that Cell came for the referee? We knew the responses would be backwards, but then again, this whole match was destined to be a trainwreck.
It was what you would usually expect from a match like this. The much larger Braun manhandled Roman early.
Roman fought back and got an advantage. It became even again when Braun got to the weapons, which both men would use.
It was good enough to keep attention early. It was a good thing too, because if you were paying attention, you saw Mick Foley count a pin, much to the shock of everyone, when it was clearly meant to be a two-count.
If you expected a technical match-up, this match is not for you. This was a very "foreign object" heavy match. Braun knows how to use steps. Roman actually looked sympathetic in the beating. It was well executed.
The addition of the Dogs and the Hounds was well done, and came at the right time to give the competitors in the ring a break. Over the course of the last 20 or so years, the WWE has figured out how to do this.
The Dogs and the Hounds stole the show. The fighting on top of the Cell was good. Ambrose and McIntyre knocking each other out was better. The fall from the side by Dolph and Seth was awesome. Brock coming out was amazing. Heyman maced Foley. Brock ripped the door off. He proceeded to destroy both men in the ring. Normally, I would be very discontent to see something like this in the Main Event...
This was the best thing the WWE could have done. Does this count as a failed cash-in? We have a triple threat now, right? What happens on Raw? One thing and that is to watch Monday Night Raw the following night, and it is a MUST!
This was all executed perfectly!
Overall: 10/10
Side Quests
-Lana drove the temperature in San Antonio up a good 10 degrees.
-Video packages are something the WWE should win Oscars for.
-Two questions. Is the cell made of plastic? Why is it red?
-Jeff Hardy is called the Enigma. The Riddler from -Batman, his real name was Edward Nigma, or E. Nigma. Does Jeff Hardy dress as the Riddler for Halloween?
-Props to Mick Foley for quoting Eric Cartman. "Respect mah Authoritah!"
-The New Day has wrecked pancakes, but Kofi's new character is pretty good.
-Is Dixie Carter working for the WWE? That AJ/Joe ending made me want to believe it.
-Mixed tag matches do not belong on a PPV.
-The make-up jobs on the ladies tonight wasn't nearly as bad as what they were a month ago.
-The Marine Six has three WWE Superstars in it, Shawn Michaels, Becky Lynch, and The Miz. Add in Bobby Roode and one more, and that is the making of a heck of a stable.
-Samoa Joe vs A.J. Styles at the Super Show-Down. Such a fantastic match, and it will still be the third or fourth to last match on the card. This is borderline a crime. This should be a Main Event!
-Brock looked smaller and the beard definately suits him.
-Paul and Brock are back together, and thank the Lord for that!
And once again... This was a fantastic show!
Overall: 9/10
Card Recap:
-The New Day (Kofi Kingston and Big E) defeated Rusev Day (with Lana) to retain the WWE Smackdown Tag Team Championships via pinfall after a Trouble in Paradise to Aiden English
-Randy Orton defeated Jeff Hardy in the Hell in a Cell match via pinfall after a botched move from the top of the cell through a table.
-Becky Lynch defeated Charlotte to become the NEW Smackdown Women's Champion via pinfall after rolling through a spear
-Dolph Ziggler and Drew McIntyre defeated Seth Rollins and Dean Ambrose via pinfall to retain the WWE Raw Tag Team Championship after a Claymore kick.
-A.J. Styles defeated Samoa Joe via pinfall to retain the WWE Championship after a bridge pin.
-Maryse and The Miz defeated Brie Bella and Daniel Bryan
-Ronda Rousey (with Natalya) defeated Alexa Bliss (with Alicia Fox and Mickie James) via submission to retain the WWE Raw Womens' Championship after an armbar.
-Roman Reigns and Braun Strowman fought to a no decision after Brock Lesnar destroyed both men. Roman Reigns retained the WWE Universal Championship.
Let us hear your thoughts on this show in the comments. Be sure to listen to the Caps Locks and Chair Shots Podcast airing right here on VAVEL USA, on Twitch.tv, and on iTunes, coming every Thursday!
For more Wrestling News, click here for the latest updates