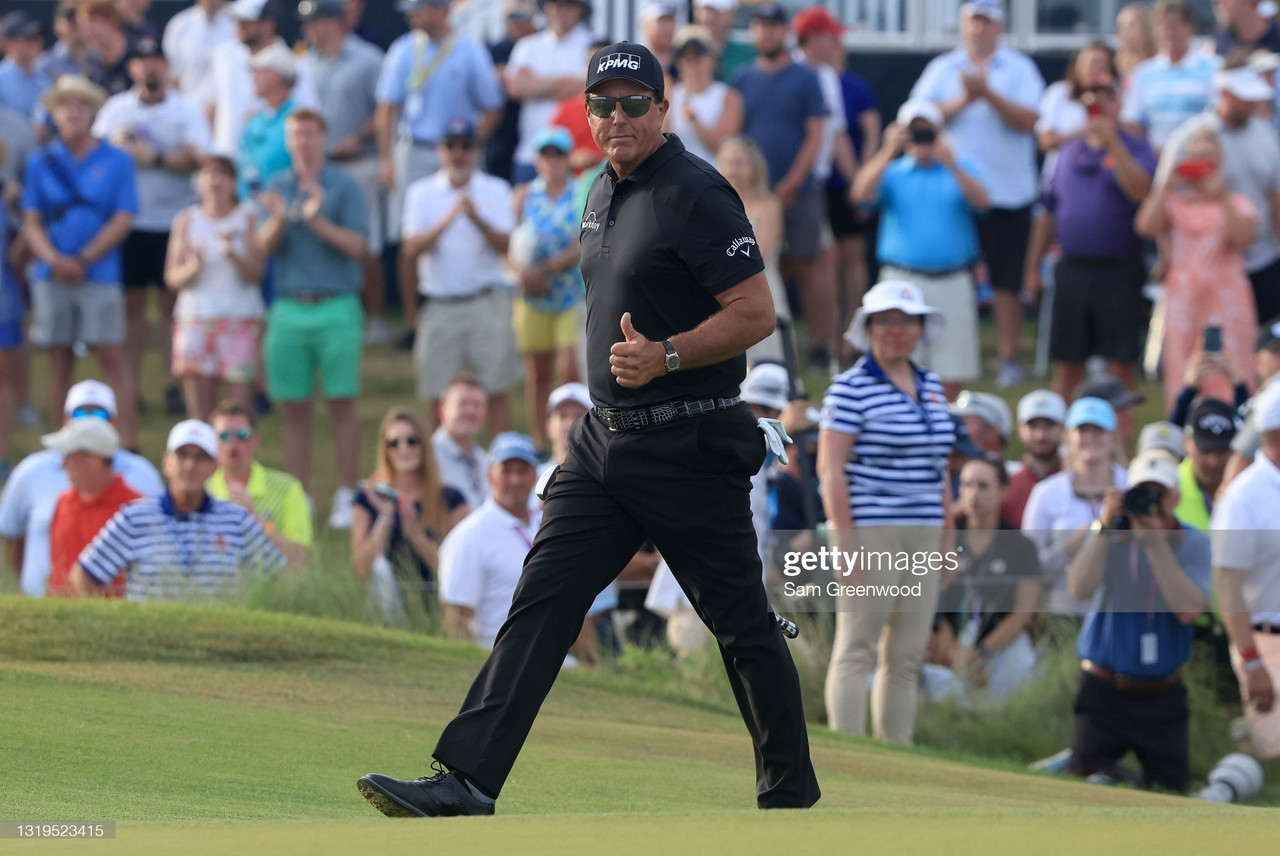 Phil Mickelson is on the verge of writing one of the greatest stories in golf history as he leads the PGA Championship by one shot heading into Sunday's final round.
The five-time major champion shot a third-round 70, which leaves him at seven-under heading into the final round, one stroke ahead of Brooks Koepka as he looks to make golf history.
Entering the third round tied with Louis Oosthuizen atop the leaderboard, Mickelson quickly took command, birdieing the par-five second after reaching the green in two.
After driving into a fairway bunker on the third hole, Lefty hit a trap draw that landed within a couple of feet from the cup and with Oosthuizen's bogey on the first, Mickelson held a three-shot lead.
Curling in a left-to-right birdie putt on the sixth brought Mickelson to eight-under and he continued to roll with birdies on eight and ten to reach 10-under, five shots clear of the field.
Behind the 2005 PGA champion, Hideki Matsuyama was making a charge. After a bogey on two, birdies on four, five and eight brought him to five under making the turn, but a back-nine 42 left him with a 76, eight shots behind Mickelson.
After missing a seven-footer for birdie on 11, Mickelson found trouble on 12, driving into a sandy area, which led to a bogey. With Oosthuizen recording back-to-back birdies, the lead was cut to two. Disaster then struck the final pairing on 13.
Teeing off first, the South African drilled his shot into the water, which led to bogey. Mickelson then followed with a running draw that was right all the way and also in the drink, leading to double-bogey, his advantage down to one.
Koepka crept to within a shot after birdies on 10 and 12, but missed a short putt on 14 and failed to take advantage of reaching the 16th green in two, settling for birdie.
Mickelson settled for par on 14, missing an eight-footer and watched his long birdie putt on 16 hit the hole and stay out. After par on 17 left him and Koepka tied, the 18th proved decisive.
The 2018 and 2019 PGA winner missed a six-foot par putt to the left to drop a shot on the last, leaving Mickelson alone at the top. Missing his second shot left of the green, he played his flop shot as only Mickelson could, landing it within four feet of the pin, sinking the par putt and staying on course for a piece of golf history.
Post-round comments
Julius Boros is the oldest player to win a major championship, capturing the 1968 PGA Championship at age 48. Mickelson would break that record by almost three years with a victory on Sunday.
"Even though it slipped a little bit today and I didn't stay as focused and as sharp on a few swings, it's significantly better than it's been in a long time", he said. "So I'm making a lot of progress and I'll continue to work on that, and hopefully, I'll be able to eliminate those loose swings [on Sunday]."
The oldest man to lead a major championship after 54 holes in a dozen years, Mickelson knows if he can fix the issue that plagued him off of the 12th and 13th, he should be holding up the Wannamaker Trophy for the second time.
"I just need to execute better. I've been hitting that shot well; it's a running draw. I didn't hit it very well today, but I've been hitting it well and I'll go work on that. I'm not really dwelling back on what took place today.
"Because I'm playing a lot better than the score is showing and I think if I can just stay sharp, I'll post a score that reflects how I'm actually playing."
A win for Koepka, who described Saturday as "the worst putting round of my career", would set the record for shortest time between his first and fifth major titles.
"I'm in the final group. That's what you want", he said. "It just feels good, feels normal. It's what you're supposed to do, what you practice for. I'm right where I want to be and we'll see how tomorrow goes."
Not to be discounted is Oosthuizen as the South African will start Sunday two shots behind Mickelson as he chases a second major title after capturing the 2010 British Open.
"Probably the worst I've played in a while", he said. "I was just sort of fighting to stay in it; and at the end there, started judging the greens there, and everything fell apart. All in all, two behind going into Sunday, I've got to take a lot of positives out of that.​​​​​​"